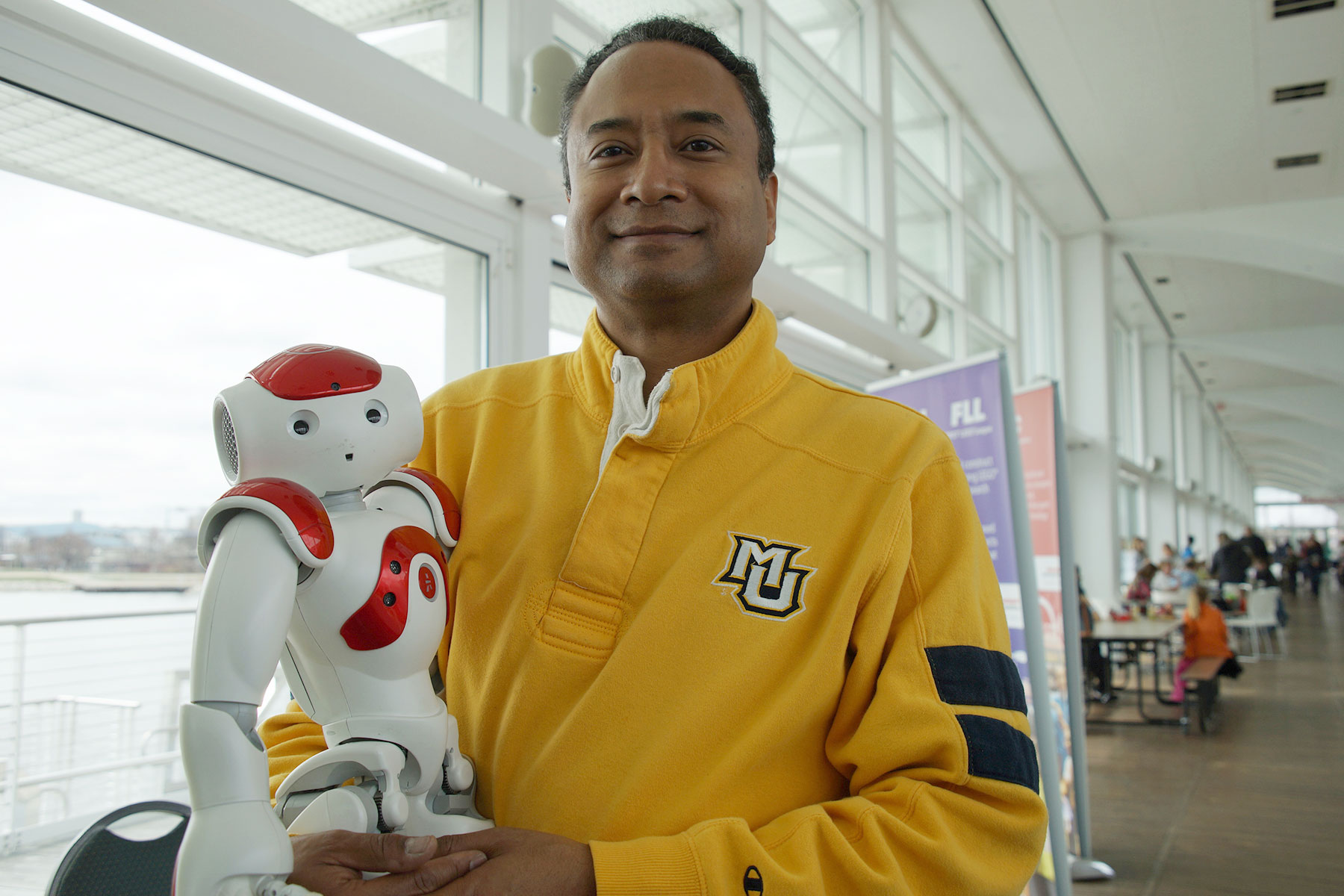 Discovery World Celebrates National Robotics Week and Spring Break during First Northwestern Mutual Monday of 2016.
Humanoid machines, programable Lego, and school kids all interacted during National Robotic Week hosted at Discovery World.
Through a partnership with Rockwell Automation, local students were provided with a fun and educational Spring Break opportunity that showcased a career path in robotics that exists here in Milwaukee.
Participants also included Milwaukee Public Schools, Marquette University's Humanoid Engineering & Intelligent Robotics Lab, Deer Creek High School, South Milwaukee High School, and FIRST Robotics Team 1675.
"We want to do some outreach to show kids about robotics and all the things they can do to study science, engineering, and technology," said Andrew B. Williams, Ph.D., a Professor and the John P. Raynor, S.J., Distinguished Chair of Electrical & Computer Engineering at Marquette University.
Dr. Williams does research in human robot interaction, and humanoid engineering. His program has developed robots that can interact socially with people. He is currently studying smart topic analysis for human-robot conversation.
"We also want to develop a robot that will help kids have better nutrition and exercise habits," said Dr. Williams.
Visitors were invited to participate in a Table Top Robotics Challenge by programming a Lego Mindstorms robot. Some of the coolest robotic opportunities available in Milwaukee schools were also showcased, connecting local students and the robots they designed. Dozens of students attending Discovery World Spring Break Camp also participated.
Discovery World staff demonstrated an M-1iA FANUC sorting robot. Known as Baxter, the humanoid lifting, sorting, and stacking robot was designed by Rethink Robotics, and part of future upgrades to the Rockwell Automation Dream Machine exhibit.
The week-long event kicked-off at the start of Spring Break in Milwaukee, and was the first Northwestern Mutual Monday of the year. Through a grant from the Northwestern Mutual foundation, Discovery World is able to open its doors to the public on Mondays from March 28 through September 25.
Belonging in technology: What I learned from Steve Jobs is his TED Talk, and describes how in 2007 Dr. Williams had an interesting encounter with the legendary Apple founder that led to him being hired as the technology company's first senior engineering diversity manager.