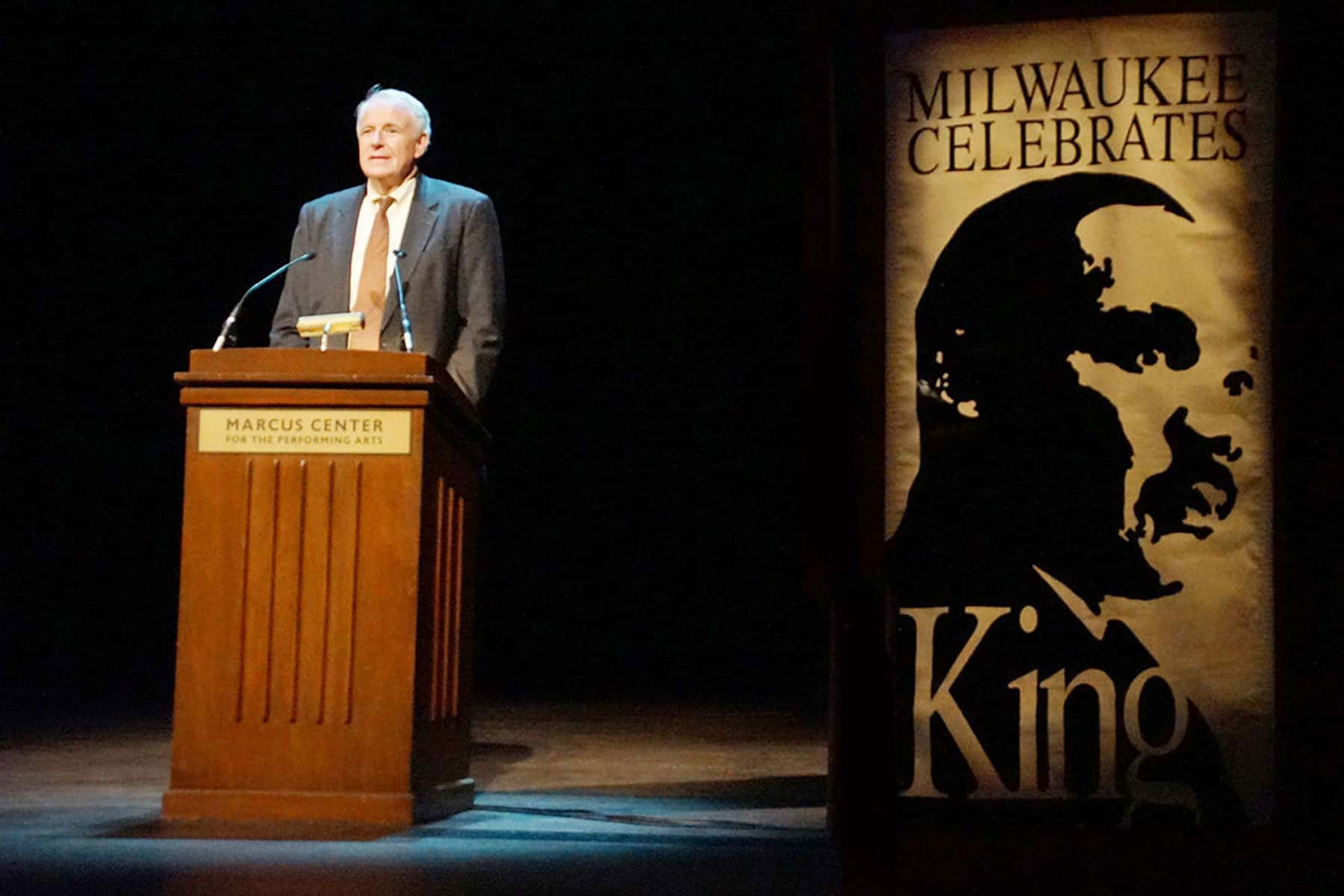 The 32nd Annual Dr. Martin Luther King, Jr. Birthday Celebration, coordinated by the MLK Steering Committee, was held on Sunday, January 17, 2016 at the Marcus Center for the Performing Arts. The program was hosted in Uihlein Hall and highlighted Milwaukee youth who interpreted Dr. King's works through arts, speech, and writing.
The only cities that have celebrated Dr. King's Birthday annually since 1984 are Atlanta, Georgia and Milwaukee, Wisconsin. The theme of this year's program was "We Must Act Now."
"The reason I'm filled with hope is because I can go to any neighborhood in this city and I can find families who are doing their best for their children. Who are struggling to hold down two, sometimes three jobs to make sure their kids can succeed," said Milwaukee Mayor Tom Barrett to an audience of hundreds. "There is no way the city of Milwaukee can give up if the people do not give up. That's our challenge, to be there to support, encourage, and to make this an even greater city in the memory of Dr. Martin Luther King."
Supporting remarks were offered by several civil leaders, including Milwaukee County Executive Chris Abele and Superintendent of Milwaukee Public Schools Dr. Darienne Driver.
"The single best way to honor Dr. King is to remember a lesson he spent his lifetime repeating," said County Executive Abele. "We need to make change, and the best way to make change is through love."
Young people involved in the performing arts were also highlighted as they saluted Dr. King's legacy through music, dance, and song. Among this year's performers included Skai Academy Stage Band, Danza Ballet Folklorico de Mexico, and the Milwaukee Flyers Tumbling Team.
Xavier Smith, speech contest winner from Oriole Lane Elementary School gave a powerful oratory, sharing wisdom beyond his years. "We can set our differences aside to build a whole new world, where there is more love than hate. We must strive to be the best that we can be at everything we do. I will value my parents, my teachers, and the community who are interested in my growth and development as a young African American male. And I will do as Dr. King once said, and strive to be the peace that I want to see in my community."
A special musical solo was presented by Malik Johnson, the Boys and Girls Club Hip Hop Cellist. A junior at Puis XI High School, Johnson has been playing cello for eight years. Recently he was commissioned to travel to Budapest and Vienna to tour and play in various concert halls around Europe. He uses a classical instrument to play various genres of music. Johnson believes "music is a great tool to tell stories without the need of words."