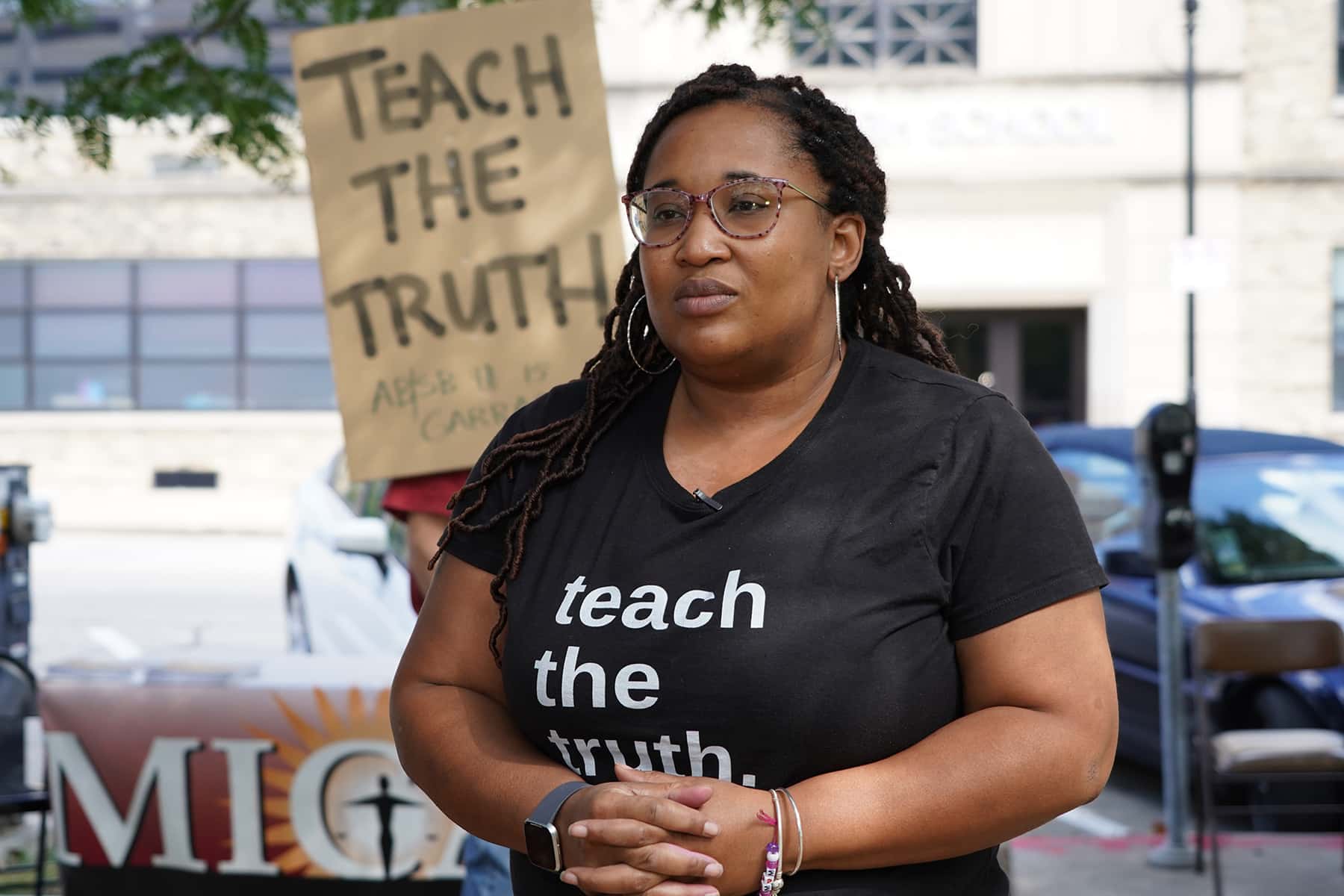 Members of the Milwaukee community gathered at Cathedral Square near the historical marker honoring Joshua Glover on September 5, as part of the national awareness program "Day of Action: Educators Pledge to Teach the Truth" developed by the Zinn Education Project.
Black Educators Caucus Milwaukee (BEC), Milwaukee Inner-City Congregations Allied for Hope (MICAH), and Equitable Systems Consultants partnered for the event in solidarity with educators across the United States who have signed a pledge to teach truth in their classrooms.
Lawmakers in at least 28 states are attempting to pass legislation that would require teachers to lie to students about the role of racism, sexism, heterosexism, and oppression throughout U.S. history. Wisconsin Republicans, as part of a national trend led by GOP legislators, contrived Senate Bill (AB/SB) 411 in order to outlaw teaching the truth about our nation's history under the premise of divisiveness.
"Nothing is more divisive than not honoring the histories and stories of those adversely impacted by white supremacy," said the Zinn Education Project in a statement. "From police violence to the prison system, to the wealth gap, to maternal mortality rates, to housing, to education and beyond, the major institutions and systems of our country are deeply infected with anti-Blackness and its intersection with other forms of oppression. To not acknowledge this and help students understand the roots of U.S. racism is to deceive them — not educate them. This history helps students understand the roots of inequality today and gives them the tools to shape a just future. It is not just a history of oppression, but also a history of how people have organized and created coalitions across race, class, and gender."
To honor the campaign efforts of the pledge, supporters gathered at Cathedral Square Park at the Joshua Glover Historical Marker 463, located at the intersection of East Kilbourn Avenue and North Jackson Street. The historical significance of the location has its connections to the Underground Railroad and the legality of the "Fugitive Slave Act," which outlawed enslaved persons like Joshua Glover from seeking freedom.
Glover sought his freedom by heading North from St. Louis, Missouri, and in March of 1854, slave catchers learned of his location in Racine, Wisconsin. This led to Benammi Garland and other individuals recapturing Glover and jailing him in Milwaukee. Abolitionist stormed the jail, and served as co-conspirators of the Underground Railroad that would eventually help Joshua Glover live as a free man in Canada. His story is just one in a long history of resistance and resilience to state-sanctioned violence by White Supremacists.
In 2008, the Zinn Education Project was launched to support educators using "A People's History of the United States" as a source for middle and high school history. The project was started when a former student of Zinn provided financial aid to bring Zinn's lessons to students around the country.
In Milwaukee, MICAH was founded as a multi-racial, interfaith organization with the primary goal of empowering people to act together in pursuit of social justice. BEC was created by Black teachers who wanted a space to discuss issues related to Black educators and students in Milwaukee Public Schools.
"I rejoice that, in the first attempt of the slave-hunters to convert our jail into a slave-pen and our citizens into slave-catchers, they have signally failed, and that it has been decided by the spontaneous uprising and sovereign voice of the people, that no human being can be dragged into bondage from Milwaukee." – Sherman M. Booth