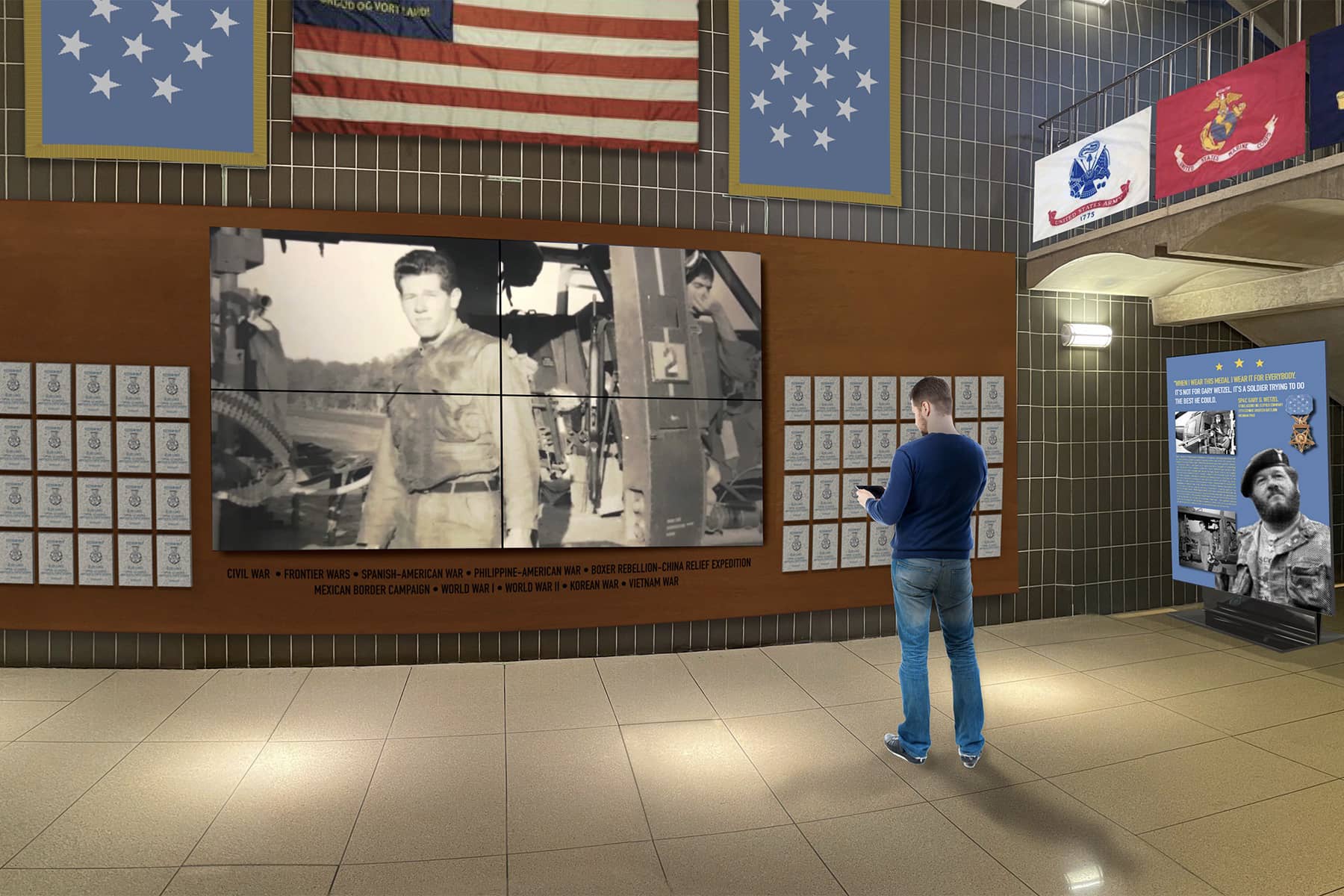 The Milwaukee County War Memorial Center has entered the public phase of a $500,000 campaign to build a world-class exhibit to honor the 64 Wisconsin residents who received the highest and most prestigious military decoration in the United States, the Congressional Medal of Honor.
For 65 years, the War Memorial Center's mission has been to "Honor the Dead by Serving the Living." When its doors opened in 1957, there were a lot of families directly associated with causalities from World War II and Korea. Milwaukee County alone had about 4,000 members of the community lost in those conflicts. It was an era when everyone was related to someone who had fallen in battle, or directly knew somebody who had lost a member of their family.
Because of continued community support, the War Memorial Center still serves an important role in Milwaukee, providing a place where heroes are honored, history is taught, and warriors find a space for healing.
Operation Advance is the latest mission of service introduced by the facility. It marks a shift toward permanent installations at the War Memorial Center, beginning with the Wisconsin Medal of Honor exhibit.
"As one of the Medal of Honor recipients from Wisconsin, I have always said that I am just a caretaker of this medal," said Gary G. Wetzel, Vietnam Veteran and Medal of Honor recipient. "I wear it for everybody, especially the guys who never came home from distant wars. I was presented the Medal of Honor in 1968 from President Lyndon B. Johnson for service in Vietnam. For more than 50 years, I've been sharing the stories of the heroes who wear these Medals. Their stories deserve a permanent home in the War Memorial Center."
A plan for the project had been talked about in years past. But Wetzel renewed the idea about 18-months ago in a conversation with Dan Buttery, who had newly taken on the leadership of the War Memorial Center. That began the long process of review with the nonprofit's board of trustees, involving research and requests for proposals to implement the project.
"It's impossible to overstate how revered our Medal of Honor recipients are in the veteran community and the nation," said Dan Buttery, Iraq War Veteran, and President and CEO of the War Memorial Center. "This medal is only awarded to those who 'distinguish themselves conspicuously by gallantry and intrepidity at the risk of their life above and beyond the call of duty.' The recognition is so exclusive that Medal of Honor recipients are invited to every presidential inauguration. It is beyond time for the Wisconsin recipients of this great achievement to be recognized in a permanent and engaging display so future generations never forget their bravery."
The focus on Medal of Honor recipients in Wisconsin includes individuals like Benjamin Lewis Salomon, who was born into a Jewish family in Milwaukee and attended Shorewood High School before going on to Marquette University. The United States Army dentist was assigned as a front-line surgeon during World War II, and died defending his hospital in 1944 at Saipan, Northern Mariana Islands.
Solomon would eventually receive recognition after many years, because the Medal of Honor was not issued to anybody during the war who was not assigned to a combat position. But his story of sacrifice remains an important example, as Solomon gave his life to stay and protect the wounded when their position was overrun.
Since World War II, more than 60% of the recipients died and received their Medal of Honor posthumously. In addition, the length of time since has also proven to be a challenge to find living relatives. But Buttery felt it was vital to reach out to family members, like the daughter of Mitchell Red Cloud, Jr.
Her father, a Wisconsin resident and Ho-Chunk Native American soldier, fought as a Marine at Guadalcanal. He died on Hill 123 near Chonghyon, North Korea in 1950. His example of heroism has also inspired further plans by the War Memorial Center to tell the stories of Wisconsin's Native American veterans, and design programs to educate about the culture of local tribes and their commitment to service.
2022 is also the 160th anniversary of Wisconsin's first recipient of the Medal of Honor, for action during the Civil War. That was awarded to Denis John Francis Murphy, an immigrant from Ireland. Denis Murphy enrolled in a volunteer company from Brown County known as the "De Pere Rifles" in 1861, which was mustered into service as Company F of the 14th Wisconsin Infantry Regiment. He received the Medal of Honor for his actions during the Second Battle of Corinth, where he continued carrying his regiment's colors despite being wounded three times.
All 64 Medal of Honor recipients from Wisconsin will have their names etched in stone quarried from Sussex, and be on display during the permanent exhibit.
"We actually had 63 as the count from the State of Wisconsin, until the Civil War historians discovered number 64. He is another Irish immigrant buried in an unmarked grave here in Milwaukee," said Buttery. "His name is Michael McCormick, and his house still stands in Milwaukee's Fifth Ward."
Researchers Tom Ludka and Margaret Berres discovered the sailor and former Great Lakes ship captain in Cook County records. McCormick was recognized in Illinois because the only place to enlist in the Navy in 1861 was in Chicago.
"During the Battle of Arkansas, he has to scuttle his ship so it doesn't get captured by the Confederates, and escapes through the swamp. He gets Swamp Fever, and eventually dies back here in Milwaukee," said Buttery. "In fact, he was treated by Wood who was a doctor at the Soldiers Home."
In 1937, the name of the National Home grounds in Milwaukee was changed to Wood National Cemetery after General George H. Wood.
The Wisconsin Medal of Honor exhibit is scheduled to open in fall of 2022. To date, Phase One of the Operation Advance campaign has raised more than 80 percent of its goal. The public phase of the campaign seeks support from the greater community to preserve the stories of Wisconsin's heroes, and to help teach a new generation about their sacrifices made to protect our freedoms.
Which is why the War Memorial Center continues to have such a vital role in Milwaukee's social fabric. It is a steward of history for the older generations that are fading, while being a place to gather and heal for current generations readjusting to civilian life.
Other initiatives under Operation Advance include future plans to honor Wisconsin heroes, such as the POW/MIA Exhibit (Prisoner of War/Missing in Action), and the WMC Situation Room – a leadership lab where students and adult learners are challenged to explore the characteristics of military exemplars throughout history.
"Telling these stories of what it took to end slavery, of what people from Wisconsin did during the Civil War to keep this nation as a union, and their actions in the wars since to keep this country safe, is connected to our missions – which are all part of our service the Milwaukee community," added Buttery.