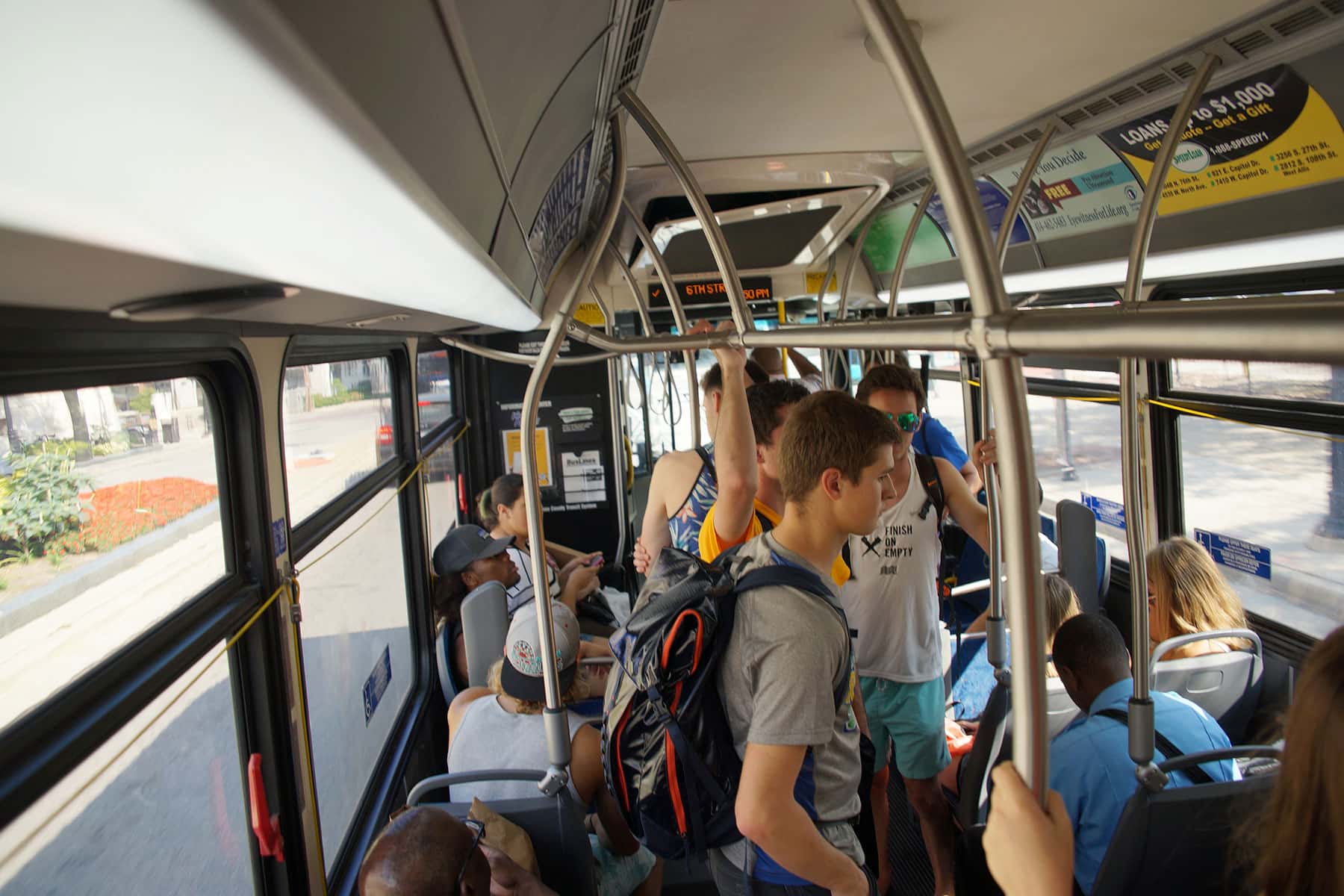 As a photojournalist, I have taken pictures during Doors Open nearly every year since the event started, showcasing the history and architecture of Milwaukee. Of the 170 locations on the 2017 list, I have visited 100 of them either during the Open Doors weekend or for other news reports.
The Milwaukee Independent image library is substantial enough that we could produce a feature with unpublished pictures from past years. So we debated about how to cover Doors Open this year that was fresh and not repetitive.
The highest location density on the tour list is in the Downtown corridor, which I walk through daily. The Milwaukee County Transit System (MCTS) offers special routes every year the Milwaukee's many festivals, to alleviate traffic and the headache of driving.
All the years I spent overseas taught me the value of a good public transportation system. For individuals unfamiliar with the city, parking seems to be a challenge at times, especially during popular events.
The combination of my travel methods was the basis for reporting on Doors Open 2017. It was a challenge, to visit as many places as I could in one day, using only a single-day bus pass from MCTS for $4.00, and my feet.
I picked 75 sites that were of personal interest, and had footprints around the entire Metro area. The goal was also to show how accessible Milwaukee is, and how getting around does not require owning a car. I also wanted to include sites that tended to be less popular in previous years, because they were not clustered.
After working out the routes and logistics, 5 locations had to be dropped because they took too much time to reach, relative to other sites. That left 70, and I began the day with a list and plotted map. There were stops in 11 of Milwaukee's neighborhoods, spanning every direction, from Lower East Side, to Brewer's Hill, Halyard Park, Lindsay Heights, Hillside, Haymarket, Concordia, Westown, Downtown, East Town, Bayside, Menomonee Valley, and Yankee Hill.
Everything proceeded as planned up until reaching location #28 in Concordia, Tripoli Shrine Center. Because of the unexpected 92° September heat, I calculated that I would run out of energy before visiting the other 42 locations before the end of day. Feeling tired and fatigued, I had to abandon all the Southern venues, including the Menomonee Valley, and re-route my travels for the density of downtown.
A few hours later, I metaphorically hit a wall and had to give up on reaching the last 5 locations to take a bus home. It was tempting to return the following day when after I had rested, but the goal was to cover what could be done in a single day.
On September 23, I walked a total of 20,701 steps, or 10.50 miles in over 90° temperatures. Using a network of bus routes (Gold, 14, 21, and 30), I covered another 6.86 miles for a total route of 17.36 miles. The 42 locations I visited encompassed Downtown, to the Eastside, to the Northwest side, to Milwaukee's Westown. Sorry South Side. It would be possible to visit 70 sites in two days, a North half and a South half, so perhaps that will by my 2018 challenge.
This map is a compilation of my one day challenge, with venue markers and routes for bus and walking. Photos of the Doors Open signs on display are presented as proof of the journey. Some venues displayed older signs with new dates, and a handful either had no banner or merely presented smaller signs.
The map is a guide for anyone to follow, but a good mobile phone transit app, working knowledge of MCTS bus routes, and physical stamina for long-distance walking are required.
List of 42 Locations
All sites were visited in One Day (September 23) using a $4.00 single-day pass on Milwaukee County Transit System (MCTS) buses or by walking.
Summerfield United Methodist Church
All Saints' Cathedral
St. Paul's Episcopal Church
Jewish Museum Milwaukee
Ovation Jewish Home
Wisconsin Conservatory of Music
Saint John's on the Lake
Black Cat Alley
Milwaukee Water Works North Point Tower
Gee's Clippers
The Juice Kitchen
Walnut Way
The Tandem Restaurant / Historic Walter Schmidt Tavern
Alice's Garden Urban Farm
Feeding America Eastern Wisconsin
Milwaukee County Transit System
St. John's Evangelical Lutheran Church
Brewhouse Inn & Suites
Best Place at the Historic Pabst Brewery
Eleven25 at Pabst
Milwaukee PBS
Milwaukee Public Museum
Central Library
Calvary Presbyterian Church
Milwaukee County Courthouse
Catholic Financial Life
Chudnow Museum of Yesteryear
Marquette University Law School / Ray and Kay Eckstein Hall
St. Joan of Arc Chapel @ Marquette University
Ambassador Hotel
Tripoli Shrine Center
Riverside Theater
Bublr Bikes
Hyatt Regency Milwaukee
Milwaukee County Historical Society
Kilbourn Avenue Bascule Bridge
Marcus Center for the Performing Arts
Mortgage Guaranty Insurance Corporation (MGIC)
MSOE Grohmann Museum
Milwaukee City Hall
Milwaukee Repertory Theater
Safe House & Newsroom Pub