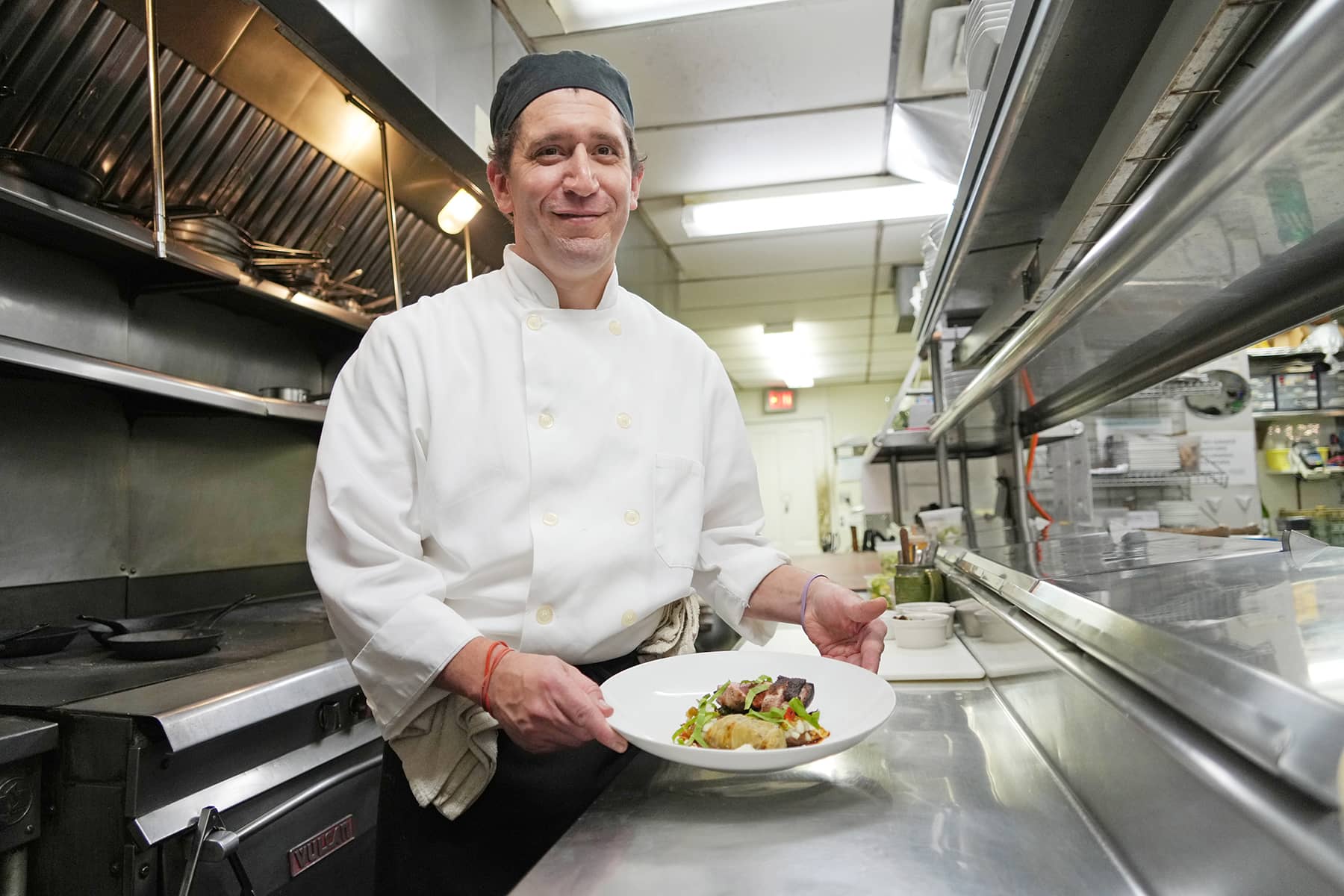 Of the many complex factors affecting the American economy after two years of the COVID-19 pandemic, food inflation has hit families particularly hard in 2022.
The unprovoked full-scale invasion of Ukraine in February directly threatened the global food chain. Because of Russia's interference with Ukraine's agricultural exports, millions starved while prices skyrocketed.
No part of the world has been immune to the impact of food inflation, including Milwaukee. And the additional hardship arrived just after widespread COVID vaccinations allowed the public to resume the in-person dining experience at their favorite dinning spots.
Justin Aprahamian, chef and owner of the restaurant Sanford at 1547 North Jackson Street in Downtown Milwaukee, used his culinary experiences to maintain the affordability of his extensive and seasonally driven menu – which changes daily.
"COVID was an adventure. We did 14 months of carry-out without our dining room being open at all during that stretch. So that was a very interesting process, where how we offered carry-out evolved for us. We didn't really feel good about having a sitdown experience during the pandemic conditions," said Aprahamian. "When we were ready to re-open with in-person dining, it was like re-opening the restaurant all over again. So it's felt like starting a new restaurant almost. But those challenges, then inflation and labor shortages, really only a wrinkle into the into our process."
Aprahamian is also known around Milwaukee for his positive impact on the community. Along with his wife Sarah, who is co-owner of Sanford, the couple donate their time and resources to several local organizations, including Hunger Task Force and the Ronald McDonald House.
As the Chef de Cuisine, Aprahamian took over Sanford in December 2012 from original owners Sandy and Angie D'Amato. Known as one of Milwaukee's most highly regarded establishments since it opened in 1989, Aprahamia would receive national attention for the restaurant only two years later. In 2014 he was earned the James Beard Award for Best Chef in the Midwest.
"This is what we do this, what we love to do, what we know how to do. So instead of dwelling on what we have to get through now with inflation, it's just just another step in the process," said Aprahamian. "We're coming up on 10 years of having owned Sanford, and I've worked here for 20. So it's just kind of how can we adapt. How we can keep evolving what we do."
Cutting costs does not mean cutting back or making our food cheap. Aprahamian said his team continues to explore different complexities to add depth to their dishes, without adding expenses.
Some of the ideas require much more time for food preparation, as they are labor intensive to produce. The process keeps Sanford moving creatively, by developing ideas that do not require prices to be raised exponentially. Customers also see the effort as a value, as they appreciate the menu's quality in light of managing their budgets.
"We look at whatever the conditions are as a great opportunity, instead of a hurdle to overcome. For us, it is a way to showcase ingredients in a different way and make the dining experience really special for people," Aprahamian. "I think that resonates with people because they know we're not cutting corners. They see our effort in all the details, and they can't get that at other places. It really adds to the value of their experience, because the food remains phenomenal."
Aprahamian said his passion for cooking began with his first job catering. An uncle owned a catering business, and his older brother was working for him as a part-time job in high school.
"I got pulled along because they needed extra bodies for a party. It was a Christmas party at the Milwaukee Zoo, and I basically made fruit platters for 10 hours," said Aprahamian. "But I thought it was amazing. I got paid to hang out with family and friends and work with food. It was a lively and energetic atmosphere. I fell in love with how food brings people together."
That passion would drive Aprahamian to volunteer to help with more catering gigs. At 16 he applied for work at Steven Wades Café to get more consistent hours in a kitchen. The experience inspired his curiosity and passion about the culinary industry.
"The more I learned, the deeper I got into it, the more excited I got about it. No pun intended, but it just kind of fed me and grew from there. So really the only job I've ever had has been food related in some capacity," said Aprahamian.
Chef and owner Steven Wades also became his mentor, not only in cooking but on the business side of operating a financially successful restaurant. After graduating high school he immediately enrolled in the culinary program at Waukesha County Technical College.
One of the big lessons Aprahamian learned early was that food waste was a big killer of restaurants. That knowledge and understanding has been vital since, and particularly with inflation.
"Much of our thought process is based on making decisions to not waste food, or how to use different parts in different ways," added Aprahamian. "Bringing in seasonal components is always cheaper, because we can go to the farmers market and buy things that local farmers are growing here. That is a tremendous savings, as opposed to bringing in expensive items on a whim. For example, I don't want to cook with asparagus right now because it's not asparagus season."