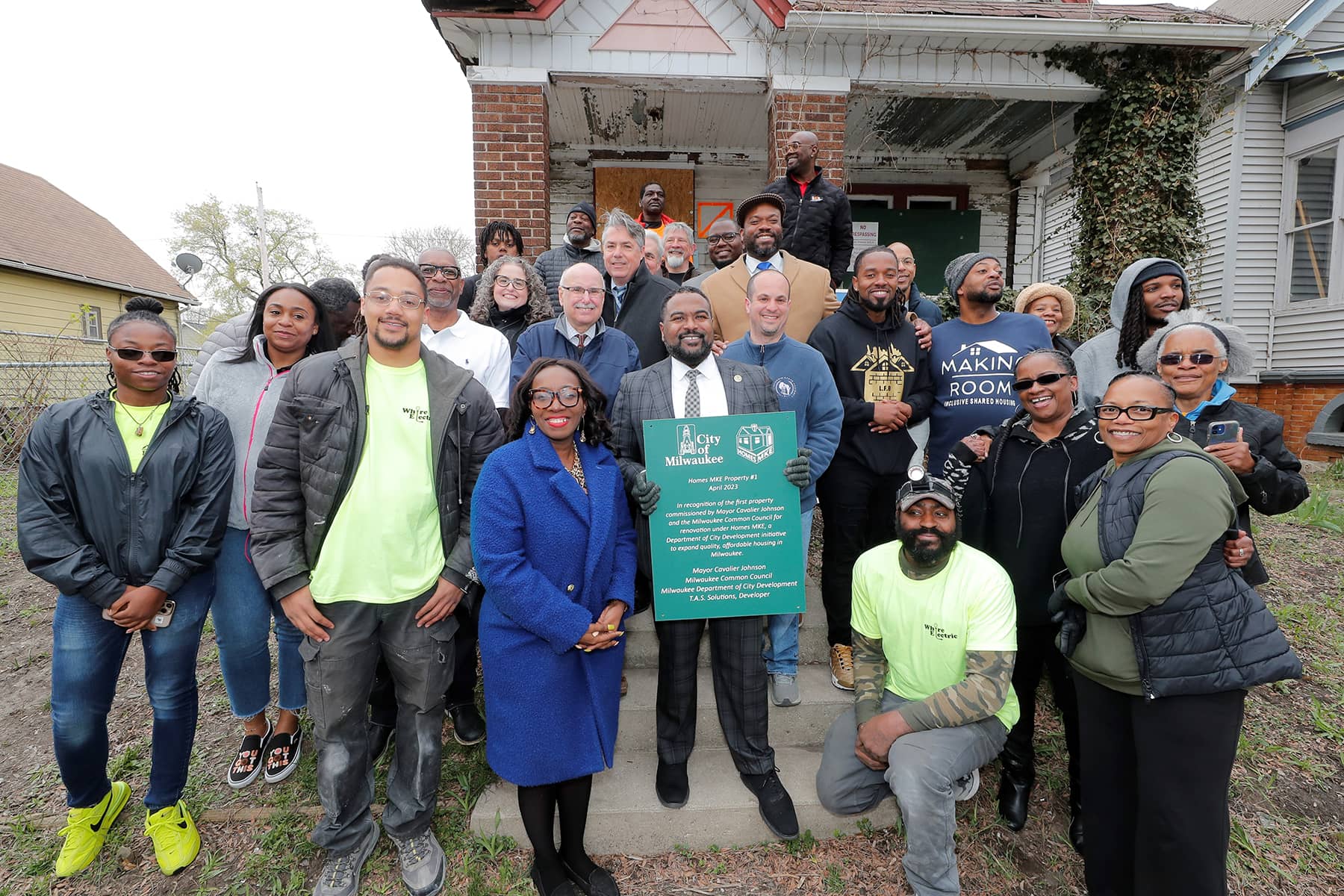 City of Milwaukee officials, elected leaders, and local stakeholders formally kicked off the Homes MKE initiative on April 19 in the North Division area of the Lindsay Heights neighborhood.
In 2021, Mayor Cavalier Johnson and members of the Milwaukee Common Council allocated $15 million in federal American Rescue Plan Act funding to the Department of City Development (DCD) for Homes MKE.
"Growing up in Milwaukee, I experienced the effects of housing insecurity like many residents and families currently are. This is personal for me, so I am proud the Department of City Development is working with the Milwaukee Common Council and our development partners to deploy the Homes MKE initiative and revitalize vacant residential properties into renovated homes," said Mayor Cavalier Johnson. "Together, we are building stronger neighborhoods, promoting homeownership, and working to ensure every Milwaukeean has access to the quality, affordable housing they need."
The initiative aims to renovate up to 150 vacant houses in the City's inventory of tax-foreclosed residential properties, add them back to the tax roll, and return them to productive use.
Homes MKE works with the development community, from emerging developers to respected non-profit organizations, in carrying out renovation work across 23 neighborhoods throughout Milwaukee.
"I voted for the American Rescue Plan to not only help Wisconsin through the COVID-19 pandemic, but also to help our state build back stronger for the next generation. I'm proud the City of Milwaukee is using these resources to deliver more affordable housing opportunities to its residents, transforming abandoned properties into future homes. This investment will create good-paying jobs in the trades, expand high quality affordable housing inventory, and help create a stronger Milwaukee," said U.S. Senator Tammy Baldwin, who voted to pass the American Rescue Plan Act that is providing federal funding to the City of Milwaukee for Homes MKE.
The goals of Homes MKE are to sell, renovate, and reoccupy up to 150 vacant foreclosed City-owned houses. Along with new construction, the projects will remove lead paint from houses. Homes MKE also aims to provide construction and job opportunities, and provide development opportunities for emerging developers.
"The American Rescue Plan Act was a meaningful investment in our communities, and gave cities and municipalities the flexibility to use these funds to address vital needs. I was so proud to vote to pass this legislation in the House, and am thrilled that this funding will deliver on this promise, thanks to our amazing local leaders. The Homes MKE initiative will expand access to affordable housing, create jobs, and help make homeownership a reality for more of my constituents," said U.S. Representative Gwen Moore.
Congresswoman Moore voted to pass the American Rescue Plan Act that is providing federal funding to the City of Milwaukee for Homes MKE.
Priority will also be given to the development of houses to provide homeownership opportunities for City residents. That will require coordinated redevelopment efforts in a way that results in a positive impact for the surrounding neighborhood.
"Homes MKE will stabilize blocks within neighborhoods, and send the message that every part of our city matters," said Alderman Russell W. Stamper, II, who represents the 15th Aldermanic District, where the first home will be renovated under the program.
The program will require a collaboration with local residents, to provide housing and resource opportunities in neighborhoods where Homes MKE properties are located.
"Implementing Homes MKE aligns with our mission to improve quality of life in Milwaukee by promoting equitable development that strengthens the urban environment," said DCD Commissioner Lafayette Crump.