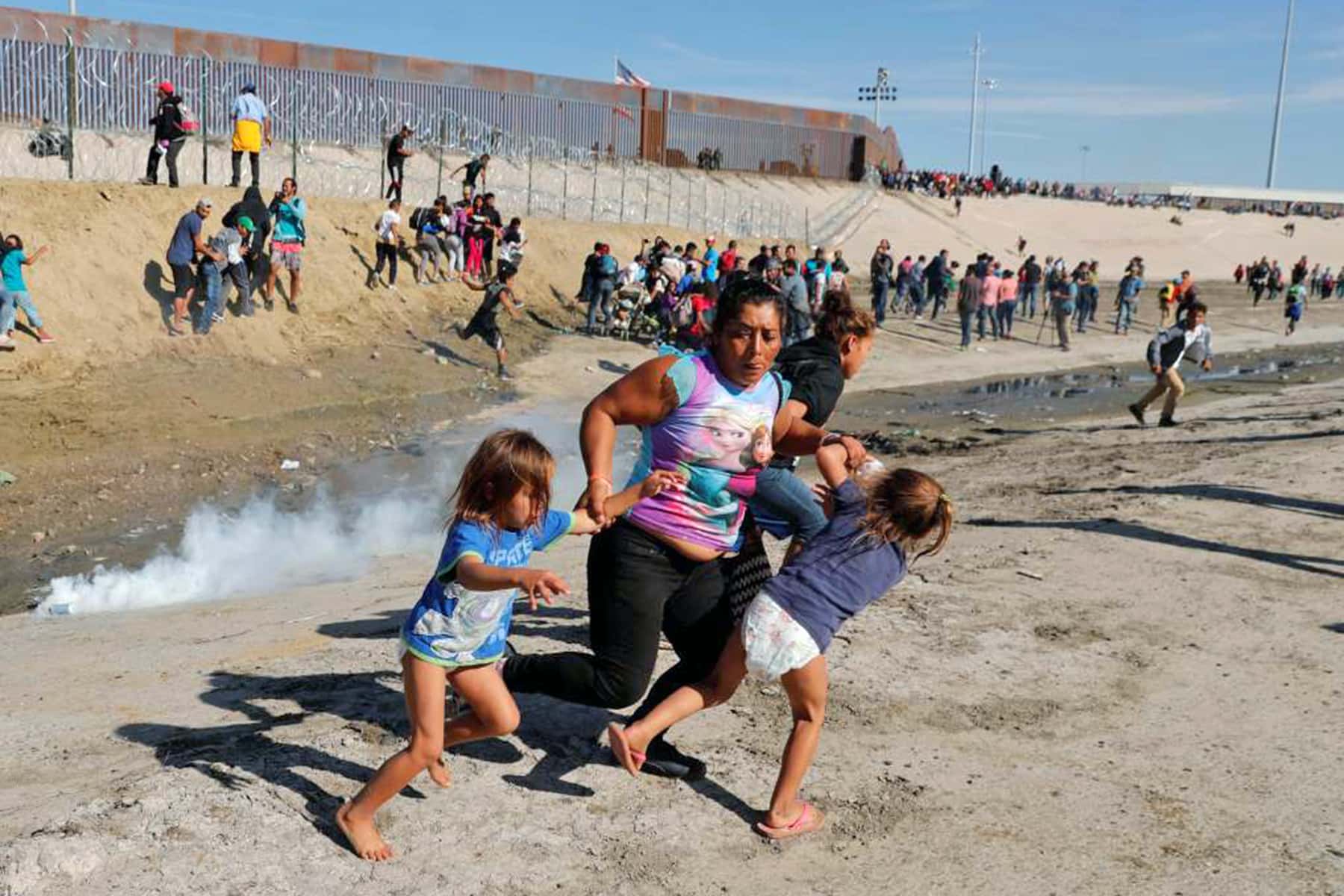 The Wisconsin chapter of the League of United Latin American Citizens (LULAC) criticized the Trump administration's policy of separating families crossing the Mexican border with the United States back in July of this year.
It was part of a billboard campaign that featured the story of 9-year-old Cesar Acosta, a Honduran refugee who fled gang violence in Honduras. The boy and his family were seeking asylum. At the Milwaukee press conference, Acosta detailed his horrific experience, where he was kept in a cage after U.S. authorities took him from his mother on the southern border.
"He was forced to sleep on the floor with a piece of plastic carton, was placed in kennel cages used for dogs along with other kids. He was treated bad by border agents, was given a small sandwich and little to drink, experienced cold central air conditioned temperatures at a holding center – known as the refrigerators. Lights were always on, so he could not sleep." – H. Nelson Goodson
His mother, who was pending an asylum status, said that she fled her country due to death threats and because her bother in-law being killed by gangs. She described border process agents as cold and with no heart as they forced the separation of families, and witnessed mothers crying and begging agents not to take their kids but with no success.
On November 25, U.S. Border Patrol agents used tear gas to disperse hundreds of Central American migrants in the Mexican city of Tijuana, who made a rush for the border fence as asylum seekers trying to enter the country.
"These children are barefoot. In diapers. Choking on tear gas," tweeted the Gavin Newsom, the governor-elect of California. "Women and children who left their lives behind — seeking peace and asylum — were met with violence and fear. That's not my America. We're a land of refuge. Of hope. Of freedom. And we will not stand for this."
Though thousands of Hondurans left in recent weeks to form the main party of the so-called migrant caravan now making its way to the United States through Mexico, on a typical day hundreds of people leave Honduras, caravan or not. And as those hundreds depart, scores of others are returned after deportation from the United States. Many deportees will try their luck again.
"We are living in calamity, a humanitarian crisis in Honduras," said Bartolo Fuentes, a well-known Honduran journalist and former member of its Congress, arriving at the Toncontin Airport in Tegucigalpa, Honduras, on Oct. 19 after being detained in Guatemala where he tried to report on the caravan. "Today they left," he said. "Tomorrow they will leave…. Three hundred people leave Honduras every day."
U.S. and Honduran officials, he said, prefer that this regular exodus remains "out of sight" or that migrants "die on the way," their plight unnoticed by the wider world. But "now that they're going together, it's a scandal," Fuentes said in evident frustration.
Honduras has endured years of economic and political crises. The November 2017 election results, endorsed by the U.S. government but widely perceived as fraudulent, led to mass protests and dozens of deaths of demonstrators at the hands of security forces and police. The U.N. Office of the High Commission for Human Rights reported that military police and army "used excessive force, including lethal force, to control and disperse protests, leading to the killing and wounding of protesters as well as passers-by."
According to Joaquin Mejia, a human rights attorney and researcher at the Jesuit Reflection, Research and Communications Team (ERIC-sj) in El Progreso, Honduras, in addition to economic policies that have led to an increase in poverty, the migrant caravan is an expression of frustration with years of structural violence and impunity, corruption and the militarization of Honduran society. High-ranking, active-duty military officers have been implicated in drug and human trafficking and homicide.
Karla Rivas, the coordinator of the Jesuit Migration Network, spoke with America by phone from Queretaro, Mexico, where she was accompanying a separate caravan of mothers who were searching for their children—young migrants who had gone unaccounted for after heading north. "The humanitarian exodus [from Honduras] is the culmination of several crises that have been manifesting themselves over time with the implementation of an unjust economic model." She called it "an inhumane economic model that is based on extracting [resources] from communities."
"And if communities say anything," she added, "they are extracted too." By eviction, she explained.
Years of economic policies that have served to further the divide between the rich and the poor in Honduras seem to be at the root of the search for new opportunities in the north. Remittances sent home from Hondurans living in the United States are the foundation of the economy in Honduras and other Central American states. In May 2018, Hondurans sent an all time high of $456.2 million per month to loved ones.
The Center for Economic and Policy Research reports that Honduras has "the most unequal distribution of income in Latin America," a inequity that has been accelerating since President Manuel Zelaya was deposed in 2009. In the two years after the coup, "over 100 percent of all real income gains went to the wealthiest 10 percent of Hondurans," according to the report.
The Support Mission Against Corruption and Impunity in Honduras, sponsored by the Organization of American States, reports that $450 million is lost to tax evasion and fraud each year. This money deprives the nation of resources "that should be invested in education, health" and other social services, says Mejia.
Violence is another key driver of immigration from Honduras, which endures one of the world's highest homicide rates. Much of the violence has been associated with drug trafficking and acts of extortion—criminal gangs can essentially control entire urban communities—but some of the violence results from collusion among gang members, police and security forces, sometimes in acts of intimidation directed at community or environmental activists.
"In the past years, there have been 3,000 cases of femicide," Mejia said. "Only 29 have been investigated and only one led to a conviction," he said. "This high level of impunity is seen over and over again in the murders of lawyers and journalists."
He points to increased numbers of targeted killings, especially of L.G.B.T. people and youth under 30, since 2013 when Juan Orlando Hernández was first elected to the presidency. Those responsible for protecting the civilian population have sometimes been accused of being the ones who are killing them.
Fuentes has become a target in the controversy about the origins of this latest caravan from Central America. Detained after crossing into Guatemala in an effort to report on the migrant caravan, he was moved to Guatemala City by National Police.
Attorney Edy Tabora from the Honduran Committee for Freedom of Expression joined other activists in securing his release. His supporters are concerned that Fuentes has become a scapegoat for the Hernández and Trump administrations as they press for an end to the Honduran exodus. As an outspoken advocate for democracy and migrants rights, Fuentes has been repeatedly targeted by the Hernández government.
In a nationally televised broadcast, the Honduran chancellor, Maria Dolores Aguero, dismissed the grassroots aspects of the migrant caravan and alleged that Fuentes was trying to create political instability in the country. That official line was taken up by Heide Fulton, chargé d'affaires for the U.S. Embassy in Honduras, in a televised message encouraging Hondurans to stay home. "You are being deceived by false promises by leaders with political and criminal intentions," she said.
On October 31, Fuentes left Honduras for El Salvador after government officials repeatedly said that he would be charged with human trafficking. In a statement released after his departure, he said that the government "wants to put me behind bars to show the U.S. government its 'efficiency in fighting irregular migration.'"
On November 5, President Hernández reiterated that the organizers of the caravan should have the law "severely" applied and called on neighboring countries to take action.
Mejia believes that the militarization of Honduran society has increased as a result of calls for greater public security. "Funds that should be used for education, health or civilian police [for public security] go to the military," he said. Honduran "armed forces become involved with a authoritarian solution to social conflicts, and that leads to forced displacement."
"The United States has a lot to do with this because when we talk about violence and militarization, the United States is financially supporting this agenda," he added. The Alliance for Prosperity Plan, introduced and implemented by the United States, Honduras, Guatemala and El Salvador in 2014 with the mission of curbing migration from the "Northern Triangle" countries, spends 60 percent of the $750 million budget on security, according to the Council on Hemispheric Affairs.
The Honduran conference of Catholic bishops released a statement on Oct. 25, describing the caravan as "a shocking reality" that reflects "the current situation in our country, which forces a multitude to leave what little it has, venturing without any certainty for the migration route to the United States, with the desire to reach the promised land, the 'American dream', which allows them to solve their economic problems and improve their living conditions, for them and their families and, in many cases, to ensure the long-awaited physical security."
The bishops urged the Hernández government to respond at home to the crisis suggested by the caravan. "It is the duty of the Honduran State to provide its citizens with the means to satisfy their basic needs," the bishops said, "such as decent, stable and well-paid work, health, education and housing."
"When these conditions do not exist," the bishops said, "people are forced to live in tragedy and many of them hope to undertake a path that leads to development and improvement, finding themselves in the shameful and painful need to leave their families, their friends, their community, their culture, their environment and their land."
As more than 6,000 people passed through the Mexican state of Chiapas at the end of October, the Human Rights Monitoring and Observation Group in Chiapas reported a heavy presence of Mexican anti-riot police and military, including helicopters, drones and boats, threatening the group of migrants, many of who were exhausted and weak after walking hundreds of miles. The group, which includes representatives from the American Friends Service Committee, Jesuit Refugee Service and Doctors of the World, added, "The militarization of the border does not guarantee the security and integrity of the people, on the contrary it increases [their] risks."
"The migration route is where entire families are looking for the possibility of a new life," Rivas said, "but a large number of the participants on the march are also people simply trying to save their lives."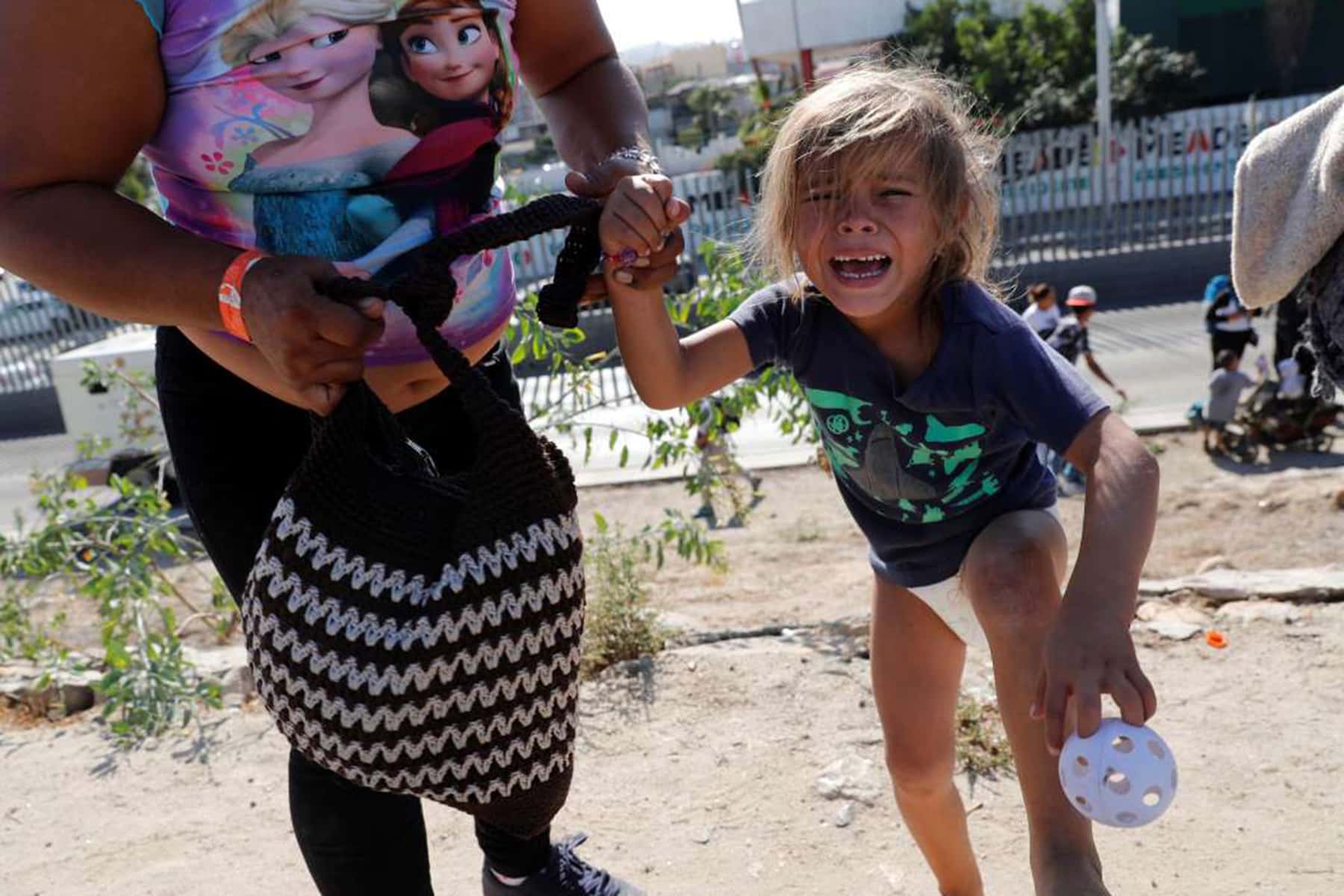 Jackie McVicar with contributions by Benjamin Schramm
Please support the America: The Jesuit Review of Faith & Culture with a donation to help the organization continue to tell the stories that matter most to the church and the world.