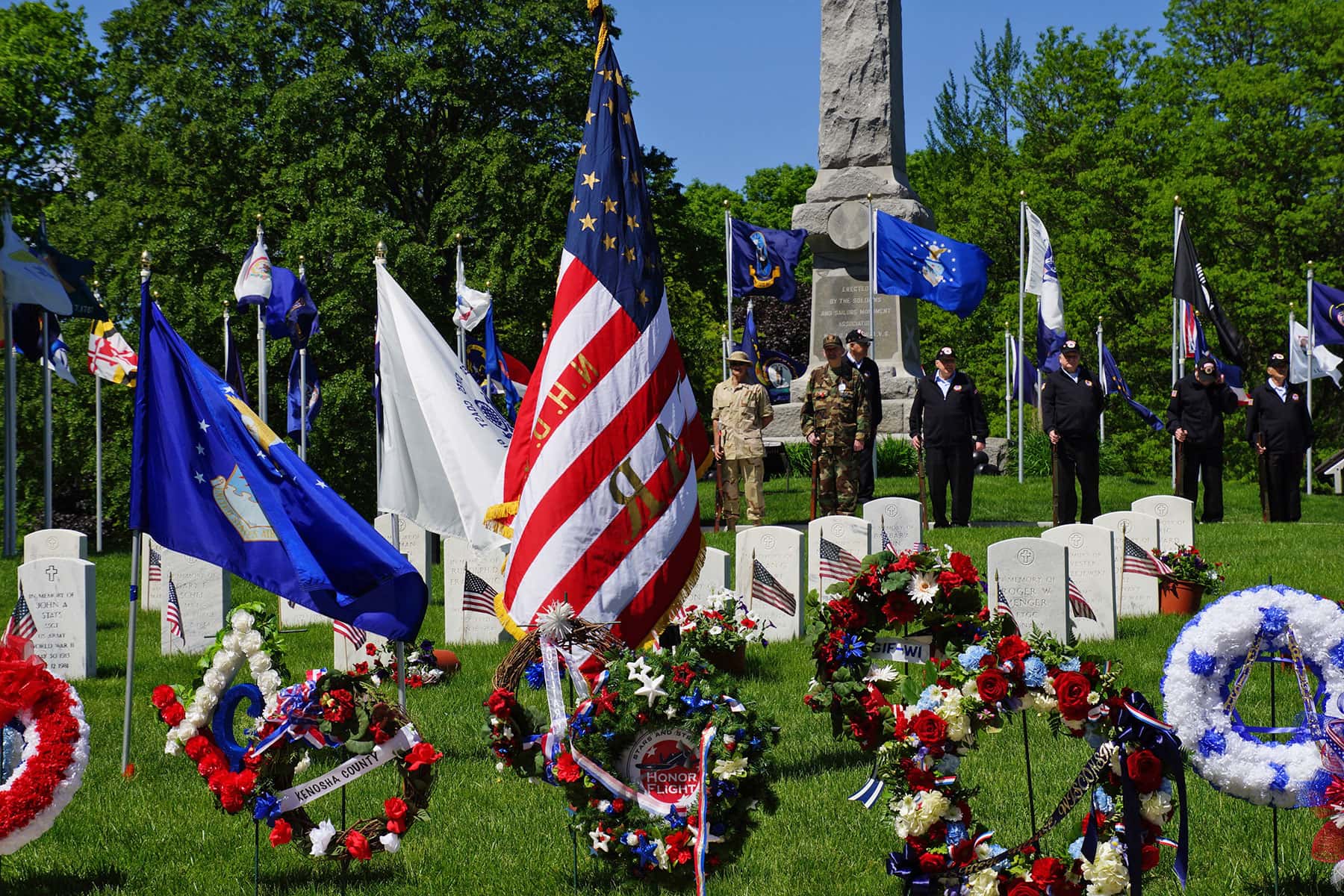 On May 29, the Clement J. Zablocki Veterans Association Medical Center continued its tradition of honoring veterans by remembering the lives and legacies of those lost in the service of our nation.
The headlines from conflicts in our Nation's history were paid for by those honored on the lawn of Wood National Cemetery. More than 3.8 million veterans from every American conflict are buried across VA National Cemeteries, on 20,000 acres of land. These hallowed grounds are visited by 7 million people each year, paying tribute to some of the nearly 900,000 Americans who dіеd in military service. That total includes the 33,000 souls buried at the VA's Wood National Cemetery in Milwaukee.
The first grounds of the cemetery opened in 1871, a decade after the start of the Civil War which began barely a dozen years after Wisconsin became a state in 1848. During the ceremony Governor Scott Walker presented a proclamation honoring the National Cemetery as a declaration of thanks on Memorial Day.
The 2017 service was a time of reflection on the military heroes who answered the call of duty and served in harm's way for the sake of the country. Those remembered were grandparents, children, husbands, wives, and loved ones in uniforms who fought on the battlefields of Europe, the Pacific, the Korean Peninsula, Vietnam, Kuwait, Afghanistan, and Iraq.
Milwaukee joined in tribute with people gathered at National Cemeteries across the United States. The Veterans Association maintains 139 National Cemeteries in 39 states, and Puerto Rico, including 33 Soldiers Lots and monument sites. These images show the enduring honor and gratefulness residents have for the departed veterans on Memorial Day, with a somber celebration of their sacrifice.
"Memorial Day is an opportunity to ensure that these brave men and women, family members, neighbors and co-workers are remembered and remain forever in our hearts on this holiday, as we extend our deepest respect and gratitude."
– Srey Austin, Deputy Director of Wood National Cemetery
"Is it time to remember and reflect on the freedoms that we take for granted. Since the Declaration of Independence, 57 million men and women have given a blank check to our country, and more than a million of our sons and daughters, husbands and wives, sisters and brothers, have given the ultimate sacrifice and did not return home. As I look out on these hallowed grounds, it sends a chill of hope that we will be worthy of that sacrifice. Memorial Day is first and foremost that day and moment to remember it well. Some folks believe that barbecuing and spending time with family are contradictory to the spirit Memorial Day. This holiday is something uniquely American. I believe that those who have gone before us are pleased to know that their lives not only remembered but celebrated for the sacrifice they made on behalf of this great nation, guaranteeing that their family, friends, and love ones can get together under the banner of freedom."
– Congresswoman Gwen S. Moore
"Some of you join me on Friday, May 26 over at General Mitchell International Airport, for a new memorial dedication to Captain Lance P. Sijan. The Congressional Medal of Honor recipient from Vietnam. His jet went down 50 years ago this November on his 52nd mission. He spent week after week evading the enemy, was eventually caught and escaped again. One of the POWs who joined us on Friday talked about knowing Lance from when they played football together at the Air Force Academy. A guy who was six foot two, and looked everything like football player from Milwaukee. The airman was 100 pounds by the time they saw each other in prison, he was covered with sores, with a bone sticking out of his leg, and a mangled a head concussion. Lance was still trying to escape, but because of his injuries and the beatings he received, he dіеd on January 22, 1968."
"Special thanks to the leadership here at Wood National Cemetery, and all the employees and former employees for their hard work on behalf of the very finest among us. Thanks also to everyone from the Zablocki VA Medical Center, for all the work you do for our veterans. My very best wishes as you prepare for your 150th anniversary celebration next week."
"Many of us think of Memorial Day as the official beginning of summer. And while the long weekend is a great chance for us to spend the day with friends and loved ones in the great Wisconsin outdoors, it's important we remember the true meaning of this holiday. The brave men and women who serve in the United States Armed Forces make the selfless decision every day to stand up for our nation's ideals and protect our freedoms. Every day, but especially today, we remember those who paid the ultimate price for that freedom with their lives. We hold these American heroes in our hearts. We keep them, and their loved ones, in our thoughts and prayers."