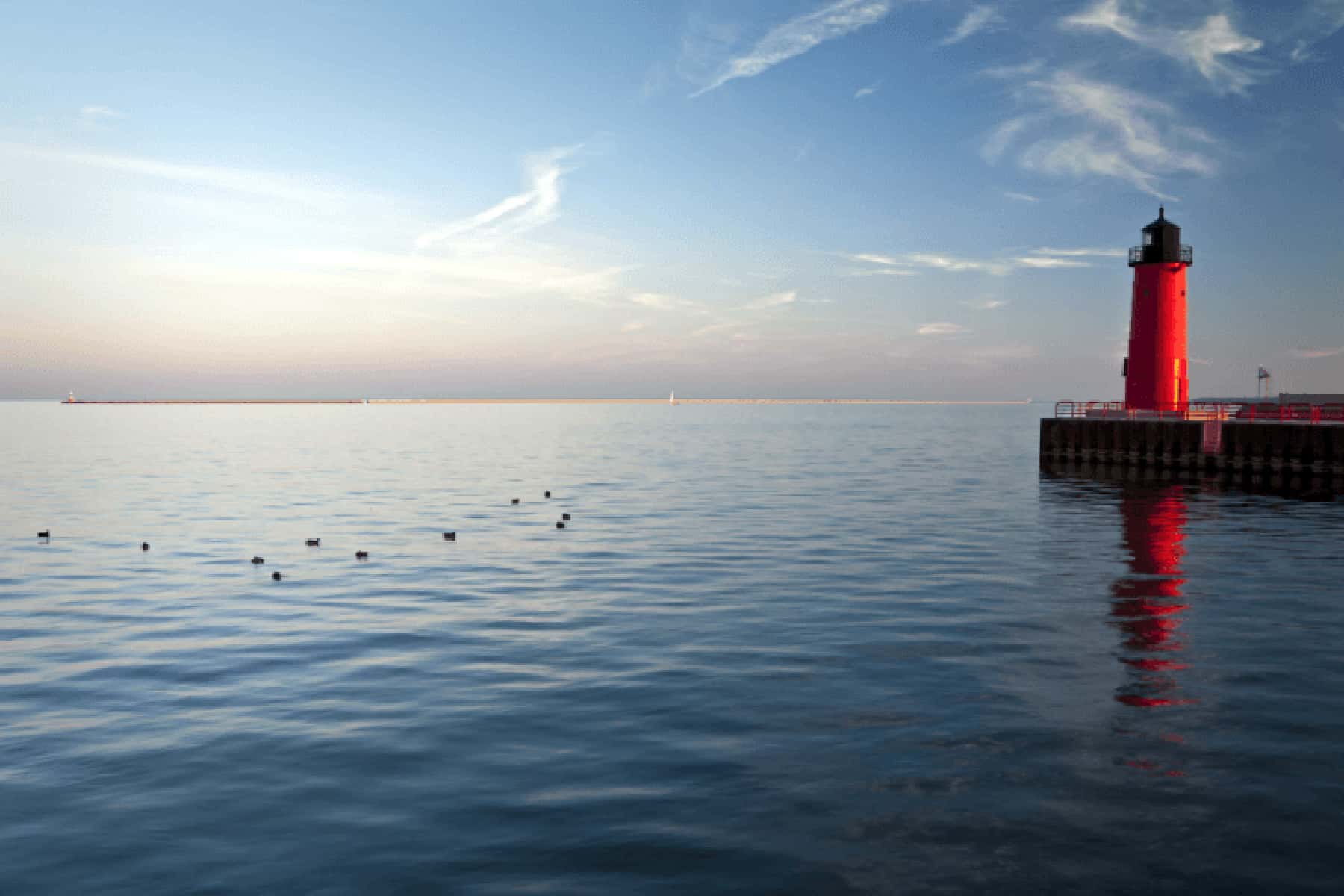 Representatives from the Wisconsin Department of Natural Resources and the U.S. Environmental Protection Agency signed an agreement recently to work cooperatively with the city of Milwaukee, Milwaukee County, Milwaukee Metropolitan Sewerage District and We Energies to clean up the Milwaukee Estuary Area of Concern.
Signed on Jan. 6, 2020, the Great Lakes Legacy Act Project Agreement provides funding and a shared path forward to accelerate contaminated sediment cleanup in Milwaukee. "Areas of Concern" or AOCs are polluted hot spots in Great Lakes rivers and harbors that were specially targeted by the U.S. and Canada for cleanup in 1987.
"This is an important next step for fixing the mistakes of the past, such as toxic hotspots like the Milwaukee Estuary Area of Concern. This will help protect our citizens and our natural resources," said Preston D. Cole, DNR Secretary-designee. "We are stronger together, and we now have a signed Project Agreement among six key partners that sets the stage and identifies our respective roles in performing an incredible amount of work to address Milwaukee's contaminated sediment."
A key element of the Great Lakes Legacy Act is a cost-sharing strategy to fund and perform sediment cleanups and restoration. Under this approach, at least 35 percent of the project is funded by voluntary, non-federal organizations, such as businesses, industries, states and municipalities.
The federal government covers the remaining costs through Great Lakes Restoration Initiative funds. In-kind contributions – such as equipment, labor, services, land and a place to dispose of dredged sediment – can be counted as the non-federal match.
"EPA is grateful for the partnership of the city of Milwaukee, the state of Wisconsin and the numerous organizations that have come together with the shared goal of restoring the Milwaukee Estuary AOC," said Kurt Thiede, EPA Region 5 Administrator/Great Lakes National Program Manager. "This collaborative effort exemplifies the priorities of the Great Lakes Restoration Initiative and will improve water quality and enhance economic and recreational opportunities for the Milwaukee region."
The Milwaukee Project Agreement includes innovative approaches for feasibility studies, pre-design investigations, technical specifications for sediment cleanup, design of a Dredged Material Management Facility and removal of contaminated sediment.
"Leveraging funding and resources in this way allows more work to be accomplished than any one entity could ever do alone. This collaborative approach to cleaning up contaminated sites builds and sustains partnerships in the community," Cole said. "Giving community members a seat at the table and meaningful ways to participate in AOC projects fosters innovation to get the work done."
The Project Agreement is also designed to allow as much local work as possible to qualify for in-kind contributions to match federal funds. Through the collaborative approach outlined in Milwaukee's Project Agreement, it's anticipated that cleanup could be accelerated from 20 years to eight years. Although project agreements are a regular part of the contaminated sediment cleanup process, no other Great Lakes project agreement has included this number of partners from different sectors to address such a large geographic area.
The Milwaukee Estuary AOC includes the meeting of three major tributaries to Lake Michigan – the Milwaukee, Menomonee and Kinnickinnic Rivers – plus segments of a few local creeks and the nearshore waters of Lake Michigan. Historical pollution contaminated sediments in the Milwaukee AOC with heavy metals, polychlorinated biphenyls (PCBs) and polycyclic aromatic hydrocarbons (PAHs).
Toxic sediments have caused problems such as fish tumors, bird and animal deformities and reproductive problems, restrictions on fish and wildlife consumption, loss of fish and wildlife habitat, degraded fish and wildlife populations and restrictions on dredging activities.
The overall goal is to restore the Milwaukee Estuary so that it is no longer labeled as a Great Lakes Area of Concern. Delisting the AOC will occur when toxic sediment is removed, habitats and wildlife are restored and the waters are safe and healthy for people to use and enjoy. Restoration will improve Lake Michigan- a primary drinking water source; it will also rebuild the fishing community and improve economic and recreational opportunities for the region.
"This is a very significant step towards improving the water quality, not only for Milwaukee but also for Lake Michigan. Everyone deserves safe, clean water," added Cole. "We will continue working hard to ensure Wisconsinites have access to clean drinking water coming from their taps, and that businesses can thrive in areas not endangered by toxic sediment."