Eid al-Adha brings prayers and support for victims of Hurricane Harvey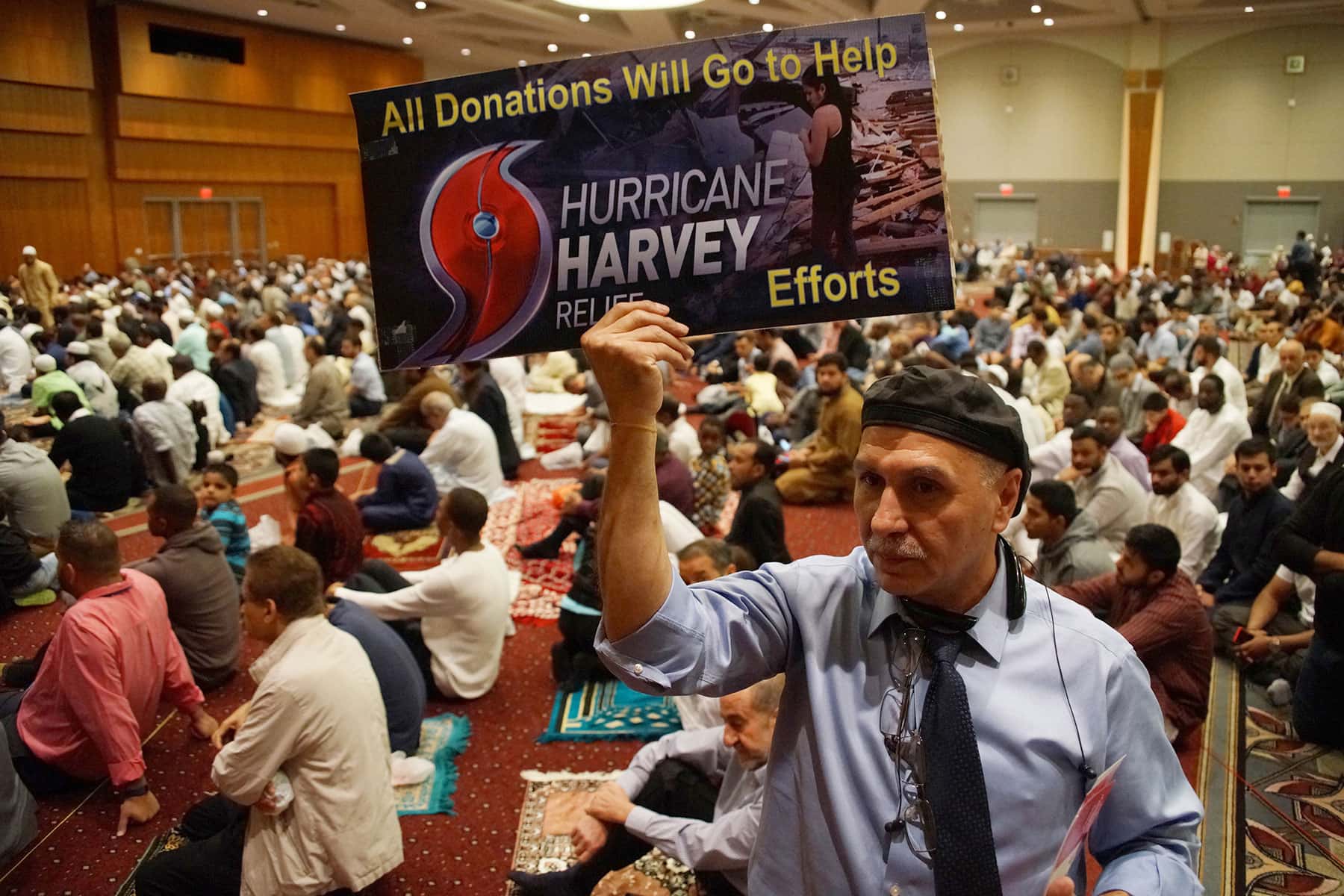 As thousands of Milwaukee Muslims gathered for prayer at the Wisconsin Center on September 1, their most important religious holiday of the year became a call to action.
Eid al-Adha commemorates Prophet Abraham's spirit of sacrifice and his intense devotion to God. With images of Hurricane Harvey victims weighing heavily on the nation, the Islamic Society of Milwaukee called on attendees to donate generously of their time and their money to help the thousands of displaced families in Texas, reminding everyone that serving people was an act of faith.
The collected funds will be sent to the Islamic Society of Greater Houston, which has 21 Islamic centers. Currently, six of the centers are serving as shelters for people of all backgrounds. They also have hundreds of Muslim volunteers assisting in the relief efforts. They are seeking donations so that they can continue helping the people of Houston regardless of faith or spirituality.
The Islamic Society of Milwaukee (ISM) has a long history of helping victims of natural disasters. During Hurricane Katrina, ISM raised about $50,000 and collected a truckload of medical supplies donated by area hospitals, clinics, and pharmaceutical companies. The funds and supplies were sent with a team of ISM volunteers, including physicians. The collections for Hurricane Harvey totaled more than $25,000 by the day of Eid, but collections continued for the three day holiday.
Although several thousand participated in the prayers at the Wisconsin Center, many chose to attend special early morning prayers at the nine Mosques in the Greater Milwaukee area. With many schools starting class on September 1, and family members needing to go back to work, Mosque services were filled to capacity. Those who gathered for holiday prayers in Milwaukee marked the joyous occasion with greetings of Eid Mubarak (Blessed Holiday), hugs, and poses for pictures and selfies.
Eid al-Adha coincides with the annual pilgrimage in Mecca, an important ritual that every Muslim must perform at least once in their lifetime if physically and financially able. Dozens of Muslims from the Milwaukee area left two weeks prior to the Eid to fulfill their pilgrimage obligation, they will soon be welcomed back home with festivities.
These images capture moments from the holy holiday at the Wisconsin Center, where Muslims came dressed in their holiday best, many wearing ethnic clothing that showcased the beautiful diversity of the Muslim population that make up the fabric of Milwaukee.