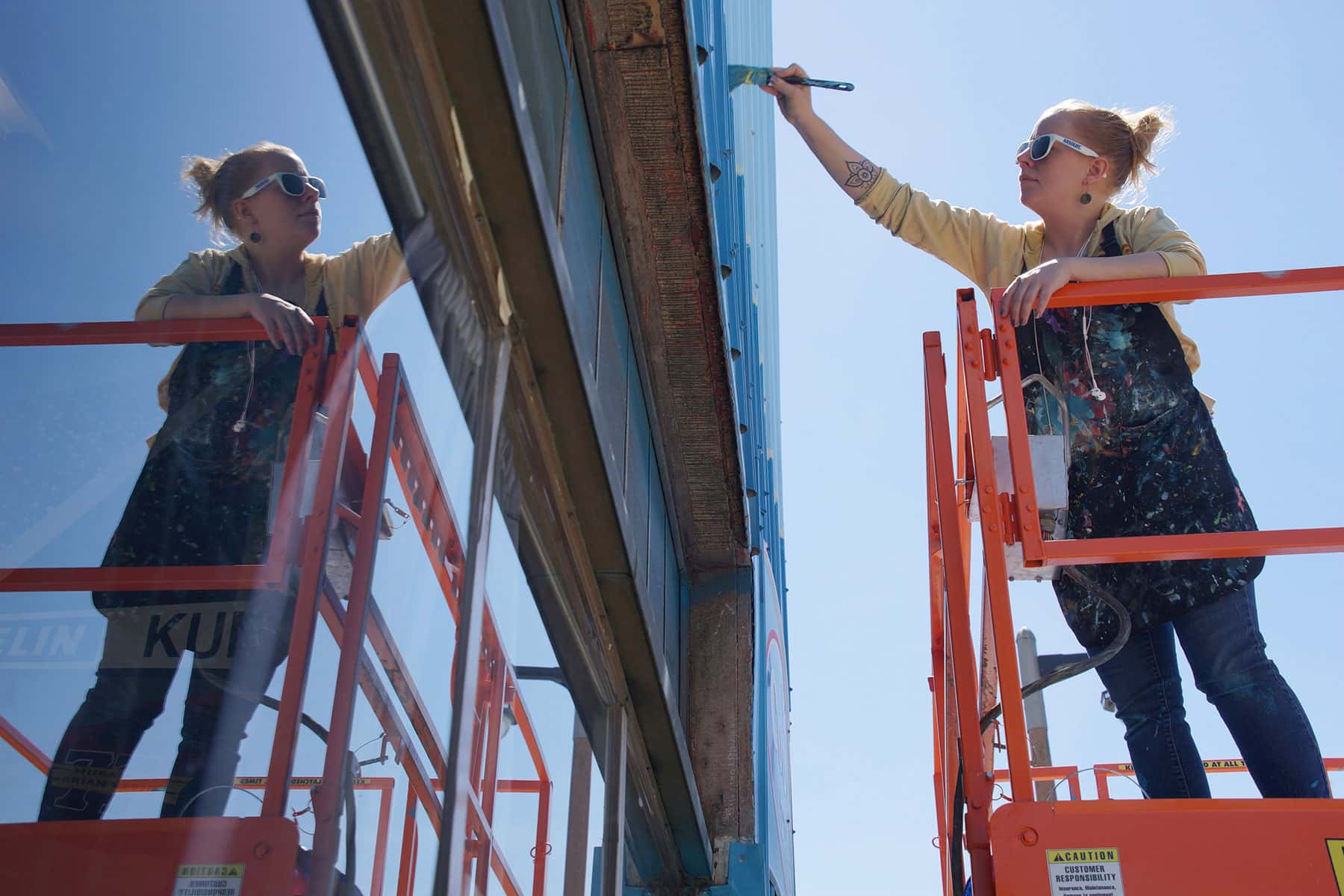 Dena Nord is one of the five female artists who was hired by the Kinnickinnic Avenue BID to paint a large-scale mural along Bay View's main retail corridor, with a work titled "Flow."
The "Street Canvas" project is part of an overall enhancement initiative long the main street of the Southside artery, once the most frequently traveled road connecting Milwaukee and Chicago. The five commercial buildings selected along the mile-long stretch of Kinnickinnic Avenue, or simply KK as the street is commonly known, are as architecturally diverse as the area is culturally.
Nova Czarnecki, Jenny Jo Kristan, Dena Nord, Jenny Anderson, and Rozalia Hernandez-Singh are the all-female roster of artists and unifying theme for the new collection of public art in Bay View.
Over the installation period, from May 22 to June 9, the Milwaukee Independent photo documented the mural painting process of each artist. Those images are included with this short Q&A, to showcase and share a personal insight into this ambitious project that adds to the growing momentum of establishing Milwaukee as an art destination.
Q: In your youth, who or what inspired you to be an artist, and what led you on the path to paint outdoor murals?
A: I have always been drawn to being creative. My mom always encouraged me to do creating things. I had an amazing high school art teacher that really pushed me to see where I could take my artistic talents, so I was very fortunate. That high school art teacher also actually gave me my first mural project. It changed my way of thinking about how art can affect larger public spaces.
Q: What was the idea behind your Bay View mural, and what do you hope the public experiences when seeing it?
A: For my Bay View street canvas mural, I took inspiration from the proximity to the lake and feeling of flow. I focused my idea on the location, Mr. P's Tires, to create a concept that would emphasize the structure of the building and use it to my advantage. I picked a color and pattern to make the top of the building seem to lift off, making the bottom act as a watery base. I hope the public is surprised and temporarily lost in a moment when following the organic shapes up and around the building.
Q: What would you say to encourage a disadvantaged young girl who dreams of being an artist but lacks the opportunity?
A: Find a way to keep creating and the opportunities will present themselves. Materials are all around you, and you are only limited by your imagination.