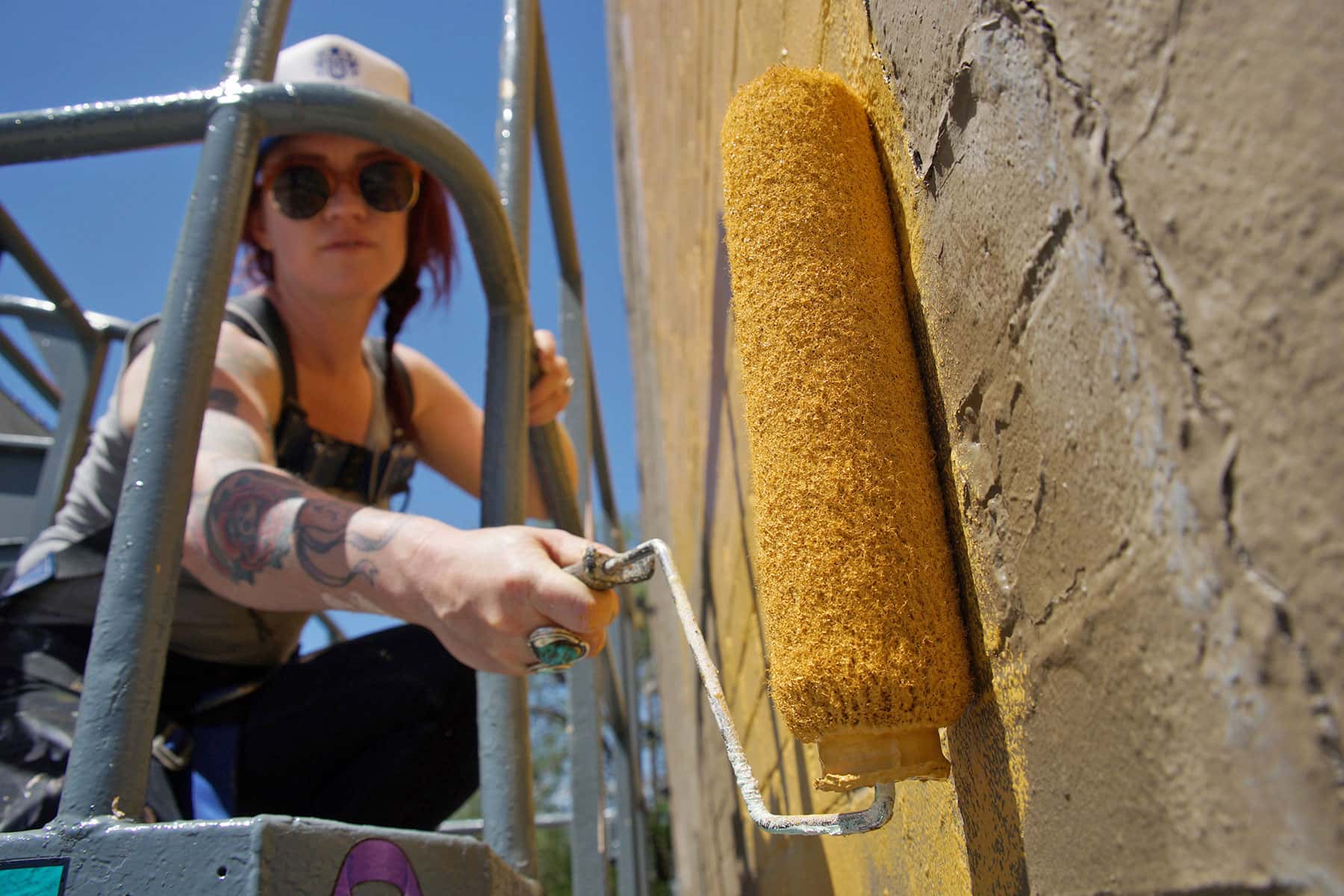 Jenny Jo Kristan is one of the five female artists who was hired by the Kinnickinnic Avenue BID to paint a large-scale mural along Bay View's main retail corridor, with a work titled "Nearer The Moon."
The "Street Canvas" project is part of an overall enhancement initiative long the main street of the Southside artery, once the most frequently traveled road connecting Milwaukee and Chicago. The five commercial buildings selected along the mile-long stretch of Kinnickinnic Avenue, or simply KK as the street is commonly known, are as architecturally diverse as the area is culturally.
Nova Czarnecki, Jenny Jo Kristan, Dena Nord, Jenny Anderson, and Rozalia Hernandez-Singh are the all-female roster of artists and unifying theme for the new collection of public art in Bay View.
Over the installation period, from May 22 to June 9, the Milwaukee Independent photo documented the mural painting process of each artist. Those images are included with this short Q&A, to showcase and share a personal insight into this ambitious project that adds to the growing momentum of establishing Milwaukee as an art destination.
Q&A with Jenny Jo Kristan
Nearer The Moon
Q: In your youth, who or what inspired you to be an artist, and what led you on the path to paint outdoor murals?
A: When I was a child, my mother's best friend was an artist and had a studio in her back yard. I was very close with her children and spent a great deal of time at their house, as they lived across the street from us. I loved to see her studio, and would fantasize about having one of my own when I grew up. I drew a lot as a child and teenager. Later, in high school, I had two amazing art teachers, a husband and wife duo. They were kind, had a wry sense of humor, and I adored them both. In a sea of football and cheerleaders, their classes were my favorite time of the day. I would often give up having study hall to take an extra art class. So by these experiences I knew what felt like home, who felt like "my people." I spent my twenties studying and writing poetry in San Francisco. I began to write and direct plays, and had a Bohemian theater company which produced many shows and vaudeville acts. It wasn't until my 30s that I returned to the visual arts, about the time I moved to Milwaukee. I'm a self-taught artist, and I came to murals organically, as I learned what type of art I wanted to make, and what size. I am still learning. It takes a long time to find your style, your voice in your paintings.
Q: What was the idea behind your Bay View mural, and what do you hope the public experiences when seeing it?
A: My idea behind my mural at Lulu Café and Bar was simply to paint women. I feel a camaraderie and hidden strength blossoming in the global community of women, as we've begun to dismantle the sexism which stifled so many female talents and voices in the last many thousands of years. I see the unification of women as a great potential for healing and evolution on this troubled planet. Additionally, I hope the public sees my mural as a way to honor and recognize women on a grand scale. It's a show of love and strength and honor for our mothers, grandmothers, daughters, sisters, co-workers, and womanhood.
Q: What would you say to encourage a disadvantaged young girl who dreams of being an artist but lacks the opportunity?
A: I would say to practice. Practice, practice, practice. And be patient. It takes a whole lot of mistakes, thousands of hours, and determination to become good at something. And the only ones who become good are the ones who stick with it and put in the time. But the rewards are worth every hour, every year, of learning. If you stick with it, keep practicing, a pathway will open before you. You will find your place and direction in the world. Also, I would tell her to not be afraid to ask more established artists for tips, or to study with them. Reach out. Be brave, and keep the faith if the answer is no. Ask again. Try again. I would tell her to spend time at the library looking at books of paintings, or sculpture, or whatever art she is into. Study the great works and great artists who came before. I would also recommend she read biographies of favorite artists, as well as great literature. Avoid too much social media. It lends to paralyzing comparison and overload of information, which are toxic for an artist. Be careful what your input is, feed your creativity with art, books, and music.