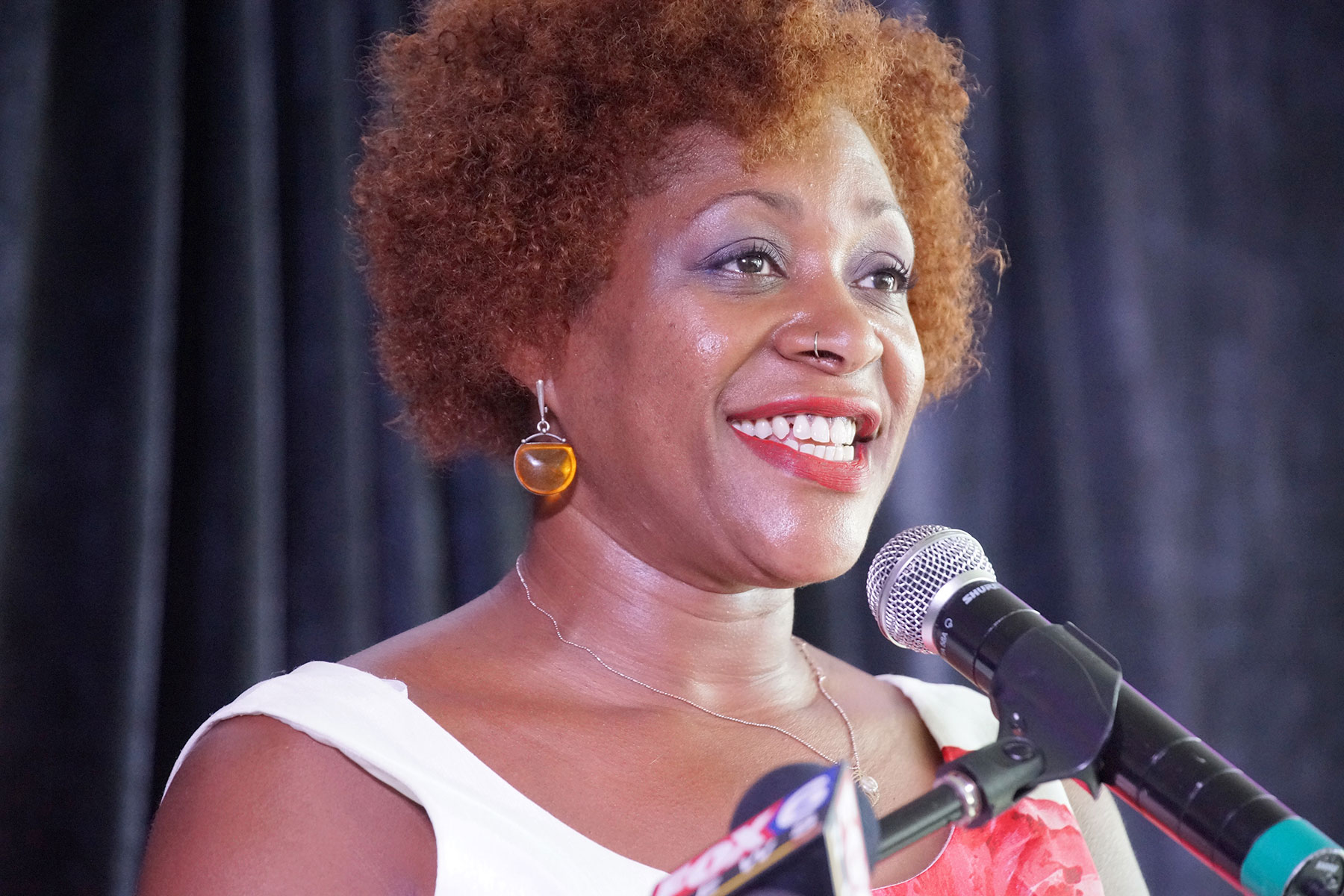 Milwaukee Public Library Director Paula A. Kiely announced the appointment of Dasha Kelly Hamilton to serve as the library's Poet Laureate from 2019 to 2021.
The Milwaukee Poet Laureate project was initiated in February 2000 to serve as a leading example locally of the poetic voice of their genre for a two-year term. The poet laureate makes several guest appearances during the term, promoting poetry throughout the community.
"Dasha Kelly is a familiar name not only in Milwaukee's poetry community but throughout the city," said Paula Kiely. "Her personal approach of bringing poetry to schools, libraries, and civic organizations has made poetry come alive to generations of Milwaukeeans. We look forward to hosting a variety of exciting, thoughtful, and engaging poetry events featuring the words and talents of Dasha Kelly."
Past Milwaukee Poets Laureate have included John Koethe, Antler, Marilyn Taylor, Peggy Hong, Susan Firer, Brenda Cárdenas, Jim Chapson, Jeff Poniewaz, Matt Cook, and Roberto Harrison.
An official celebration to begin Kelly's term will be held on November 10, in the Richard E. and Lucile Krug Rare Books Room of the Central Library, 814 W. Wisconsin Avenue.
Dasha Kelly Hamilton is a writer, performance artist and creative change agent. Through responsive and respectful intentionality, Dasha leverages the creative process to facilitate critical dialogues around human and social wellness. Kelly delivers her engagement sessions to campuses, classrooms, correctional institutions, association conferences, social service agencies, municipal departments and team retreats.
Her nonprofit, Still Waters Collective, has curated poetry programming and spoken word events in the region for almost 20 years. The work has impacting more than 13,000 youth, provided professional development to more than 100 young people and created platforms for thousands of voices to be honored and heard.
Kelly has written for national, regional, and local magazines; produced three collections of poetry; recorded four spoken word CDs; and published two novels. Kelly also served as an Arts Envoy for the U.S. Embassy to teach, perform and facilitate community building initiatives in Botswana and the island of Mauritius.