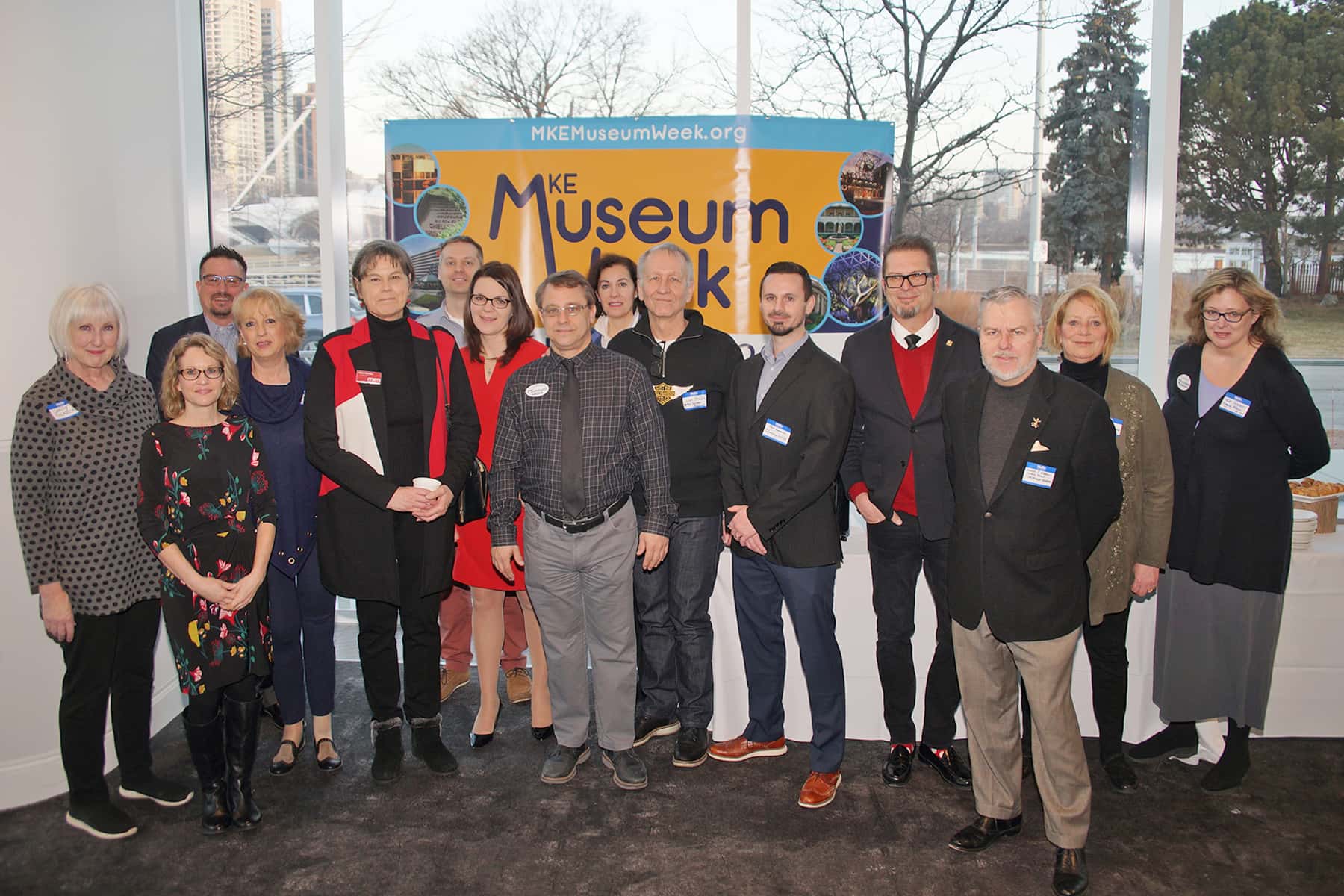 The special week was created to shine a light on the meaningful impact these museums have for Milwaukee's residents and the economy, and to form a well-rounded cultural community.
This first-time event was created as a result of conversations between area museum directors and staff in recent years. Milwaukee is rich in cultural assets and area's museums and cultural institutions contribute to a vibrant and well-rounded community in a significant way. More than a hundred programs or events are being offered during the week, and the public is encouraged to support these local museums by participating.
Milwaukee's museums cannot be sustainable without the active and direct support of the community. Museum Week is an opportunity to call attention to Milwaukee's wonderful array of museums, to promote a shared missions along with their distinctive focuses, and to ignite new interest from residents across the region.
The overall goal is to inspire and increase awareness, especially for the need of patronage for these community treasures. Ultimately, the week celebrates what this segment of Milwaukee's infrastructure means to education and the quality of life. The following 17 museums are participating in Milwaukee Museum Week 2019:
Mitchell Park Domes
Betty Brinn Children's Museum
The Brew City MKE Beer Museum & Beer Bar
Charles Allis Art Museum
Discovery World
Grohmann Museum
Haggerty Museum of Art
Harley-Davidson Museum
Jewish Museum Milwaukee
Milwaukee Art Museum
Milwaukee County Historical Society
Milwaukee Public Museum
Mitchell Gallery of Flight
North Point Lighthouse & Museum
Pabst Mansion
Villa Terrace Decorative Arts Museum
Wisconsin Black Historical Society and Museum
The public can expect events and programs such as behind-the-scene tours, lectures, specialty tours only offered during Museum Week, children's programming, and some museums are offering reduced or free admission on select days. A full list of events can be found on MKEMuseumWeek.org.
Q&A with Museum Week Participants
Milwaukee Independent: What perceptions do you think the Milwaukee public has about local museums, and their value?
Jim Fricke: I think most Milwaukeeans have an appreciation of the value—both cultural and economic—that museums bring to the city, but don't realize how many individual museums there are, nor the varied experiences they combine to offer. For the Harley-Davidson Museum, we find that many visitors assume that we're "just a motorcycle museum" until they visit and discover the breadth and depth of the stories told in our exhibits. Personally, I know it can be difficult to get off the couch in January, but this sense of discovery that my colleagues are bringing to the week has me making plans to get out and explore.
Patti Sherman-Cisler: Milwaukee has a rich and varied museum scene. Many adults, families and schools use museums to explore and better understand our world. Some however haven't had much exposure to museums and therefore don't appreciate their value as a means to grow, learn, interact and entertain. Most Milwaukeeans know about Milwaukee Art Museum, the Public Museum and Discovery World, but have not explored the smaller museums. I think they will be delighted with the quality of all of Milwaukee museums and hopefully this week will encourage them to visit our smaller cultural institutions as well as the more well-known.
James R. Kieselburg, II: I believe the public sees a value in our local cultural institutions. However, apart from the big two (MPM and MAM), I am not sure folks realize the full scope of what we do, and the breadth of our offerings—marketing a small to medium-sized museum is a real challenge. But on any given week, one can attend an exhibition opening, lecture, workshop, gallery talk, book signing, or any number of other events at their local museums.
Meghan Schopp: We are so fortunate in Milwaukee to have so many museums people love and embrace, but I'm not sure if the general public is aware of just how many diverse and meaningful experiences they have available to them. These experiences can both strengthen us as individuals and as a community.
Mаrk P. Kuеhn: In general, I think the people of Milwaukee like their museums. There is a good variety. Admission prices are steep at some, making it unaffordable for low income families to enjoy.
Susan Longhenry: I believe that Milwaukee community members are proud of our city's unique culture—and its history — and that they really do value and respect the many wonderful institutions committed to preserving and sharing that culture. Too often, though, museums are referred to as "hidden gems." Sometimes I wonder if museums aren't seen as buildings (and off-putting buildings, at that) where you go instead of experiences that you have. There's nothing more magical than standing in front of an original work of art — or an authentic historic object — and being transported emotionally, intellectually, and maybe even spiritually. To my mind, that's the real value of museums.
Milwaukee Independent: What makes your institution unique? Or, what is the one thing you want the public to remember and identify with about your museum?
Jim Fricke: The Harley-Davidson Museum uses its truly unique collection to tell a great American success story—how four young men in Milwaukee set about to make motorcycle for their own pleasure and changed the world. We're fairly confident we have one of the – if not the – largest corporate archival collections and it really is amazing to see how the products evolved over our 116 years. They very much reflect the latest trends of the time, but they also have a sense of timelessness. People can't help but be drawn to the brand and how we've changed lives since our first bike rolled out of a shed on the near west side in Milwaukee in 1903.
Patti Sherman-Cisler: The Jewish Museum Milwaukee (JMM) is dedicated to preserving and presenting the history of the Jewish people in southeastern Wisconsin and celebrating the continuum of Jewish heritage and culture. The history of American Jews is rooted in thousands of years of searching for freedom and equality. We are committed to sharing this story and the life lessons it brings with it and building bridges between people of diverse backgrounds to share their stories. The motto "Where Conversations Happen" guides our commitment to using the history and stories we display to prompt cross-cultural dialogue about timely and timeless issues — immigration, intolerance, and community building — in a safe place.
James R. Kieselburg, II: The Grohmann Museum is very unique in that we are the only Museum in the country—and perhaps the world—that focuses exclusively on the art of industry and human achievement. The one requisite feature of everything we display is that it depicts some sort of productive work, engineering marvel, or industrial process. And while we're on the campus of the Milwaukee School of Engineering, we are here to not only serve the MSOE community, but the greater Milwaukee community, the region, and beyond.
Meghan Schopp: One of MPM's main goals is to inspire curiosity about the natural world. If you are walking through our exhibits, participating in a tour or visiting with your school, our hope is that you have an experience that inspires you to explore, ask questions and connect with the world around you.
Mаrk P. Kuеhn: The North Point Lighthouse Museum offers visitors a unique experience to visit a historic maritime landmark right in their backyard. A to get to climb the 84 steps of the tower just like the lighthouse keepers did for over 130 years and to get a great panoramic view of our city.
Susan Longhenry: The Haggerty Museum of Art is a place where creativity, intellect and social justice intersect. Through experiences with original works of art—and motivated by Marquette University's strong commitment to social justice and community engagement—the Haggerty stretches thinking, deepens understanding, expands perspectives, and extends the capacity for empathy. We start conversations, and offer a forum for them to be held. At the Haggerty Museum of Art we create meaningful experiences with art that move our spirit, engage our mind, and provide a powerful means for connection. And though all art can prompt discussion, the unique role of the Haggerty is inspiring the discussions that better humanity.
Milwaukee Independent: What are your hopes for MKE Museum Week, and what does the event mean for all the participating institutions?
Jim Fricke: We hope that local and regional residents will take this opportunity to visit multiple Milwaukee museums, revisiting old favorites and experiencing some of the unique places they've been meaning to get to, or didn't know existed. The experience will demonstrate the cultural vitality of our city, and the impact that all of these institutions have on our local economy. Personally, as we tailor some curator-led, Milwaukee-centric tours that will be available at select times during the week, it's been a thrill to rediscover how integral Milwaukee has been to our history. Nearly every item on display has a direct Milwaukee connection, and we're awfully proud to share those stories with our friends and neighbors.
Patti Sherman-Cisler: The number one priority for me is to inform a broad public of all the incredible museums Milwaukee has to offer and to motivate them to take advantage of them during Museum Week and into the future.
James R. Kieselburg, II: My hope is that by aligning our efforts and shining a light on the outstanding, world-class cultural institutions in our fine city, that it will resonate over the other 51 weeks of the year. MKE Museum Week provides the participating institutions an opportunity for concentrated marketing and exposure that would otherwise be more challenging to achieve.
Meghan Schopp: My hope is that people take advantage of experiencing new things this week. All of our museums work really hard to be places that are safe, welcoming and engaging, and I just hope Milwaukeeans get out, learn, have fun, and deepen their appreciation for all of our amazing cultural institutions.
Mаrk P. Kuеhn: I think it gives a wider range of people a chance to visit our museums that might not be able to afford to visit other times. It's a giant "sampler" of what we, Milwaukee, have to offer in the way of history and learning.
Susan Longhenry: I'm already struck by the power of encountering — in a single stroke — not only the number of Milwaukee's museums, but the diversity and strength among those museums. We all truly complement one another, and I believe that Milwaukee Museum Week is elevating all of these wonderful institutions—almost bringing them out of the shadows — by allowing them to speak with a unified voice.
The Greater Milwaukee Foundation is also making possible a Youth Free Day on January 21, at participating museums.
"The Greater Milwaukee Foundation believes Milwaukee's cultural institutions are essential to the fabric of our community. Ensuring they are accessible, and that people can learn and grow through shared experiences at these museums helps bring our whole community together," said Ellen Gilligan, president and CEO of the Greater Milwaukee Foundation.