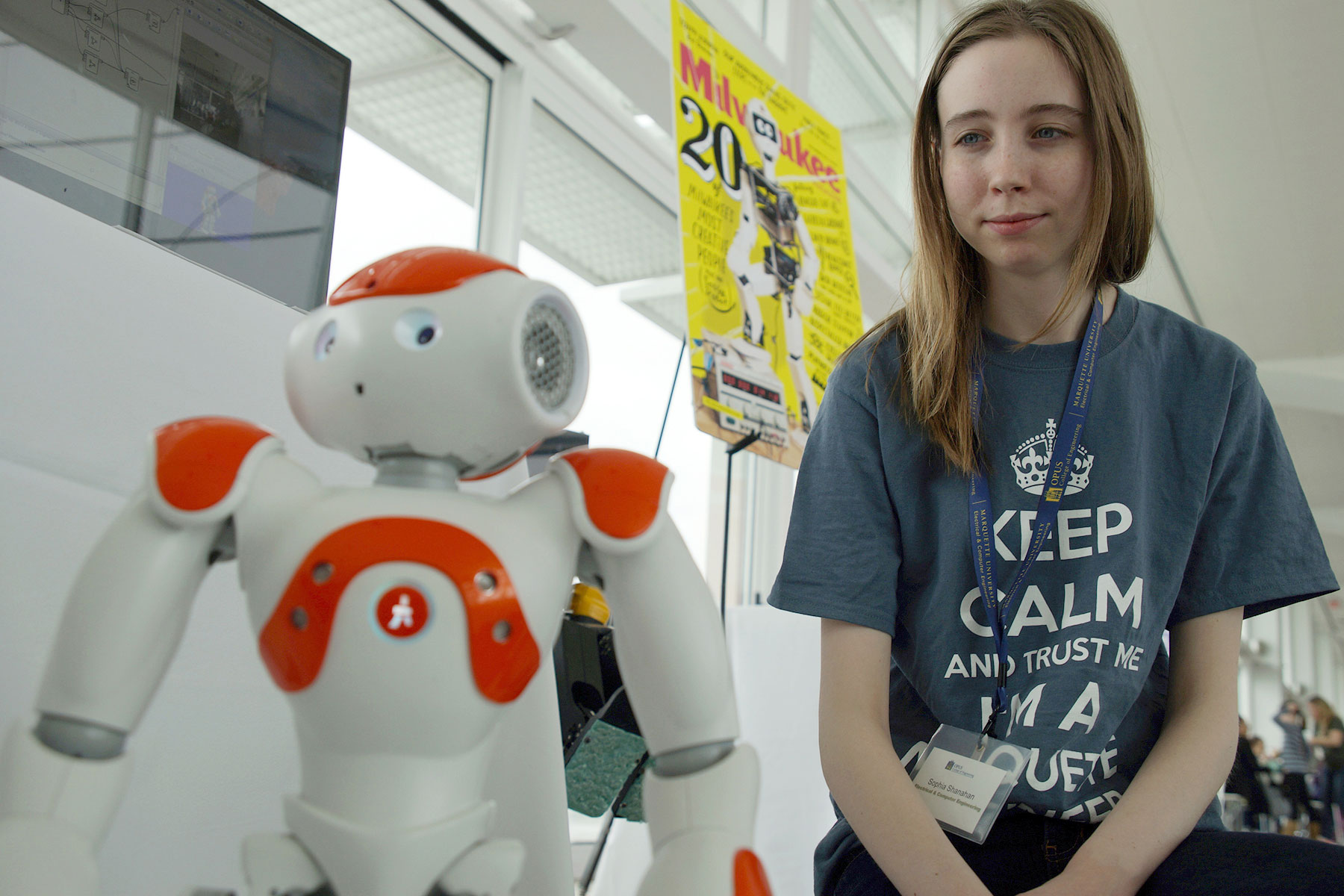 The Humanoid Engineering & Intelligent Robotics (HEIR) Lab was founded in 2012 by Dr. Andrew B. Williams to develop an ethical and affordable humanoid robot for use in every home to assist children and adults from all backgrounds with life tasks, healthy living, and education.
Humanoid Health Coaching for Childhood Obesity
The developing theory and principles for the project is to produce a social and mobile humanoid health coach that will explain and perform physical exercises as a mentor to humans, in an effort to increase their physical activity. The humanoid health coach, Stacy, also provides motivation and encouragement.
The vision of the lab's research is to create low-cost humanoid robots to interact with children and adults as a tool for obesity prevention and intervention. Knowledge gained from the program also helps to improve humanoid robot creativity and autonomous understanding through its robot-human interaction, so adaptive health coaching can be applied. The HEIR Lab encourages undergraduate and high school students to participate in discovery and research projects.
The initiative is part of the CompuGirls program, managed in a partnership between Marquette University and Arizona State University's Center for Gender Equality in Science and Technology.
Co-Robots for CompuGirls is managed through the National Science Foundation National Robotics Initiative, a research program started by President Obama to conduct research into robots that could work alongside humans to help them with tasks.
"Hence the name, cooperative robotics, or co-robots," said Dr. Williams. "This is contrasted with the traditional robots used for manufacturing or other jobs that are dull, dangerous, or dirty."
A Technology Program for Girls
CompuGirls is a culturally responsive technology program for adolescent girls, grades 8-12 from under-resourced school districts. Supported by grants from the National Science Foundation and based in the School of Social Transformation, College of Liberal Arts and Sciences at Arizona State University, CompuGirls provides fun summer, after-school and year-long programs where participants learn the latest technologies in digital media, game development, and virtual worlds.
CompuGirls program seeks to use multimedia activities as a means of encouraging computational thinking, and enhance techno-social analytical skills using culturally relevant practices to provide girls with a dynamic, fun learning environment that nurtures the development of a positive self-concept.