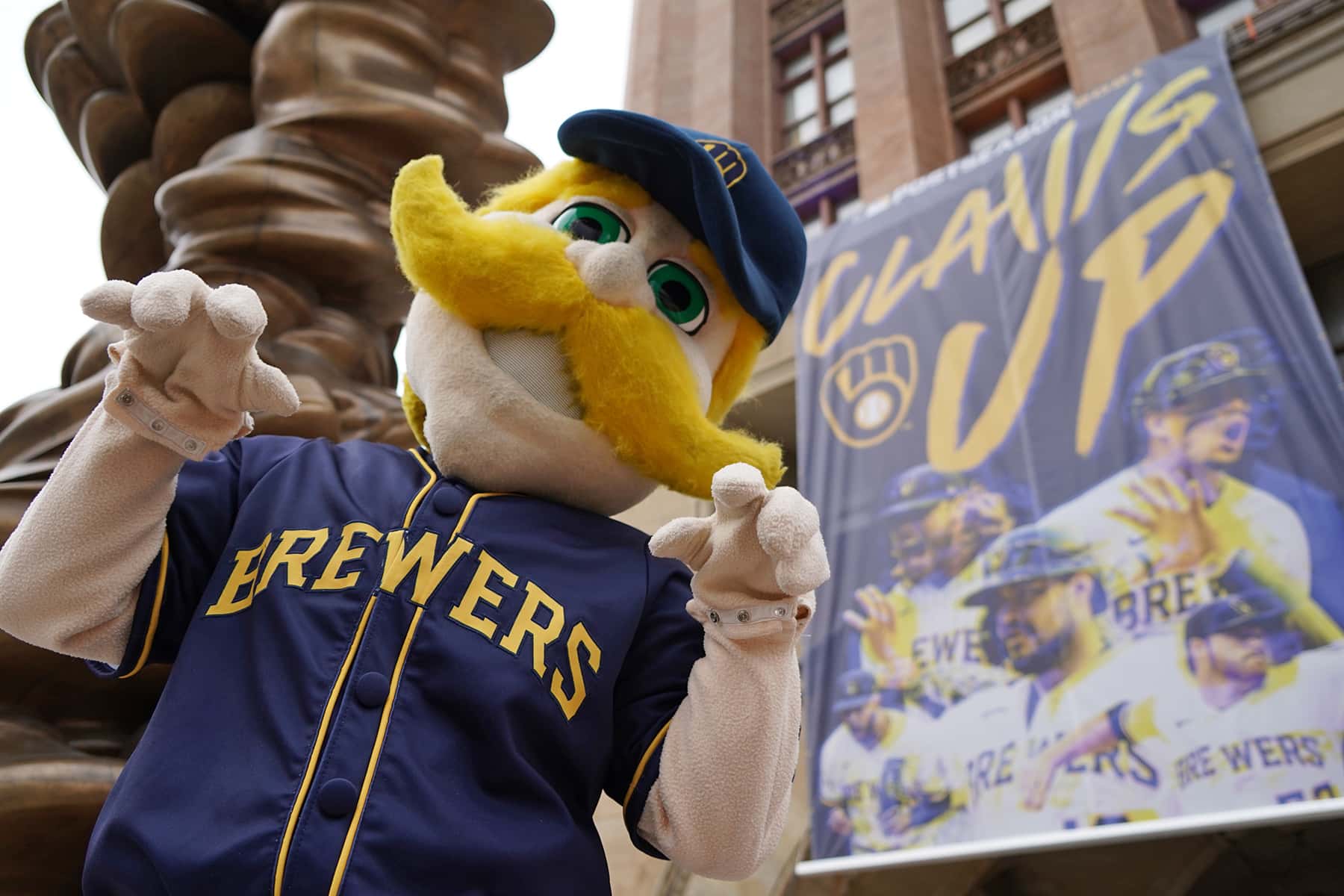 The Milwaukee Brewers, City of Milwaukee, and Milwaukee Downtown BID #21 celebrated the start of the ballclub's fourth consecutive trip to the postseason with an October 6 announcement. Several Milwaukee buildings and iconic landmarks will light up in the team colors of blue and yellow.
Fans were asked to show their spirit by wearing their favorite Brewers gear on October 8, and flood social media feeds with #ClawsUpMKE, as the Brewers take on the Atlanta Braves in their first game of the National League Division Series (NLDS).
"We are showing our colors, literally, in support of the Brewers. This has been a great sports year already, but I want another championship for our city. And I know just the team that is going to get it for us," said Mayor Tom Barrett, flanked by the Famous Racing Sausages outside of City Hall. "I am a lifelong fan of baseball. I was an usher at the very first Milwaukee Brewers game ever. We are excited beyond belief here in the city of Milwaukee. This is a team that knows how to win. This is a team that knows how to compete. And as we all know, it is a team that has phenomenal pitchers, great hitters, and it is a team that does not give up."
"Claws Up" started in May by Brewers catcher Manny Piña, when he yelled out "I am the Tiger" in the visiting clubhouse. He then held his hands up like claws. The catchphrase caught on, and was displayed as a hashtag on the side of American Family Field. It has since reached beyond the ballpark.
The City of Milwaukee's Department of Public Transportation, the Milwaukee Fire Department, and the Milwaukee County Transit are all showcasing Brewers flags and messaging, while the Hoan Bridge will be illuminated in Blue and Yellow throughout the postseason.
"I can't certainly say that I was an usher at the first game the Brewers played, but I am a proud Milwaukee girl that grew up here, very near what was then County Stadium," said Beth Weirick, President and CEO of Milwaukee Downtown BID #21. "Milwaukee is a world-class sports city. Our downtown bars, restaurants, and hotels are ready to welcome the thousands of Brewers' fans to cheer on our home team, serving as yet another boost in our economic recovery. Our businesses are rolling out the red carpet for all Major League Baseball fans. Come here, enjoy the game, and remember to bring your wallet full of credit cards and cash."
More than 25 prominent buildings and landmarks in Milwaukee will light up from dusk to dawn, beginning at 7:00 p.m. on November 6, and remain on throughout the Brewers postseason run. In addition, fans will see banners throughout the city showcasing the postseason rally cry "Claws Up!"
"Getting back to an environment that is true postseason baseball with an electric environment at American Family Field, this is why we do it. If you're coming Friday, come early, get loud, make noise, get on your feet, our players feed on it," said David Stearns, Brewers President of Baseball Operations. "It's exciting to see the city rally around this special team. The fan support is unparalleled. The enthusiasm continues to build, and we are going to try as hard as we can to have a memorable October. Can't wait for everyone to join the ride with us."