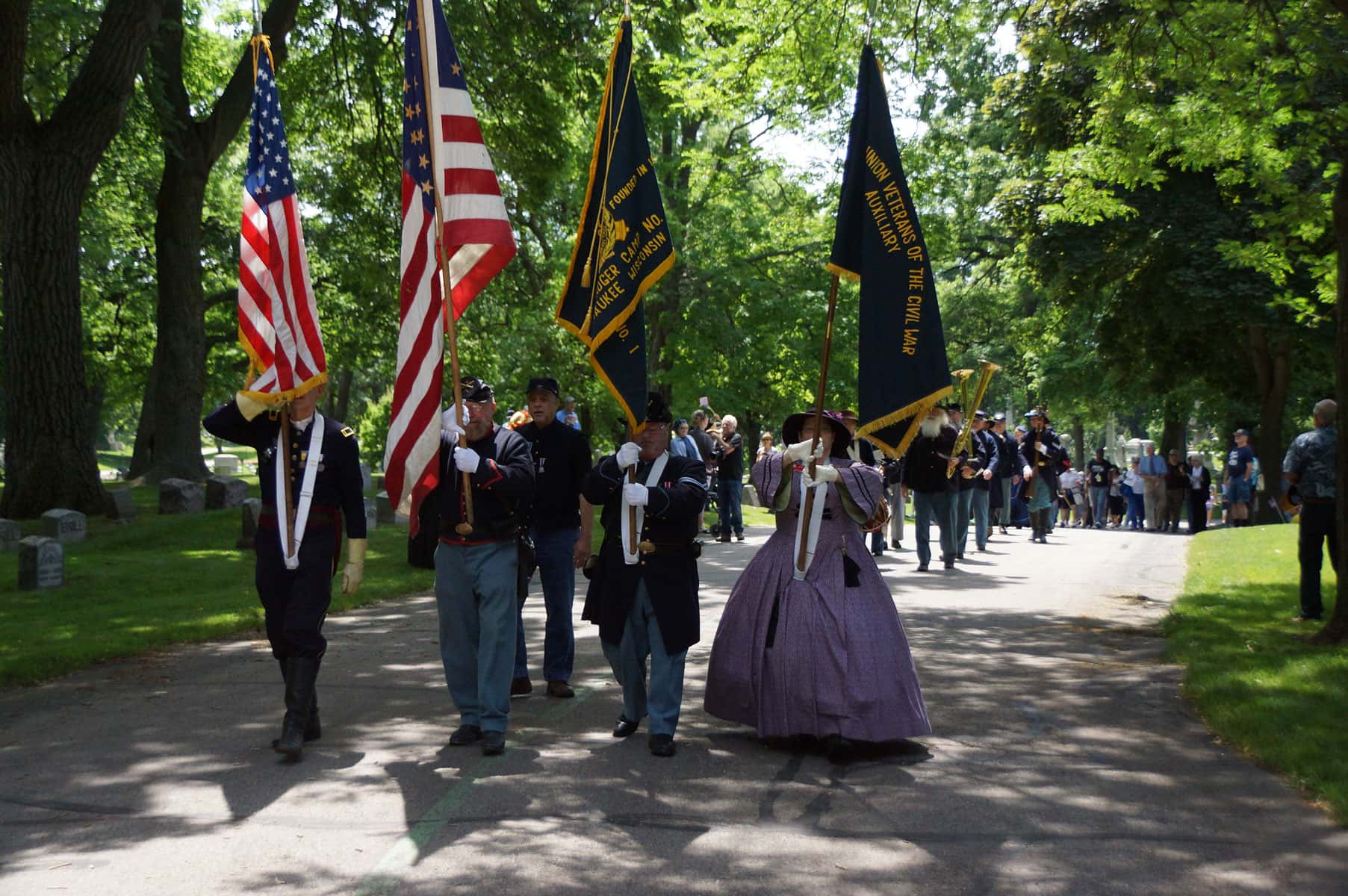 Historic Forest Home Cemetery hosted a re-enactment event celebrating the end of the Civil War, when the last shot was fired on June 22, 1865.
Milwaukee citizens and visiting tourists honored the sacrifices made 150 years ago, while keeping in mind the recent tragedy in Charleston, South Carolina.
A commemorative parade was held with Union soldiers returning home, supported by civilians dressed in period clothing to welcome them. Several educational stations were on display to explain what life would have been like for war wearing veterans trying fit back into Milwaukee society.
More than a couple hundred visitors participated in the food and festivities, included several re-enactment speakers. A tour was also given that focused on Civil War veterans buried at Forest Home.
Our nation's most costly struggle was far away in geography and time, but the aftermath can still be felt in Milwaukee's economic development.
In the post-war years of the late 1800s, Milwaukee was considered the most foreign city in America due to its isolated immigrant population.
As the legacy of discrimination and hostility against African-Americans continued in the South, the Great Migration brought an estimated 6 million descendants of slaves to the Northern states. The industrial jobs and economic opportunities were an incentive for a better life, away from the unresolved racial problems of the former Confederate States.
Milwaukee was late in receiving this influx of African-Americans, due to its proximity to Chicago and the city's already abundant European workforce in the 1920s. However, between the 1960s and 1990s the city's black population jumped 30 percent.
The delay had a dramatic effect on the economic viability of the newly settled black population. Soon after these African-Americans arrived, the once plentiful manufacturing jobs became scarce as Milwaukee's industrial base imploded.
This change of economic conditions left little time for Milwaukee to develop a black middle class, compared to other cities that had larger populations for decades longer.
The inflow of African-Americans to the city also displaced the existing tight-knit communities of Germans, Italians, and Poles, pushing those populations into the adjacent counties of Waukesha, Ozaukee, and Washington. Milwaukee County was left with a large minority labor force, while jobs and industry relocated.
The result of this social shift is still seen across headlines today. Milwaukee has one of the highest poverty rates for blacks in America.
Issues like Milwaukee transit and even the new Bucks arena seem very disconnected from Lee's surrender at the Appomattox Court House. But the economic repercussions continue to have an impact on the city and its population.