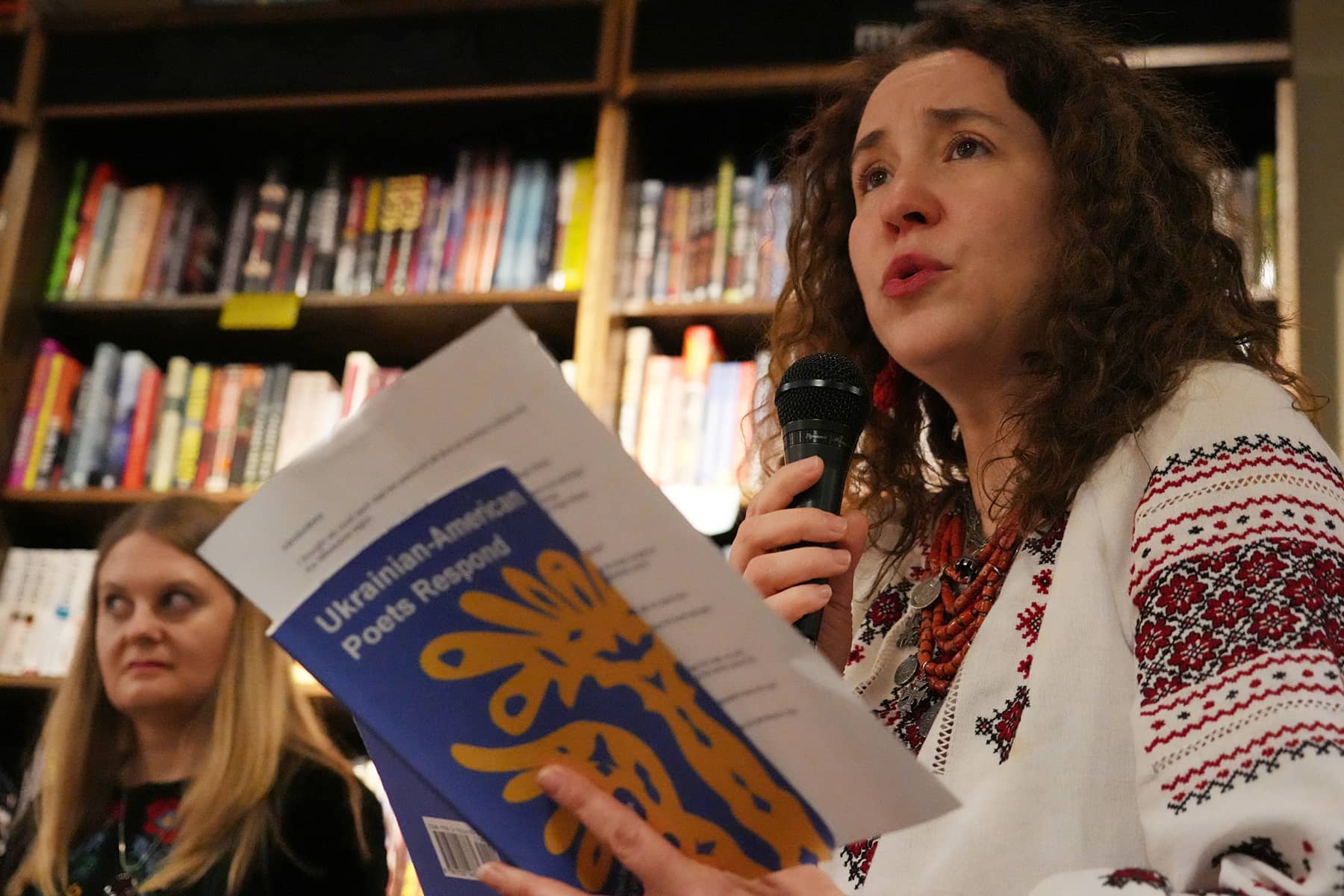 Milwaukee's Boswell Book Company hosted an evening with Olena Jennings, editor of "Ukrainian-American Poets Respond" on December 14. She talked about the anthology of poetic responses to the full-scale invasion of Ukraine, as Russia continued to indiscriminately target the civilian population with missile attacks.
Ukrainian American Poets Respond contains work by 29 emerging poets and prize-winning poets from Boston to Austin, New York to Chicago, and includes names recognized in Ukraine – such as Oksana Lutsyshyna and Serhiy Zhadan, as well as rock favorite Eugene Hutz – front man for Gogol Bordello.
Many poets write in English and Ukrainian, but included in the book were poets who also work in other languages. The poems ranged in style from lyrical to narrative to song. Some poems create a dialogue with Ukrainian literature, while others address events in the United States.
"Poetry is definitely a very important part of Ukrainian culture, poetry is inherent," said Jennings. "There are different authors who we look to from past wars and past traumas in history, like Taras Shevchenko. He wrote in the 1800s, and is an important poet in the Ukrainian mind. We look to him as kind of a voice of freedom now. So hopefully, some of the poets in 'Ukrainian-American Poets Respond' will be looked to – in the same way – in the future."
Milwaukee native Jennings is also the author of the poetry collection "Songs from an Apartment," the chapbook "Memory Project," the novel "Temporary Shelter," and a translator of Ukrainian literature. She is the founder and curator of the Poets of Queens reading series.
Most all of the poems in the anthology were written in English, or translated. But some remained presented in Ukrainian. The writers felt more comfortable expressing their thoughts in native Ukrainian, and it was their most authentic voice. Jennings explained that translations can be tricky, because the sound and rhythm of a language can be lost in explaining images and meaning.
During the book reading and Q&A with the public, moderated by Krystia Nora of the nonprofit Wisconsin Ukrainians, Jennings said that it was her hope that people would read the poetry and feel connected to it.
"I think that's the most important aspect, that they feel a source of connection, and maybe they feel like they might want to use their own talents to do something to help in the war efforts," said Jennings.
Nora, who is a second-generation Ukrainian American and teaches at the Milwaukee Area Technical College, was also selected by Jennings for the anthology.
"I felt this moment coming in my bones
inevitable . . but hope for a free
future clouded my pessimism as
I forgot shared nightmares ingrained within
whatever languages we speak . . now we
remember this . . the ground says blood pollutes
joy . . and cries echo after centuries
wind-carried across steppes oceans . . deserts
to our doorsteps . . wherever we live . . war
changes our equations so martyrs are
buried sloppily with their murderers
scattered seeds reverberate with sorrow
now the world resonates with our pain . . hope
coexists with harsh melodies . . dread songs"

– Krystia Nora, portion of "As Russia invades Ukraine . . I breathe"
Nora was motivated to use her passion for poetry to express her feeling about the war, and as part of her healing process with the trauma that the invasion had caused among Milwaukee's Ukrainian community.
"Ukrainian American Poets Respond" began with two virtual readings, on March 16 and the other on April 14, 2022. Poets gathered to give their poetic responses to the war Russia waged on Ukraine. In the written anthology, poets were included who did not get the chance to participate in the original readings.
Some of the poets were born in Ukraine and some were born in the United States, making them a diverse group. Their first languages range from English, Ukrainian, Polish, and Russian.
Their poetic practices are all based in Ukrainian culture and heritage.
Jennings said that the war had proven how vital and necessary poetry was, and read one of her own from the collection.
"In the church on Scott Street in Milwaukee,
the paint chipping
from the recently retouched stairs,
a set that daunted the woman with the cane …

… Now the chandeliers have gathered
a layer of dust.
Now there is a solitary bullet
hole in the midnight blue stained glass.
Now the walls are in danger of caving in."

– Olena Jennings, portion of "My Ukraine"
The book includes QR codes, that help direct readers to Ukrainian causes they can support. Jennings said there were also plenty of ways the public could get involved, aside from just donations.
"One of them is, maybe write a poem yourself – if you're a poet. Or if you're an artist, make a painting," added Jennings. "Or even just be present for people who are going through a traumatic situation."