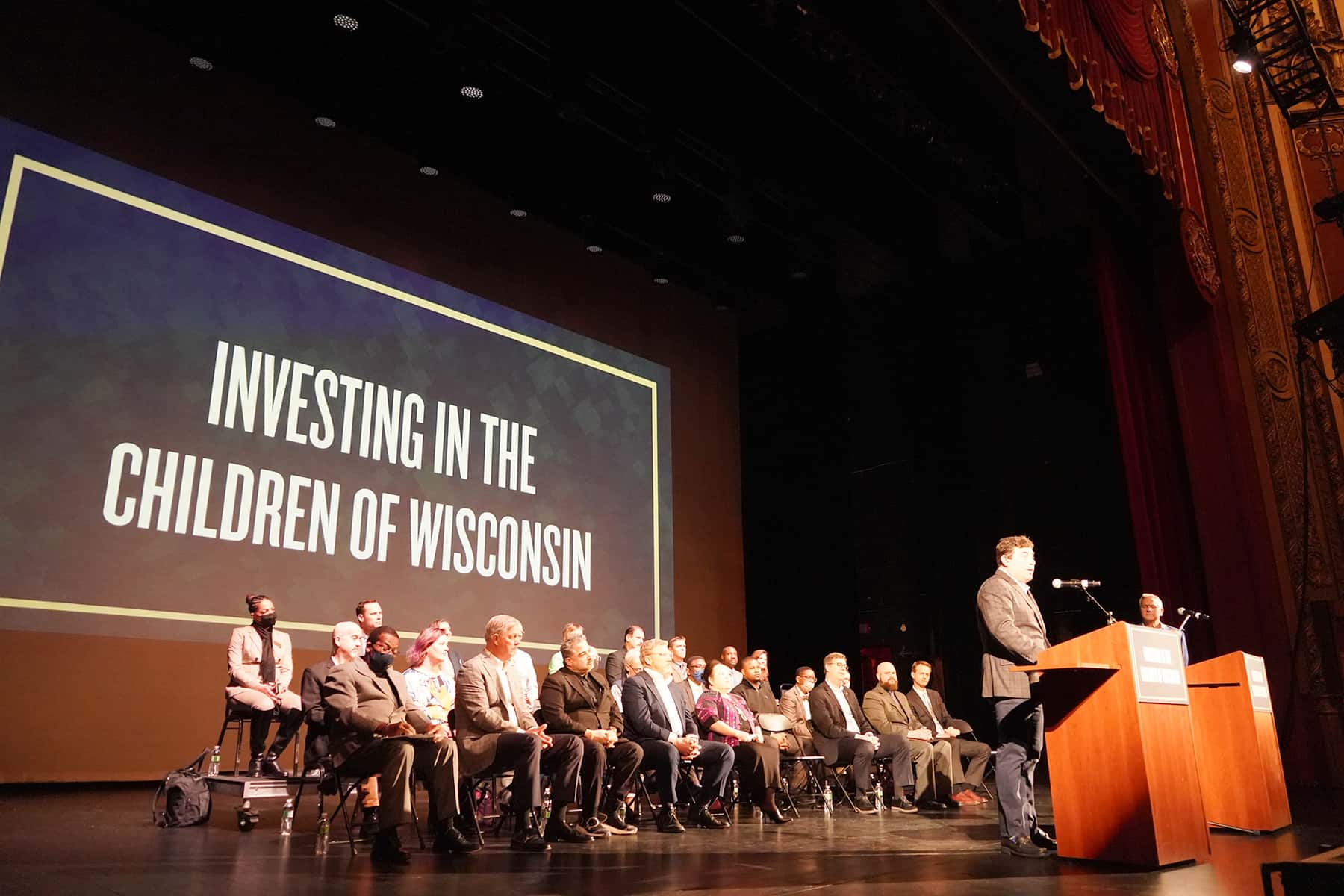 The Pabst Theater Group hosted a special press conference at the Riverside Theater on March 2 to help a group of local business and education leaders address the issue of investing in the state's future.
The coalition collectively called on Governor Tony Evers, Speaker Robin Vos, and Senate Majority Leader Devin LeMahieu to direct a portion of the state's $5.5 billion budget surplus to Wisconsin K-12 education. They presented a letter written to the three state officials, supported by 160 businesses and education leaders across Wisconsin.
"March 13, 2020, was a day when the unthinkable happened. It was the day that marked the beginning of the COVID-19 havoc on school districts and their communities – the staff, parents, business leaders, and most specifically our students," said Blaise Paul, Director of Business Services for the School District of South Milwaukee. "Our halls were empty, our lunch rooms were silent. Our teachers scrambled and moved to online learning as our nation ground to a halt."
Paul said that there was little guidance on how to fund educational programs, or how to address the pandemic until later in the year, when the federal government saw the struggles that were happening. Three rounds of relief funding was passed as a result. The primary objectives were to allow schools to function safely throughout the pandemic, and make up for any lost learning due to the emotional toll on students from the pandemic experience.
The budget surplus offers a historic opportunity to invest in Wisconsin's children and schools. Governor Evers already proposed a surplus spending plan that would allocate nearly $750 million into improving education quality. The funding would go to help students across the state succeed, while also providing property tax relief for parents.
Supporters of the proposal said that a portion of the surplus should be used for an inflationary adjustment of $343 per pupil, and a 50% reimbursement rate to support students with disabilities.
"If there is one thing that I want to leave as a message today," said Joel Brennan, President of the Greater Milwaukee Committee," is that the state has the money. Don't let anybody tell you that the state does not have the money."
Brennan said that beyond the issue of funding, Wisconsin was entering into a political season where people on all sides were going to argue about who got credit for the surplus, and how to spend it. Some already suggest that Wisconsin was in an enviable fiscal position because of decisions made a decade ago.
"I think the group that is assembled here, I think the people, the hundreds of organizations that have signed on to this letter, they care less about what happened 10 years ago. They care about what the state is going to look like 10 years from now," added Brennan. "They care about what steps we are going to take to make wise investments, so we can stop the exodus of teachers who are leaving the profession right now. They still think that teachers are an honored profession, and we are going to support them moving forward."
Other representatives from area businesses, schools, and organizations who spoke at the press conference included John Kersey, Executive Vice President of Zilber LTD; Peter Feigin, President of the Milwaukee Bucks & Fiserv Forum; Giacomo Fallucca, Chairman of the Board of Palermos Pizza; Tim Sheehy, President of MMAC; Gary Witt, President and CEO of the Pabst Theater Group; Sean Cummings, CEO of KAPCO; and Chris Her-Xiong, Executive Director of Hmong American Peace Academy.
Businesses propose the investment specifically address inflationary pressures in maintaining programming and staff, and Wisconsin's reputation for lagging behind the nation in funding support for students with disabilities.
"An inflationary adjustment of $343 per pupil: The last state budget did not provide a per-pupil increase for Wisconsin's K-12 schools including those public independent charter and schools and schools in the parental choice program. The addition of new, one-time federal Elementary and Secondary School Emergency Relief (ESSER) funds, were extremely helpful, but explicitly earmarked for pandemic-related learning losses. Schools are struggling to maintain current programming and retain crucially needed staff, challenges that will outlast the pandemic funding, and face the headwind of growing inflationary pressures. According to information from the state's Legislative Fiscal Bureau, had the per-pupil indexing mechanism been in place for the 2021–2022 school year, students would have received a positive adjustment of $342.82.

A 50% reimbursement rate to support students with disabilities: As noted by the Blue Ribbon Commission on School Funding and highlighted by research from the Wisconsin Policy Forum, Wisconsin continues to trail the nation in funding support for students with disabilities. Of all states with a reimbursement system, Wisconsin's rate of 28.18% is the country's lowest reimbursement rate. This funding flows to support students most in need, while ensuring the schools they attend have adequate resourcing to meet their needs. The estimated investment for these initiatives would be less than $700 million."
The money, businesses said, would strike a need to invest in the quality of K-12 education, with the rich return it provided in developing future talent in Wisconsin, and balance of maintaining the state's strong fiscal position.
"What if we put aside, for a second, all of our differences and combined our voices? What if we advocated for something that would benefit all of our kids?" said Kersey. "And if we did that, could we get support? I think the answer is this letter."
The full Budget Surplus Letter, signed by Baird, Brewers Community Foundation, Husco, Milwaukee Bucks, MMAC, Greater Milwaukee Foundation, Marquette University, Milwaukee Public Schools, and many other businesses, schools, and organizations can be found online. Members of the public who are interested in supporting Wisconsin's children were encouraged to sign the letter as well.