Maritime Shipping: DeLong Company breaks ground on major agricultural export terminal at Port Milwaukee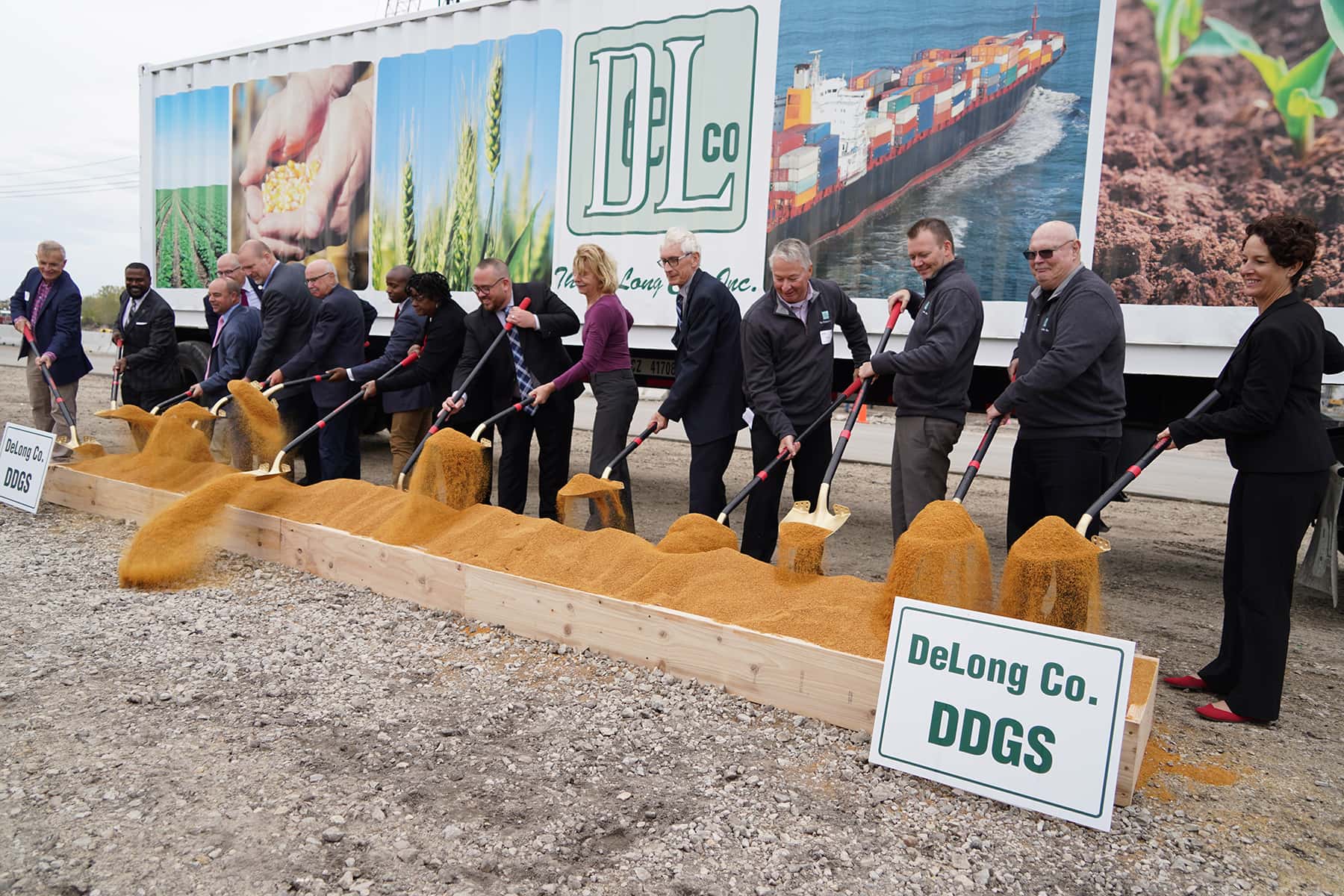 The Port Milwaukee and The DeLong Company held a ground breaking ceremony for a nearly $35-million agricultural maritime export facility at Jones Island on October 13, the largest one-time investment in the port history since the 1950s.
Representatives from the Port, DeLong, and the City of Milwaukee were joined by Governor Tony Evers, U.S. Senator Tammy Baldwin, U.S. Representative Gwen Moore, federal, state and local officials, Port customers and stakeholders to celebrate the investment that will create jobs, support Wisconsin's agriculture industry, and grow the regional economy.
"Vessels from all over the world can come to this property. The facility will open Wisconsin's maritime and agricultural economies to new international markets for this commodity and many others," said Adam Tindall-Schlicht director of Port Milwaukee. "We need to look at new opportunities at the heart of what Wisconsin is and what can grow our economy."
The new facility, located on the west side of Jones Island, will be one of the first on the Great Lakes – St. Lawrence Seaway (GLSLS) system to handle various agricultural commodities via truck, rail and international vessel, including Dried Distillers Grains with Solubles (DDGs).
"As we build back better, we must continue to invest in our maritime economy," said U.S. Senator Tammy Baldwin.
DDGs are an animal feed supplement derived as a byproduct of ethanol high in nutrients. The facility will open Wisconsin's maritime and agricultural economies to new international markets for this and other products. Future service at the facility will also include the export of Wisconsin-grown soybeans, corn and grain.
"Milwaukee is the economic engine for our state, and for all the regions of Wisconsin to succeed we must be connected," said Governor Tony Evers. "When we do connect those dots we are ensuring that every family and every community and every industry has the tools and resources to thrive."
Because of a robust public-private partnership, the development is the largest one-time investment in Port Milwaukee in decades, going back to when the St. Lawrence Seaway was being built. As announced in February 2020, Port Milwaukee was one of the first nationwide grant recipients of the Port Infrastructure Development Program (PIDP) through the U.S. Department of Transportation. Additional facility funding has been provided by the Wisconsin Department of Transportation, Port Milwaukee, and The DeLong Company.
"Milwaukee is an integral link in the Wisconsin economy. In this case, we are connecting Wisconsin agriculture with world markets," Mayor Tom Barrett said in a statement. "The combined support from local, state, and federal officials affirms the importance of this development. DeLong's arrival at Port Milwaukee is a great addition to the city's marine commerce."
Redevelopment of the property includes the demolition of out-of-date, underutilized structures and construction of upgraded mooring infrastructure, if required. A fabric building will be erected in place of the existing structure.
The transload facilities will consist of rail and truck gravity dump hoppers, connected with a conveyance system to transport the material into the fabric building. Inside the fabric building, a reclaim system will be installed to take stored material and convey it for bulk loading into the covered bulk material cargo vessel. Vertical storage structures will also be added to handle soybeans and grain.
The facility will have a storage capacity of 45,000 metric tons, and is expected to be fully operational by April 2023, coinciding with the annual start of Port Milwaukee's international shipping season.