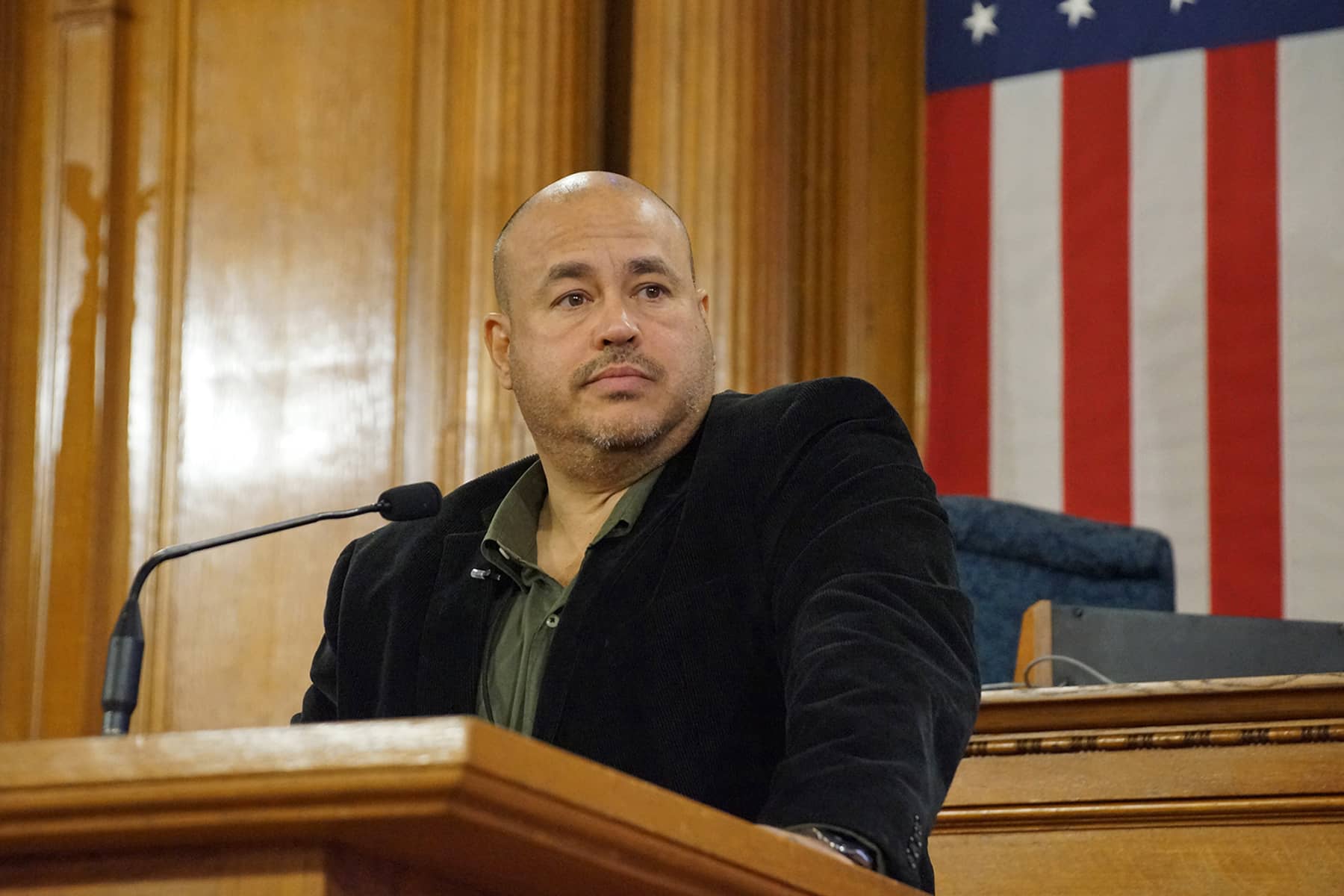 Members of the Milwaukee Common Council voted unanimously on April 19 for electing Alderman José G. Pérez of the 12th District to serve as their next leader, making him the first Hispanic Common Council President in the city's history.
As the only council member to be nominated, Pérez will serve until April 2024. He finishes the term of Cavalier Johnson, who served as President from 2020 to 2022. Johnson resigned after being elected Mayor, taking over for former Mayor Tom Barrett who resigned to become the United States Ambassador to Luxembourg.
"Like me, Alderman Pérez was born and raised in Milwaukee's south side. He is the child of a family who emigrated from Puerto Rico," said Alderwoman JoCasta Zamarripa, who presented his nomination. "He has proven time and time again that he has the tenacity as well as the longevity on the Council, and the integrity to serve our Common Council and our city well."
The Common Council session was held partly in-person and virtually due to lingering COVID concerns. After the unanimous vote, Pérez thanked his family, friends, and colleagues. His message focused on unity, and portions of his remarks were directed to Milwaukee's Latino community in Spanish.
"As you all know, none of us get here to this point alone. I want to thank each and every one of you for your support, but even more for your conversations. Thank you for sharing your thoughts, and listening to me so many times. It doesn't stop today. Serving in this position is impossible without us being together. We won't always agree, but I promise you, we will talk. And we will agree to disagree sometimes. And always listen," said Council President Pérez.
In his address he mentioned the sacrifices made by his family in Puerto Rico and Milwaukee, and how their love and support had provided him with opportunities in his life. His position in city leadership reflected gains by the Latino community, who have struggled for decades for political representation.
"I want my time as your president to be about hope about the future. I want it to be about some shared purpose. I also congratulate Mayor Johnson on his historic election. And I want him to know that he has a willing partner in me and in this Council," said Council President Pérez. "Together, we can move the city in a better direction, this region in a better way, and the state in a positive light."
Mayor Johnson released a statement to congratulate the new Common Council President on his election.
"I have great respect for his work as an Alderperson, and I look forward to collaborating with him to make all of Milwaukee safer and stronger," said Mayor Johnson.
In remarks, Pérez later referred to the speech given by Milwaukee County Executive David Crowley on April 13 at Mayor Johnson's inauguration. He had some moving words about compromise, saying that "compromise was about empathy, about feeling as others feel and understanding their point of view."
"There's a lot to talk about divisions between the Black and Brown communities, between Asian and Native American, and each of these against each other," added Council President Pérez. "These divisions are real enough, but we must not let them take our eyes off the things that bind us together. Our shared experiences and struggles that differ somewhat in number, but not in kind. Unemployment, incarceration, lack of economic opportunity, political disenfranchisement, all these statistics show gaps between ourselves and the White community. So it is far more important for us to focus on what brings us together. We are stronger together."
The Milwaukee Common Council issued a joint statement, to highlight Council President Pérez on the historic day for Milwaukee. It was signed by Alderwoman JoCasta Zamarripa, Alderman Ashanti Hamilton, Alderman Nik Kovac, Alderman Robert J. Bauman, Alderwoman Milele A. Coggs, Alderwoman Chantia Lewis, Alderman Michael J. Murphy, Alderman Mark Borkowski, Alderman Scott Spiker, Alderwoman Marina Dimitrijevic, and Alderman Russell W. Stamper II.
"Milwaukee's Latino population is the fastest growing demographic in the city, as well as across the state of Wisconsin, and we are delighted that today this community now has representation at one of the highest levels of local government. Throughout his time as an Alderman, President Pérez has shown the dedication, knowledge and leadership that will make him a great Council President, and we know he will dutifully serve not just the Latino community, but ALL of Milwaukee at a time when we have many challenges facing our city. The leadership within the City has seen much turnover in recent months, and we are hopeful that these new leaders will bring forward fresh ideas and creative solutions that will benefit our residents. President Pérez is taking the helm, just about a week after our city witnessed the inauguration of our first elected Black mayor, Cavalier Johnson! We are excited about this new era in Milwaukee, and look forward to working together with this diverse leadership to make our city the best it can be."
Pérez was first nominated to the Common Council in 2012. Prior to that he was an organizer for the AFL-CIO, and worked in Milwaukee's Department of City Development.
Darryl Morin, National President of Forward Latino, offered a special congratulatory message. He said that Milwaukee's Hispanic community could take pride in the accomplishments of Pérez, and in having citywide leadership that truly represented the majority of the city population.
"This is the first time in city's 176-year history that a Hispanic has been elected to the position. Milwaukee can now boast its first Black Mayor and first Hispanic Common Council President," said Morin. "President Pérez has proven his ability to look at complex problems and to not only develop solutions, but to develop consensus around these solutions so they can be implemented. He has been instrumental in a wide range of initiatives that range from public safety and community-oriented policing, to job training, to increasing investment in Milwaukee's communities most in need and more. Equally important, he has always been willing to listen to every voice and taken the input into consideration on major decisions."
In another development that will alter the dynamics of the Common Council, Mayor Johnson nominated Alderman Nik Kovac to serve as his budget director. Kovac has represented the 3rd Aldermanic District since 2008. If his nomination is confirmed by the Common Council, he will vacate that seat later this year.
Shortly after the Mayor's nomination was made public, State Representative Jonathan Brostoff announced his candidacy for Kovac's seat. Brostoff has a record of working with others to achieve lasting progressive results, and led the bipartisan legislation for statewide Deaf access. He was elected in 2014 as State Representative for Wisconsin's 19th Assembly District.