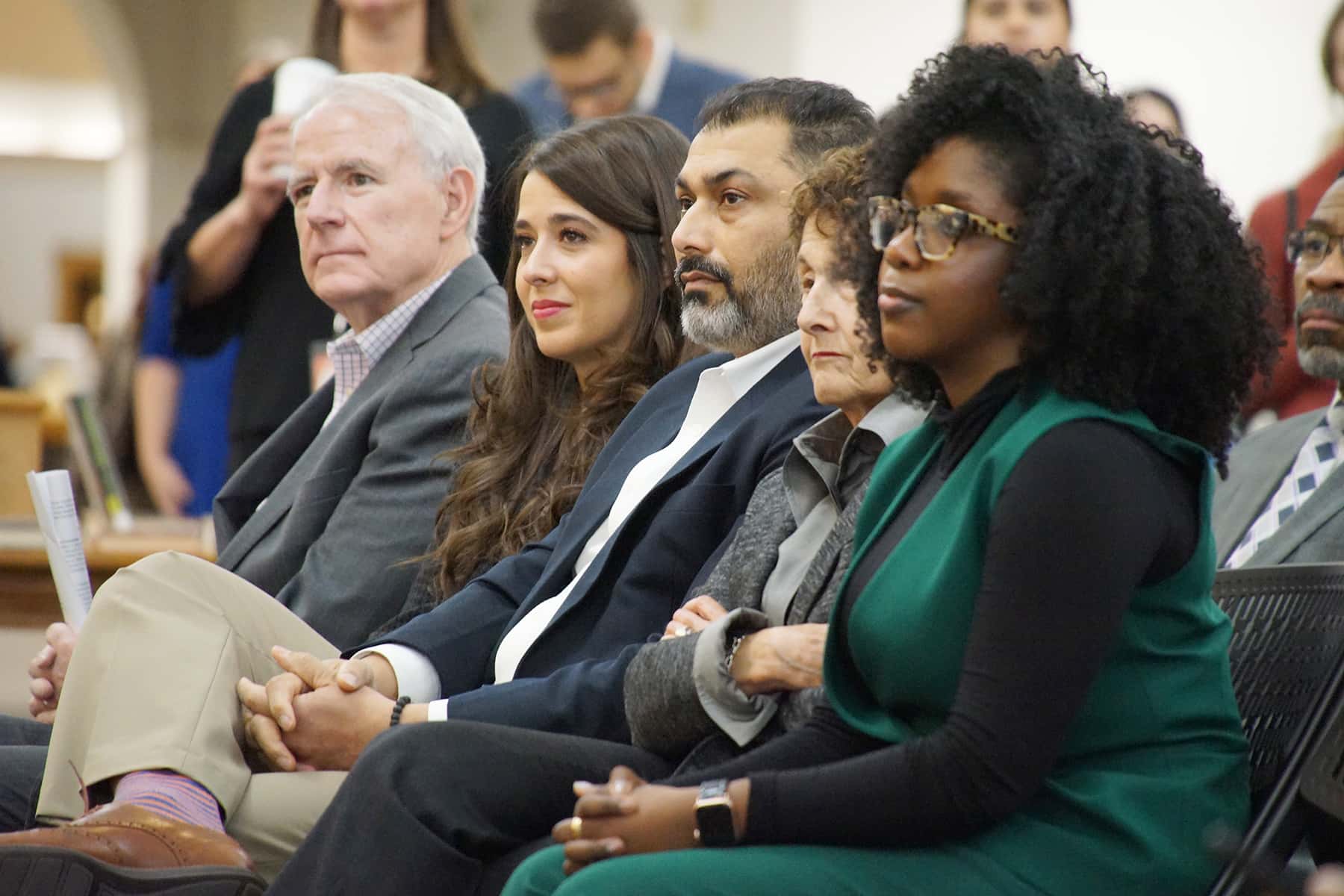 The Milwaukee Public Library's Central Branch hosted a special Milwaukee 2020 Host Committee event downtown on January 30 to formally launch the official volunteer portal.
The website was designed to facilitate signups from individuals interested in becoming Milwaukee 2020 volunteers, and allow them to build their volunteer profile. The portal will serve as an essential resource for volunteers, leading up to and during the Democratic National Convention that will take place from July 13 to 16.
"While our goal to reach 15,000 volunteers is critical to the success of the Convention, our partnerships will help to ensure that the volunteer corps is representative of the rich diversity we see every day throughout Milwaukee's neighborhoods," said Neisha Blandin, Chief Engagement Officer for the Milwaukee 2020 Host Committee. "It's not a surprise that the Milwaukee metropolitan region is ranked fourth in the nation for volunteers, with just under half of its residents volunteering. Thanks to that excitement and commitment, we're excited to share that over 10,000 individuals have already indicated their interest in becoming Milwaukee 2020 volunteers."
The new tool allows users to view opportunities as they become available, apply for shifts, and communicate with convention organizers. The opportunity to volunteer will give local citizens a deeper involvement in the democratic process. And the 2020 event will be historic for Milwaukee and Wisconsin, being the first time to host a major political party's convention.
"The 2020 Democratic National Convention simply would not be possible without a robust, diverse, and engaged team of 15,000 volunteers," said Liz Gilbert, President of the Milwaukee 2020 Host Committee. "With the launch of our official volunteer portal, the Host Committee is thrilled to capitalize on the excitement we've seen from those interested in volunteering and invite those individuals to begin this historic journey with us."
With more than five months until the convention kicks off in Milwaukee, individuals who have signed up through the portal will begin receiving notifications for how to move on with the next phase of the process.
"The energy and enthusiasm we feel from the Milwaukee community each day as we prepare to welcome the 2020 Democratic National Convention has been incredible, and we are excited that this go-to resource is now available for all those who ask us how they can be a part of this historic moment," said Joe Solmonese, CEO of the Democratic National Convention Committee. "Through this tool, we will be able to smartly engage the thousands of volunteers it will take to put on this marquee event."
To help breakdown potential barriers with registration, the Host Committee also announced a partnership with Milwaukee Public Library (MPL). Through the partnership, each of MPL's 13 branches across the city will have a designated computer station and instructional signage for volunteer registration, and library staff members will be able to assist volunteers through the registration process.
"Our mission at Milwaukee Public Library is to help residents read, learn, and connect — not only to our resources but also with each other and with their community," said Paula Kiely, Milwaukee Public Library Director. "As we look to promote civic literacy and engagement throughout the city, we're proud to support the Milwaukee 2020 Host Committee in their efforts to reach volunteers from every neighborhood."
As part of the partnership, additional volunteers and community partners will be present at the Mitchell Street, East, and Martin Luther King branch libraries on Saturdays in February and March to assist individuals who need language, technological, or other support during the registration process.
"The people who want to volunteer are going to be ambassadors for the City of Milwaukee," said Mayor Tom Barrett. "And I couldn't be more excited to have as many people as I've had contact me to say they want to be part of this. And this is a tremendous opportunity for all of us who love our city who love, our state, and love our region, to get out and present us on the world stage."
The Milwaukee Public Library has been an anchor institution for almost a century and a half, helping to build healthy families and vibrant neighborhoods. Since 1878, Milwaukee Public Library has been a free provider of education and information for residents of Milwaukee and beyond, with more than three million free items in circulation.
"When we think of diversity, many times faith diversity is either not addressed or under addressed. Yet as major cities like Milwaukee continue to go through demographic shifts, faith diversity, ethnic diversity, immigrants, refugees, and asylum seekers are all rebuilding our cityscapes," said Pardeep Kaleka, Executive Director of the Interfaith Conference of Greater Milwaukee.
Milwaukee Independent is an award-winning and advertising-free daily news magazine that advocates for inclusive social understanding by publishing positive news content that covers a wide range of topics as a catalyst for community development. Our content is open to the public, with no access restrictions. As a nonprofit news organization, we are supported through charitable contributions from organizations and individuals in order to produce our activating, engaging, and solution-focused coverage of news in Milwaukee. Please consider supporting our work or making a donation.