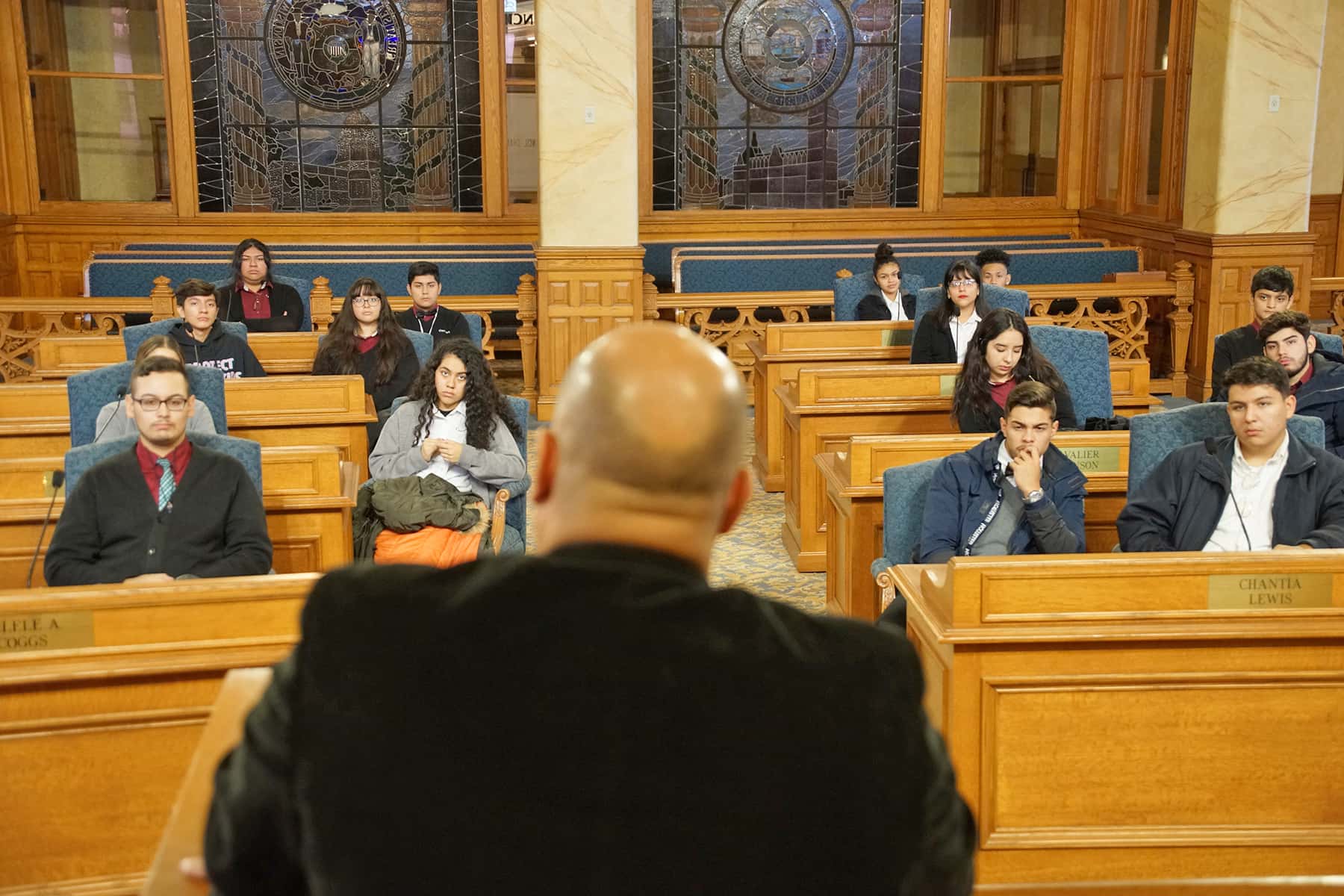 Two dozen students from the Carmen High School of Science and Technology South and Southeast Campuses took a day away from classes to experience Milwaukee's Legislative, Judicial, and Executive branches of government on November 4, and spoke with representatives from all three as part of the Latino Leadership Development Program.
The Public Service Day was organized by Carmen High School, with help from the nonprofit advocacy and service organization Forward Latino, to nurture the next generation of Latino leaders in Milwaukee and enrich the city's growing Hispanic community.
"I'm very devoted to exposing our students to different opportunities because I want them to start creating social capital for themselves," said Mariela Fonseca, Career Readiness Coordinator at Carmen High School of Science and Technology: South Campus. "I know that a lot of our candidates are first generation high school students who will go on to be college graduates. So I believe they need to have these experiences in order to make an educated decision on what they want to do after high school."
Fonseca works to introduce students to many different opportunities outside of school, but November 4 was their first Public Service Day. Students had access to meet elected officials who were also Latino and understood the challenges of growing up as a minority.
"Students asked why these public servants chose to pursue their career, to give them ideas for their own lives. We wanted to make sure we share with them to as many opportunities as possible," said Darryl Morin, President of Forward Latino. "In Milwaukee, it's important that every Latino has an equal chance to live the American dream. We can't guarantee it to everybody, but we want to make sure our youth have equal access to a quality education and equal employment opportunities. And something that doesn't get enough discussion these days is a career in public service."
A lot of Latino students inn Milwaukee do not have good professional resources or anyone to ask about things like how to get a promotion, or what skills they can get in order to advance in their career.
"I feel encouraged about what I heard from our Latino leaders. They said that if I really want something for my future, then nothing is possible," said Evelyn Duran, one of the participating students. "No matter where I came from, everything is possible if I really want it, work hard, and remain dedicated. That direction will put me where I want to be in life."
The Public Service Day was also intended as a step to help the Latino youth create social capital, by learning how to make connections with individuals who can be valuable resources. That required students to sometimes step out of their comfort zones to be exposed to others with professional knowledge. The effort helps build relationships with mentors who are in the position to their answer questions.
"What I've noticed after students graduate high school and come back to speak to me is that they really struggle with the social aspect of college," said Fonseca. "At Carmen, we are mostly Latinos, and a lot of students feel disconnected and like they don't have a source of belonging or acceptance in college – because there are so many students that don't look like them. So I think that is one of the biggest struggles after high school, feeling a sense of encouragement in order to continue and know that they are worthy."
Students began their morning in the historic rotunda of City Hall, welcomed by Tom Barrett, Mayor of the City of Milwaukee. He shared his experience growing up in Milwaukee, and hard lessons he learned running for public office.
"The part of the process that I found amazing was when I realized what politicians like Clinton, Bush, and Obama all had in common when they each first ran for the United States Congress – all three of them lost," said Mayor Barrett. "And so they could have said, 'I tried and I failed and now it's time for something else,' and there's nothing wrong with that. But they had an internal strength to say, 'this is something I want to do, and yes, I lost, but I'm going to stay with it.' And that's a life lesson that can apply to anybody. So as you think about this, the only barrier for you from getting into public service is yourself. If you want to do it, you could just do it."
Mayor Barrett explained that public service did not mean only running for an elected office. There were many other ways to get involved, like the hundreds of employees who worked at City hall, from public safety to public health.
"In my job I sort of joke that I can go into any bar in the City of Milwaukee on a Friday night, and within 10 minutes I could find a half a dozen people who can do my job better," added Mayor Barrett. "And what I mean by that is, everybody has an opinion on how things should be done. So you have to be a good listener and be able to develop a thick skin, because there's going to be a lot of disagreement on how to get things done. But the key is to try to work with people."
Latino youth are often conditioned by their environment that their opportunities are limited, so they develop the mindset believing that there are many things they cannot do. Successful Latinos in Milwaukee also need more public attention, so non-Latino residents can understand their the value and contributions they bring to the entire community. Part of the struggle is for Latino voices to be heard. For the Carmen students, that also includes planting the seeds for their growth and knowing that they are capable of doing anything.
Officer Bobby Velez of the Milwaukee Police Department stopped by City Hall after Mayor Barrett spoke to share some of his experiences, growing up as a Puerto Rican and living in Milwaukee. He has been involved with the Milwaukee Brewers for many years, working with the players to get autographed memorabilia donated that is then auctioned off. Those funds help to provide scholarships so that young Latinos can go to college.
"Both of my boys took advantage of all these Latino scholarships that are out there. So whether you think they're there or not, they are there. There are tons of scholarships out there for Latino kids. Get on a computer and search for them and apply for every single one that you can find. There's times that money just stays there because nobody applies for Latino scholarships," said Officer Velez. "Talk to your school counselor about the city's three-year law enforcement program. The Milwaukee Police training program is real good for students. Not only do you get important hands-on experience, but you get paid for it. After you turn 21, you can decide if you want to become a police officer. And if not, it is still good work preparation while you earn money."
Officer Velez said it was important that the students knew they could talk to police in a time of crisis. Whether they were in an accident, saw somebody having a medical emergency, or knew about an abuse going on in the home, the police were there to help.
"I wanted more than anything for you to see that an officer is a human being. I have kids and grandkids, and the reason I do this is because I want make Milwaukee a great place for them as well," added Officer Velez. "There's always those really tragic and unfortunate incidents. But by and large, our police are really putting themselves in harm's way every day."
Alderman José G. Pérez then invited the Latino students to the third floor chamber, where they sat at the desks of Common Council members. Alderman Pérez's 12th District has a 70% Latino population, with a diversity of the community that makes it a resilient population. Since it was the first time the students had visited City Hall, Alderman Pérez wanted to make sure it would not be their last.
"Whether it's for an event, or as your future, there is so much to do at City Hall, so much talent that we're always wanting to recruit. And whether it's as an elected official, or working in one of our departments, we employee anyone from engineers, to project managers, to doctors and nurses in our health department, you name it," said Alderman Pérez. "We want our city government to reflect people who live in our communities. So there's always an opportunity for you here to work or participating."
Like many of the youth from Carmen, Alderman Pérez was raised by a single mother on the south side of Milwaukee with strong guidance from his grandparents. He said that he never thought about becoming a politician as a student. The turning point came over a community concern, when elected officials met with people from his church about the issue. He felt there was no one listening on the other side, and realized they needed Latino representation in local government. Alderman Pérez felt ready for the challenge, but was unsure how to get there.
"I decided I wanted to go to college. But I had a gap in my education and I wasn't very confident in my writing skills or my critical thinking. And then I thought to myself, that's what I came to school for, that's what I'm going to learn," said Alderman Pérez. "My first semester, I'm just barely taking remedial classes, and my professor gives me an application for an internship in Washington DC for a summer."
Sponsored by the Congressional Hispanic Caucus Institute, the candidate would fly to Washington DC, attend classes at George Washington University, and get paid to work on Capitol Hill in a Congressional Office. It was an amazing opportunity, but Alderman Pérez figured it would go to someone else. Getting accepted was very competitive, with only 30 students picked nationwide. He had no confidence in his own skills, but the professor kept pushing him to submit the application – saying that there was no reason he could not do it. Alderman Pérez worked hard on his essay and ultimately was accepted, the first person ever selected from Wisconsin.
Alderman Pérez said he had a wonderful experience, and that was when it clicked that he could accomplish whatever he set his mind to. When he came back for the fall semester after that summer, he got an internship in Mayor John Norquist's office. He then came back the next year to work in the communications department. Pérez Graduated with a political science major, and got a job at City Hall before he considered seeking a public office as an Alderman.
"Honestly, I wasn't really expecting to see many Latinos talking about their personal stories. So, I'm really glad that I was able to see people who were once like me here, who were capable of reaching really high places being Latino," said Duran. "After today, I will tell my peers to not limit themselves, because the only limits are the ones we set. In this society, we've been told that because we're Latino we're not going to get very far. But my advice is to not listen to those things or give into the pressure, just try and follow your heart."
After lunch, the students shuttled a few blocks West to the City of Milwaukee's Municipal Court building to meet Judge Derek C. Mosley and Judge Phillip M. Chavez. Along with Judge Valarie A. Hill, the court consists of three judges with jurisdiction within the city. It is also the only court in the country that is 100% minority.
"And we think that's important, because Milwaukee is a city that's majority minority. So it's important to have people who are on the bench that look like you, live where you live, and reflect the community as a whole," said Judge Mosley. "Honestly, I never thought about being a judge at your age. And there's nothing I want to do besides be a judge now, I absolutely love it. People have asked us many times to run for other positions and offices and we're like, no thank you. We love what we do, and it's a blast. We have a great opportunity to actually interact with the community every single day. And when I say us, I'm saying us because we're part of the community too. We live here, no different than you guys."
Both judges shared their background experiences in becoming a judge, which is an elected position in Milwaukee. They also quizzed the students about laws that typically affected young residents, such as traffic violations and drinking.
Considering the fear and distrust within the Latino community towards white police officers, particularly after the recent cooperation with ICE (U.S. Immigration and Customs Enforcement), one of the students asked how best to deal with a situation if they are pulled over.
"The first thing is, simply comply. Comply with the officer's orders," said Judge Chavez. "There are instances where police have been out of bounds and that led to some very tragic situations. But if you are just obeying exactly what the officer commands, you minimize those kind of problems. My brother is a police officer as well, and a Latino obviously. So the vast majority of situations, the officers are really great officers, they do things by the book, and they're not going to treat you unfairly as long as you're not popping off, or fidgeting, or trying to grab something. Show your hands and just make sure that you comply with their directives. That is the easiest way to avoid incidents, even if you maybe a ticket. You will lose that battle on the street every 100% of the time. So don't fight that battle on the street, comply. Even the law itself is not in your corner, because the law says even if the officers are completely wrong in what they're doing, you as a citizen have no right to resist. Our Supreme Court ruled that, you can't resist so just comply. But remember everything they did, everything they said, and the names of everyone involved. So when you come into court, tell us. I want you to fight that battle with me in court. That's a battle you will win."
Following a tour of the Municipal Court, the final stop of the day brought the Carmen High Schoolers to the Milwaukee County Safety Building to see District Attorney John T. Chisholm. District Attorney Chisholm explained how much he enjoyed the opportunity to talk to young people getting ready to graduate, because he liked to plant a seed in their mind about a future that included public service as some part of their life.
As the district attorney for the County, Chisholm has to determine what cases get prosecuted. Anytime there is an issue where someone is arrested, that case has to be brought to his office, and the decision is made on whether they will charge that person with a crime or not.
"Legislators are who make the laws that govern the state of Wisconsin. The police have an obligation to enforce the criminal laws. Prosecutors are in a unique position because they are required to be both part of the executive and judicial branches. It is called the special obligations of a prosecutor, because prosecutors are given a lot of discretionary authority for bringing charges. The police can arrest anybody, but the prosecutor has to decide if there is enough evidence to take the case to court," said District Attorney Chisholm. "It is an important job, and it should be motivated by a desire to make the community safer – but doing it in a way that respects people's civil liberties. You can always keep people safe just by declaring martial law and taking people's civil rights away from them, and arresting everybody for minor offenses. You could keep them safe, but what don't you have is liberty. You don't have freedom, or civil rights. So the obligation of the prosecutor is really important. It has to balance public safety with civil liberties."
Chisholm did not originally plan to become an attorney. He actually was going to medical school. His father was a physician, and he pushed the liberal arts because he really believed strongly that to be a good doctor, a person had to understand the human condition.
"You have to treat people as human beings, not just as objects that needed to be treated with a disease," said District Attorney Chisholm. "He wanted me to have a good background in literature, philosophy, history, theology, all of these different things that he thought would make me a better physician. As it turned out, I think it helped make me a better lawyer for having that background."
The District Attorney shared the pivotal time in his life when he changed career directions. He said that the students would all face some point in their life, a moment when they were confronted with the same question – what do I really want to do? It was easy to pick some paths because they seemed like the easy way to go. But eventually everyone has to sit down, literally look in the mirror, and ask, who do I want to be?
"So I had that moment. I literally had taken the admissions test for medical school. I walked out of the test, and went down to the ROTC building. I talked to Professor of Military Science, but because I was already a senior it was too late to take ROTC," said District Attorney Chisholm. "He said that I could join the service as an enlisted person, and if I did well I could apply for Officer Candidate School. So that's what I did. With a college degree, I enlisted in the Army."
District Attorney Chisholm worked hard was commissioned as an infantry officer. His first post was at the DMZ in South Korea from 1986 to 1990, during the last days of the Cold War. When the Berlin Wall fell and the Soviet bloc crumbled, the army started downsizing. So it was a good time to consider thinking about doing something else. The GI Bill helped him go to law school and graduate with a minimal amount of debt, something he also suggested that the Carmen students should consider.
"I loved what I did in the military," added District Attorney Chisholm. "I loved the opportunity it gave me to lead people. I gave it everything I had, but I got more out of it in return."
The Public Service Day took place on the first weekday after the heinous weekend acid attack in Milwaukee. The incident made international news, because the hate crime was connected to anti-immigrant rhetoric promoted by President Trump to push his political agenda through fear.
When District Attorney Chisholm spoke with the students, his office had not yet released formal charges. It was later announced that the attacker, Clifton Blackwell, would be charged with first degree reckless injury, use of a dangerous weapon, and a hate crime. The 61 year-old was captured in a surveillance video dousing Mahud Villalaz with acid during an argument over the victim's immigration status. Villalaz is an American citizen who was born in Peru.
The Carmen students, many of who are first generation United States citizens, talked about living with a daily level of fear that would be reminiscent of the early 1930s in Germany. Several students said privately that they beg their parents to not go shopping without them, because their poor English – or even proper English with a Hispanic accent – left them vulnerable to anti-immigrant assaults even though they are legal citizens. Many families shop online now for safety, avoiding places like Walmart after the El Paso massacre.
When Mayor Barrett spoke to the group in the morning, he had just finished his press conference condemning the acid attack. He said that he found it a very troubling incident and expected that the attacker would be charged with a hate crime.
"Our country, our state, our city is filled with people from different nationalities. In fact, Milwaukee is a city of immigrants. I've said for years that the one constant of cities is that they're always changing. Throughout American history, cities have always been places where people come to live the American dream. Just as your parents came to live here. That's what happened with my parents. They see this as a land of opportunity and a chance to advance their families. And that's something that I embrace, because our diversity is our strength," added Mayor Barrett. "But we also have to be mindful of the political dynamic. You cannot have a situation where the President United States tries to create more racial division in this country. And that's clearly what is happening in to our nation. Unfortunately, what we saw over the weekend was a manifestation of his tactics to use fear to push his political agenda."