Churches to serve as community resource hubs in Council's initiative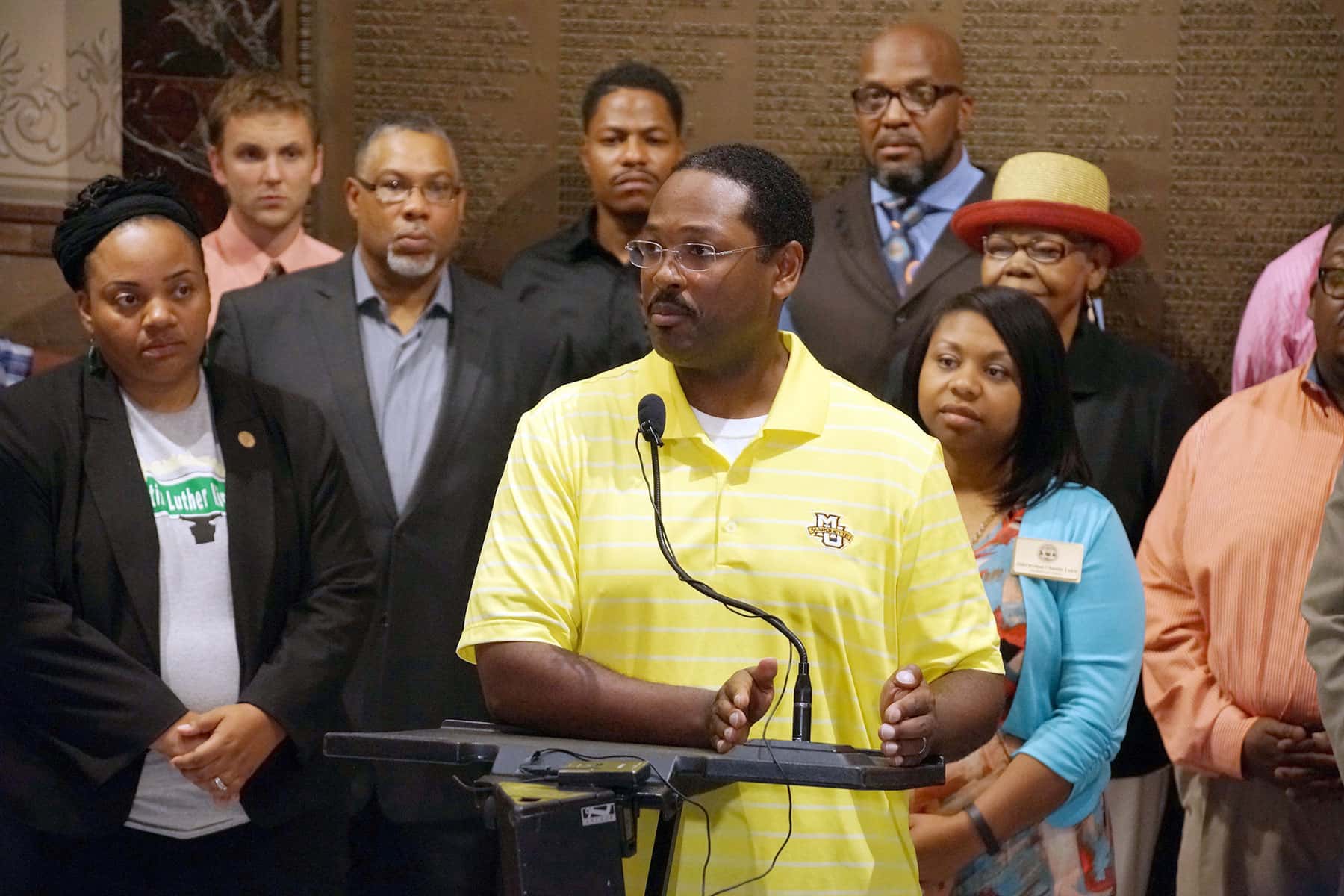 "We should be acting in a state of emergency for our city."
– Ashanti Hamilton
Common Council President Ashanti Hamilton, Alderwoman Chantia Lewis, and several Milwaukee pastors made a joint announcement about a new initiative called "All Things in Common" on August 10 at City Hall.
The joint partnership will utilize 25 area churches scattered throughout the city as community resource hubs that provide assistance to local residents.
"These churches have relationships in the communities they are serving right now," said President Hamilton. "So instead of trying to create an organization and build these connections, we want to use the infrastructure that already exists and plug the resources of the city government directly into this structure."
Alderwoman Lewis has been leading the Common Council's multifaceted approach to public safety. A major focus has been on systems that organize the community in a way that is both sustainable, and utilizes existing infrastructures within communities across the city. Milwaukee's faith-based community was the most practical asset for this plan.
"We all know that churches are the foundation in various communities," said Alderwoman Lewis. "So we looked into how can we bring them together to tackle many issues in our neighborhoods."
These community resource hubs will not only provide direct services like group-based mentoring, but referrals to city services and in-kind resources provided by philanthropic partners. Residents will be able to get connected with driver's license recovery, child support mediation, and other vital services. The partnership is a critical facet of the multi-pronged public safety plan announced by the Common Council on May 31.
"These pastors represent the faith community that have already been engaged in the work of strengthening neighborhoods and families, and sharing the Good News of their faith," said Pastor Robert Randolph, who helped organize the partnership. "Rather than trying to reinvent the wheel, or reinvent a structured organization that is already in place, we simply reached out to churches because we know they are already doing good work. So we asked how can the City partner with them to accomplish the mission both of us already share."
The "All Things in Common" initiative is aimed at creating sustainability among residents within the city and addressing the issues and needs particular to specific areas. These churches are spread throughout the city and already have roots in their communities. Residents would not need to go across the town to access resources, but instead step outside their door and walk around the corner in their neighborhood for what is needed.
"We are so grateful for and impressed by the number of institutions that have come forward and volunteered to serve as resource hubs," Alderwoman Lewis said. "This initiative is really the City saying we are involved in your lives and are making sure we all have a safer Milwaukee."
Asset mapping and needs assessment in the neighborhoods where the churches exist will launch on August 27. Faith-based partners will kick off the initiative with a citywide block party hosted at all of the resource hub sites on the same day, from 11:00 a.m. to 1:00 p.m. Attendees can win free gas, groceries, and bus passes. Each church will have volunteers come out and start building or extending relationships to the residents in that immediate area who show up the party.
A full list of the sites and additional details are available at milwaukee.gov/ATIC.
Pastor Randolph explained that the participating clergy would continue to do this work without the City's involvement, because of their greater calling. So the partnership is an important connection that allows both groups to have a greater impact.
"At different areas throughout the city, especially in the most challenged areas, having community partners that are stable in those neighborhoods means that the city can now plug into those locations to help and get services to those residents," said President Hamilton.