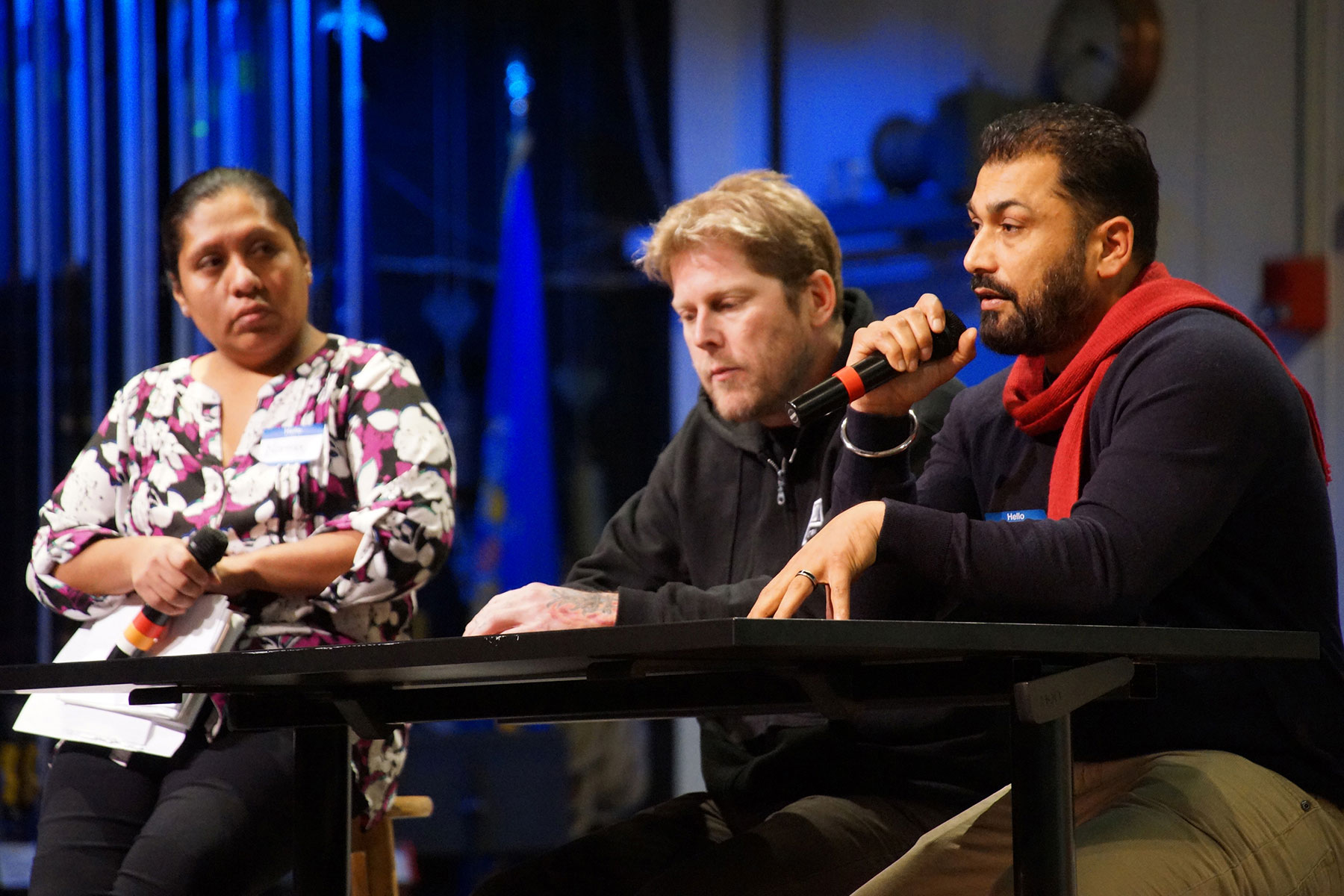 The ongoing public discussion series presented its message on December 28, focused on a personal level of affecting change to "Each one. Reach one. Teach one."
Hosted by the Open Door Community Center JC and Norma Duckworth, the candid conversation about racism, hate, and forgiveness engaged the audience who attended on the bitter cold night. From the questions asked by the dozens who participated, there was a common yearning to see community conversations develop into stable public platform and become an agent for change.
The event speakers, Arno Michaelis and Pardeep Kaleka, shared their personal journeys, and how they are helping others to see beyond hate. They noted that solving the problems discussed was a far more complex issue than the problems, which were misunderstood for their own complexities.
"By defining ourselves by what we are against, we automatically make them stronger," said Kaleka, as he talked about how to avoid fueling hate. "Why are we not motivating people to get involved right now? Honestly, we are loosing the war of ideas."
The documentary "Waking in Oak Creek" was shown before the Q&A session. It showed life in the Sikh community of Oak Creek, after six worshipers were kiIIed by a white supremacist, and how the local residents found inspiration in the Sikh tradition of forgiveness, faith, and relentless optimism. Interviewed for the film were people directly affected by the tragedy, including Lieutenant Brian Murphy who was shot 15 times in the attack.
The half hour film can be watched in the companion feature.
In the years following the tragedy, thousands continue to gather for annual vigils to honor the victims. The events also strengthen connections between all those touched by the tragedy caused by hate, and residents who live in segregated Oak Creek neighborhoods.
As Milwaukee struggles with how to identify and solve its racial problems, what has remained absent from the decades-long dialog is what are the incentives for making change. Michaelis told the audience that all the hate and fear that flood our city fulfill a purpose for those who embrace the negative emotions. Giving them up is theoretical until there exists something better to replace them. Hope and love are worthy replacements, but they have to take on a tangible form.
The audio and video of the public conversation was recorded at Shorewood High School on December 28.
"Peace is not just about the absence of conflict; it's also about the presence of justice. A counterfeit peace exists when people are pacified or distracted or so beat up and tired of fighting that all seems calm. But true peace does not exist until there is justice, restoration, forgiveness. Peacemaking doesn't mean passivity. It is the act of interrupting injustice without mirroring injustice, the act of disarming evil without destroying the evildoer, the act of finding a third way that is neither fight nor flight but the careful, arduous pursuit of reconciliation and justice. It is about a revolution of love that is big enough to set both the oppressed and the oppressors free."
– Common Prayer: A Liturgy for Ordinary Radicals