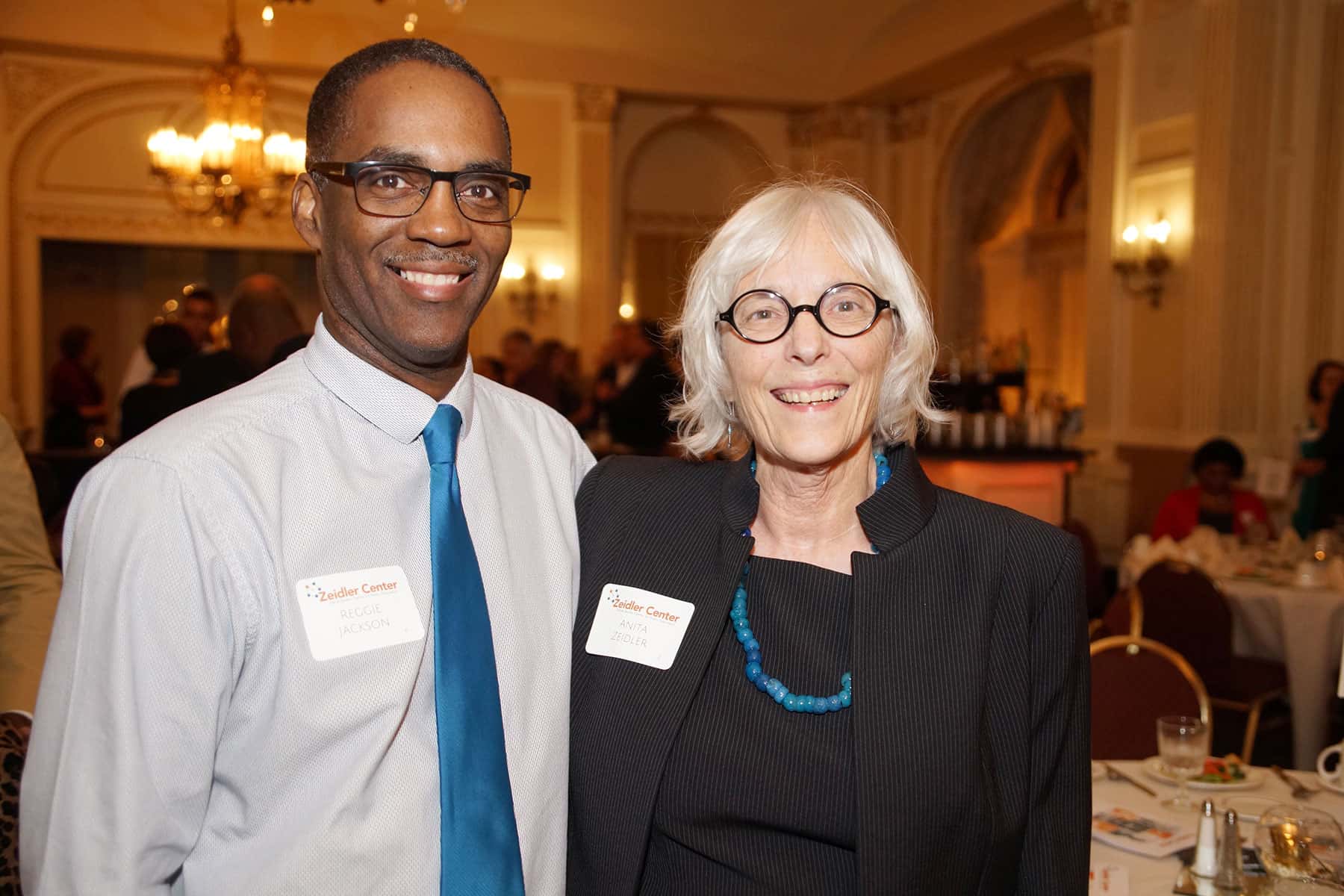 Founded in 2006, the Frank Zeidler Center for Public Discussion is a 501(c)3 nonprofit organization that invites civil dialogue in the midst of differences.
Wisconsin State Senator Lena Taylor presented the Zeidler Center with a citation on its anniversary, in recognition of the organization's decade of work bridging the ethnic divides in Milwaukee.
"I can't see change without conversation. I can't see change if people are not in the same room listening to each other," Senator Taylor told the audience, during the fundraising dinner held on November 10 at the Astor Hotel. "So I became a champion to support what the Zeidler Center does, rebuilding the trust that has been shattered in the community."
For 10 years the Zeidler Center has produced public dialogues. People with different views come to discuss, in a safe place, what they believe and what they think. It is done in the hope that the effort will engender understanding and acceptance of other people's views and improve the community.
"We don't want to promote any certain viewpoints or change anybody's mind. What we want is for people to hear what other people have to say on really important topics," said Anita Zeidler, who is a board member of the Zeidler Center and also the daughter of former Milwaukee Mayor Frank Zeidler. "Social science research shows that the more someone understands the perspective of other people, the less likely they are to behave badly towards them."
Having a safe place for these face-to-face talks is important in a city like Milwaukee. Using social media is no substitute for personal interaction.
"People tend to only look at sites that promote their own ideas, so they are only listening to themselves and other people who think exactly like them," explained Zeidler.
More than 300 community partners attended the event, which included representatives from the Greater Milwaukee Foundation, America's Black Holocaust Museum, Ex Fabula, Greater Together, Interfaith Conference of Greater Milwaukee, Marquette University, MKE District Attorney's Office, Milwaukee Film Festival, Milwaukee Police Department, Safe & Sound, and the Milwaukee Repertory Theater.
Executive Director Dr. Katherine Wilson, who earned her PhD in genocide studies, felt drawn to the Zeidler Center because they fostered the power of dialogue. That directly impacted a number of the stages involved with her research, particularly Dehumanization.
"I've seen people sit down with other, people who they would consider an enemy, and then walk away with their eyes open and understanding their shared humanity," said Dr. Wilson.
Frank Zeidler served three terms as Mayor of Milwaukee from April 20, 1948 to April 18, 1960. Under his leadership, Milwaukee doubled in size, had a baseball team that won the World Series, and was the fifth largest city in America at that time.
"I have so many fond memories of my Dad. He was such a wonderful man, who could tell a good joke on himself. He was a really beautiful guy," said Zeidler.
In politics, Mayor Zeidler encountered people with strongly opposing views, and he learned that issues were rarely simple or one-sided. He wanted to get things done, and to do that he had to cooperate with other people who he did not always agree.
When he left office in 1960 at the age of 48, Mayor Zeidler spent the rest of his life involved in numerous community organizations. He was known for his efforts to understand the perspectives of others, and get people together to talk about their differences.
"I learned to read about age 6, I taught myself because I wanted to read the newspapers. I heard what was going on in our house, how people were criticizing and attacking my father. So I thought I needed to know," Zeidler explained. "It's a very difficult life being a child of somebody in public office, especially somebody who people may find controversial."
At the end of his life, some fellow members from the Redeemer Lutheran Church brought Mayor Zeidler an idea about starting an organization to foster dialogue on the issues of the day.
They wanted to name the organization after him, and as a humble man he was hesitant. But because he like the idea and thought it could make a positive difference in Milwaukee, he agreed.
"I think America has never properly dealt with the race issue. It's going to keep coming up until we do, especially now because there was a kind of a racism theme that ran through some of the Republican campaign," said Zeidler. "I think until we deal with that, we won't be the America that were supposed to be."
The leadership of the Frank Zeidler Center for Public Discussion is already looking ahead to the next decade of promoting understanding through conversations, to help heal wounds and forge a brighter legacy for Milwaukee's future.