Why Black America does not trust that justice will prevail in the Ahmaud Arbery murder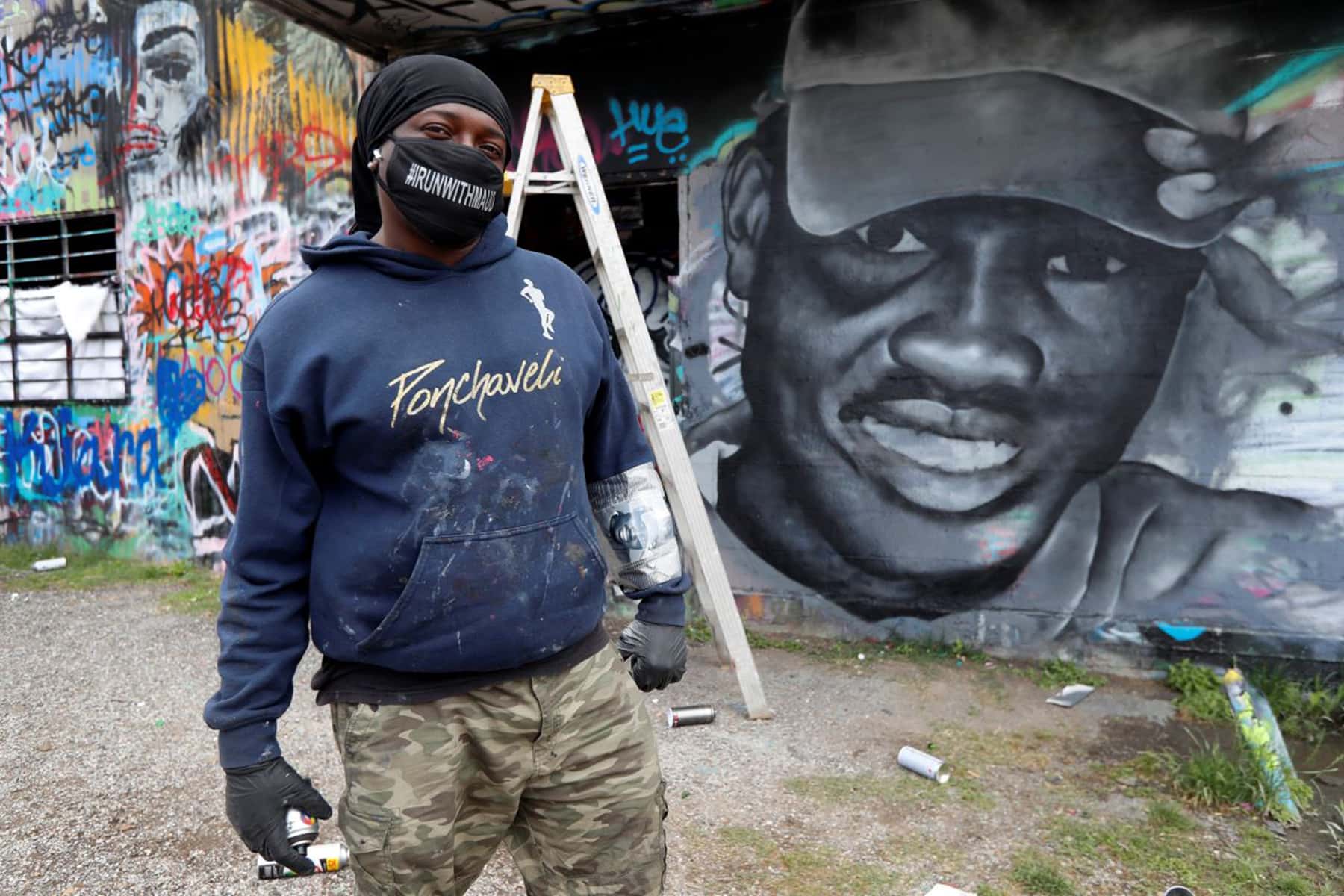 "I don't think I'll ever reach the mental capacity to ever watch the video. I saw my son come into the world and seeing him leave the world is not something… that I'd want to see ever." – Aubery's mother Wanda Cooper
When George Zimmerman killed 17 year-old Trayvon Martin on February 26, 2012 in Sanford, Florida the black community there was outraged. The killing did not make the national news right away. It was not until the story spread on social media that blacks around the country heard about the story. Eventually the story became a huge driver of the news cycle and President Barack Obama chimed in on the death of Martin.
Justice delayed is justice denied
Once again we are confronted with a similar timeline. On February 23, 2020, 25 year-old Ahmaud Aubrey was shot and killed by former police officer Gregory McMichael and his son Travis McMichael in Brunswick, Georgia. The story did not become national news until months later.
The two tragedies occurred just under two hundred miles and eight years apart. As has been the case too often we have to wait an extremely long time before charges are filed when an unarmed black person is murdered. It is painful, traumatic, hurtful, disrespectful, and too much like business as usual in America. In each case the killers claimed the black male did not belong in the area.
Trayvon Martin was visiting with his father and had just returned from buying Skittles and an ice tea form a local store and Aumaud Aubrey was taking a jog. Neither of these things would be considered unusual if done by someone white. The fact that these two were black males made them suspect in the eyes of the McMichaels and Zimmerman.
Darryl Pinckney wrote that, "Black people in America have been under surveillance ever since the 17th century, when enslaved Africans were forced to labor in the tobacco and rice fields of the South."
I have written about our black skin being the weapon that white people fear. This is another clear example. What makes it even more troubling is that the criminal justice system which always seems to be so swift when white people are murdered, grinds to a halt when black people are the victims and non-whites are the perpetrators. The McMichaels are both non-Hispanic whites, Zimmerman is a white Hispanic.
It is a pattern that has been repeated far too many times. Our patience has not run thin; it's run out. When will our lives matter enough for swift justice to happen? In the distant past the stories of the murders of Emmett Till, and Medgar Evans galvanized our resistance to the dysfunctional "justice" system. In more recent years the stories of Markeis McGlockton who was shot to death in front of his five-year-old daughter last year by a white man in a dispute over a parking spot and the murder of 17-year-old Jordan Davis who was shot and killed by a white man who was upset that Davis and his friends were playing music too loud for his liking at a gas station in Jacksonville Florida in 2012 have galvanized our collective distrust in America.
"The past is never dead. It's not even past." – William Faulkner, "Requim For a Nun"
Many of us never heard the story of the murder of 62-year-old Kenneth Herring by a 21-year-old white woman, Hannah Payne in Clayton County, Georgia in May 2019. She claims to have seen Herring drive away after hitting a tractor-trailer with his pick up truck and followed him in her Jeep. Police believe Herring may have been having a diabetic episode, which led to him hitting the other vehicle.
She called 911 and was told to not follow the vehicle. Much like Zimmerman who did the same before fatally shooting Trayvon Martin she refused to follow those instructions. Payne blocked Herrings car off and approached his vehicle with a gun screaming at him "Get out of the f***ing car… I'm going to shoot you." She struck him several times as he sat in the driver's seat of his car before shooting him in the chest. After Payne shot Herring, she reportedly told the 911 operator, "He just shot himself with my gun."
A witness at the scene recorded video of her changing her clothes before police arrived on the scene. Her attorney falsely claimed that Herring had hit Payne's vehicle despite the fact that it was obviously another vehicle he hit. The attorney also made an assertion that Herring ripped Payne's clothing and that she was defending herself even though he never left his vehicle. He said Payne was acting in self-defense and has "learned a very valuable lesson." After her arrest and first appearance in court the judge granted her bond saying she was not a threat or flight risk. She has been granted bond on two separate times since first being charged and has still not been tried in court.
Much like the case of Zimmerman who was not charged until April 2012, Gregory McMichael and Travis McMichael were finally arrested May 7, 2020 and charged with felony murder and aggravated assault.
Aubery was jogging in Satilla Shores neighborhood in Brunswick, Georgia when Gregory and Travis McMichael confronted him with a handgun and a shotgun. They jumped into a pickup truck and began following Aubery down the street. They were joined by another man as they repeatedly tried to cut him off but he ran around them attempting to escape. Travis Michael exited the truck and pointed the shotgun at Aubery. The two fought, three shots were fired and Aubery was down, dying in the street.
An unidentified person filmed the altercation, and a private defense attorney leaked the video of the incident after consulting with the suspects. The McMichaels' have claimed they thought Aubery was a burglar and that multiple burglaries had been reported in the area over the past several months. But Glynn County Police Lt. Cheri Bashlor, said just one burglary of a gun taken from a car in the neighborhood was reported back in January.
One district attorney in the county recused himself from the case and stated Travis McMichael was acting in self-defense when he killed Arbery and that the pursuit by two armed white men of an unarmed young black man was perfectly legal under Georgia's citizen's arrest law. Zimmerman used Florida's stand-your-ground-law as a defense and was acquitted by a jury in July 2013.
The acquittal is what spurred the Black Lives Matter Movement. As we sit and wait again to see if there will be justice for a black man killed by whites the track record of America does not give us confidence. A lot of attention has been paid to cases when police kill blacks but these are civilians like, the men who murdered Emmett Till in 1955, Medgar Evers in 1963. The system allowed the murderers of Till to walk away free men. Zimmerman walked away a free man. And it was not until thirty one years later on February 5, 1994 that Byron De La Beckwith, at the age of 73, was finally convicted and sentenced to life in prison.
If we have learned anything from the past it is clear to us that there is a fifty-fifty chance at best of these men being convicted of murdering Aubery. We know that the Rodney King trial taught us that video evidence is not enough when the victim is black. We know that in the South the stand-your-ground laws have allowed far too many whites to get away with murder. These are the modern day legacies of thousands of lynchers who got away with murdering black people. Georgia was the scene of no less than 492 black lynching victims.
We hold our breaths hoping to see justice but will not be the least bit surprised if we don't. As we always do, if they get off we will be mad, disappointed and call for federal civil rights charges. As is often the case, that probably won't work either. We've grown accustomed to hoping for the best but preparing for the worst.
"There are a lot of people who are discouraged and believe that this is going to be one of the cases that have happened in the nation, where life was lost and justice was not rendered." – John Perry of the NAACP's Brunswick, Georgia chapter.
The
Milwaukee Independent
began reporting on what was then referred to as the mysterious "Wuhan Virus" in January 2020. Other local media did not picked-up on the story until many weeks later. Our early features focused on the economic impact, social issues, and health concerns long before other Milwaukee news organizations even mentioned the coronavirus. Over the following year, we have published hundreds of articles about the pandemic and how it has affected the lives of Milwaukee residents. This extensive body of work can be found on our
COVID-19 Special Report
page, a chronological index of links by month. Our editorial voice remains dedicated to informing the public about this health crisis for as long as it persists.
For medical resources, please visit the
CDC's COVID-19 page
or the
Wisconsin Department of Health Services
. All editorial content published by
Milwaukee Independent
can be found at
mkeind.com/COVID19
. With a mission of transformative journalism, our staff is free from commercial bias and are not influenced by corporate interests, political affiliations, or a public preferences that rewards clicks with revenue. As an influential publication that provides Milwaukee with quality journalism, our award-winning photojournalism and features have helped to achieve a range of positive social impact that enriches our community. Please join our effort by entrusting us with your contribution. Your Support Matters -
Donate Now