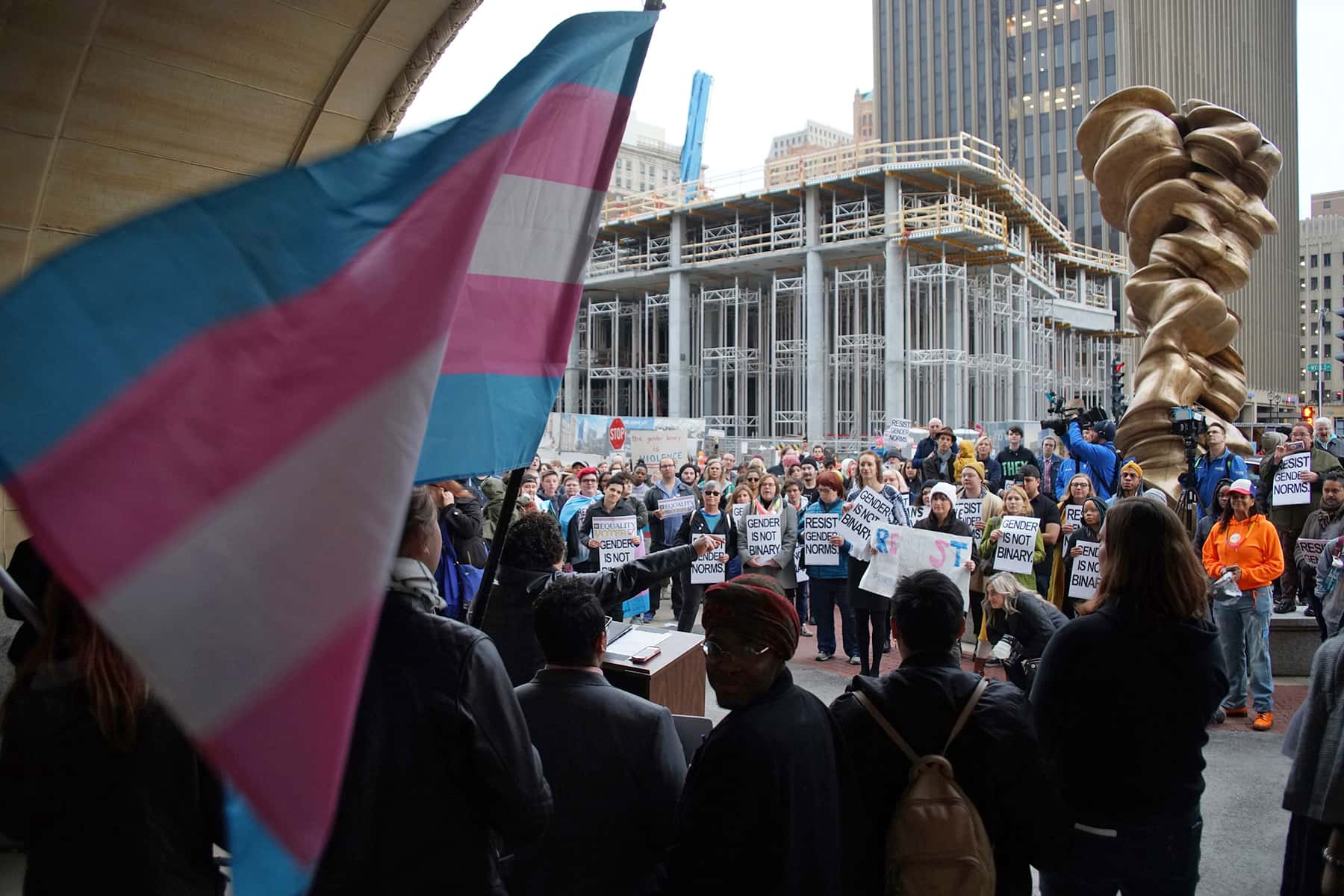 On October 25, Milwaukee Pride coordinated a Rally for Resistance at the archway of City Hall featuring local LGBT leaders, in response to details that the federal government was moving forward with efforts that would take away the civil rights of American citizens.
The New York Times reported on October 21 that the Trump administration planned to legally redefine sex and gender, a policy change would effectively exclude transgender and non-binary students from legal protections under Title IX.
Under the Obama administration, federal agencies recognized gender identity as a protected class and considered complaints brought by transgender and non-binary students. At the same time, a growing number of federal courts have also recognized their status.
"An attack on any of us is an attack on all of us. For over 30 years, we have fought for a world where all people can live proud. We will not accept or allow any attacks on our friends and family," said Milwaukee Pride in a statement.
If Trump's initiative is successful, the action would pave the way for the further erosion of basic civil rights for transgender, intersex, and gender nonconforming people to strict, obsolete gender roles. The federal government would effectively render these students as people without protection.
"Two years ago on election night, I feared the change in our country's administration would challenge the progress so many people fought for," said Wes Shaver, president of Milwaukee Pride. "After the latest memo from our president, we have no choice but to amplify the message that we will not accept anything less than equal treatment, respect and rights for all transgender, non-binary and gender non-conforming human beings."
The peaceful protest at City Hall took aim at the proposed erasure of transgender lives in America. The gathering highlighted the Milwaukee Prides's efforts to partner with leading LGBT groups to demonstrate a public resistance against attempts to delegalize the status of transgender individuals in America.
"This marginalization and bullying has to stop. Self-destructing our nation with hate and prejudice must come to an end. It's uncivilized. It's un-American," added Shaver.
Wisconsin State Representative Jocasta Zamarripa presented an overview of LGBT voting concerns for the November 6 midterm elections. She was followed by speakers from the local transgender community, such as Yante Turner and Elle Halo of Diverse & Resilient, Imani Sloan of the AIDS Resource Center of Wisconsin, Ashley Altadonna of FORGE, Alex Corona of the Milwaukee LGBT Community Center, and U.S. military veteran Lеіgh Sаndеrs.
Partner organizations that stood united at the event included FORGE, ACLU of Wisconsin, ZAO Milwaukee Church, Courage MKE, the Wisconsin LGBT Chamber of Commerce, Milwaukee LGBT Community Center, and the Milwaukee Equal Rights Commission.