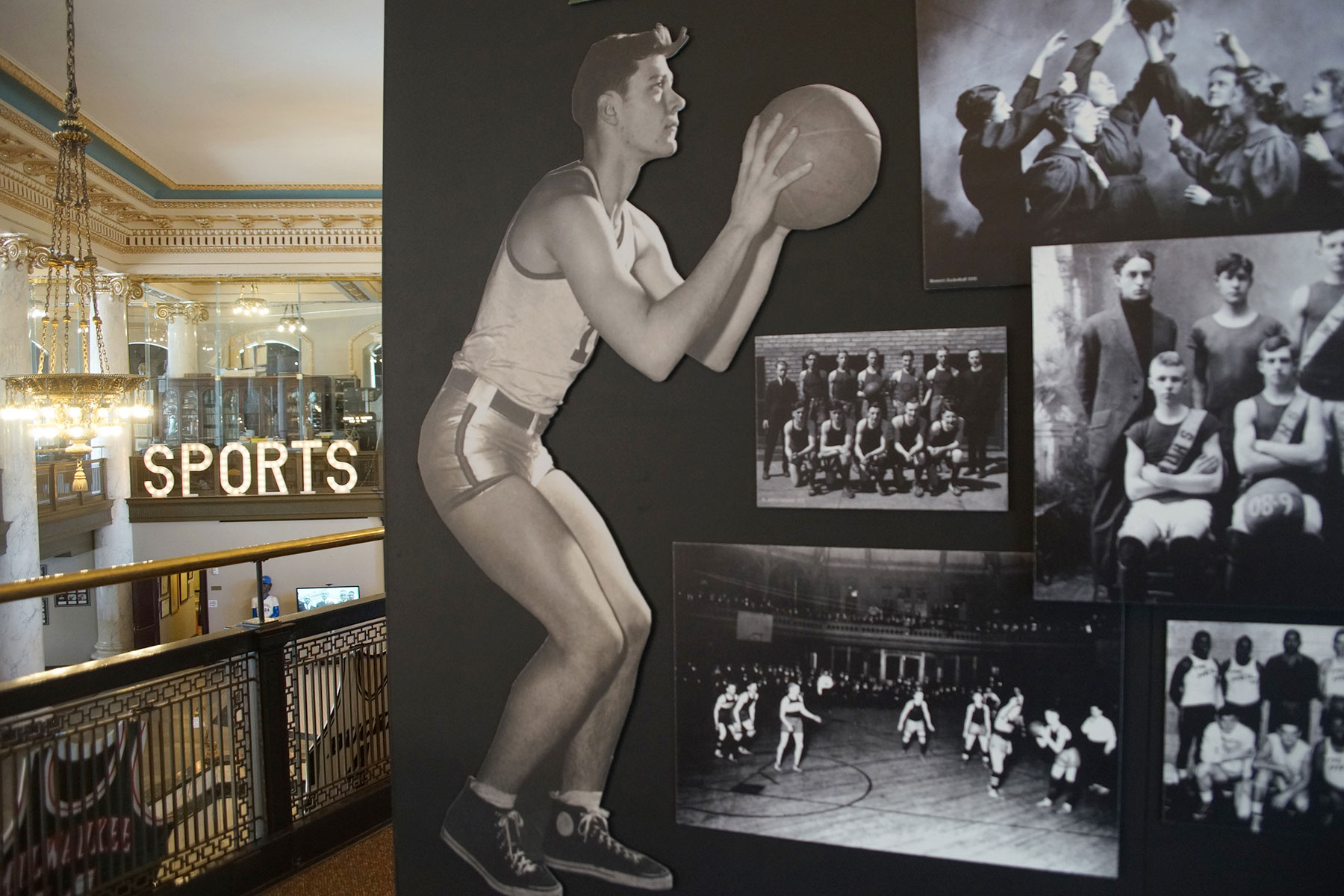 During a historic year for sports in Milwaukee, the Milwaukee County Historical Society unveiled its 2018 feature exhibition, "Back Yard to Big Leagues: Milwaukee's Sports and Recreation History."
Exploring Milwaukee's exciting and extensive sports and recreation history, the exhibit will be on display until April 27, with a smaller version through the summer.
"With the Bucks coming up on their 50th anniversary and opening the new Arena, and both the Brewers and Admirals also approaching their 50th anniversaries, we decided to do a comprehensive look at sports and recreation," said Ben Barbera, Curator at the Milwaukee County Historical Society. "We wanted to connect professional sports to recreational sports, and their affect on community building and development in Milwaukee, to show how sports can be a unifying force for people."
There is significant evidence that engagement in sports and recreational activities can build stronger communities, and in Milwaukee this has been true for generations. Whether it was participating in leisure games or cheering on local teams, Milwaukeeans have loved sports of all types. Barbera named the exhibit "Back Yards to Big Leagues" to recognize the fact that the city has a deep history of athletic participation from the neighborhood level through to major league sports.
"Like we have done with previous exhibits, we took a broad approach and looked at lots of different sports," said Barbera. "We don't really dive deep into any one particular sport or person. Instead, we wanted to give the public a survey of the landscape. If it inspires their interest, they can go deeper on their own. For example, if someone wants to know more about the Milwaukee Badgers, which was an NFL team in Milwaukee from 1922 to 1926, there is a great book about the team."
Visitors can become immersed in Milwaukee's sporting history through artifacts, photographs, documents, and audio and visual media. There are also interactive components within the exhibit that invite participation to make the experience fun and informative.
"When choosing the exhibits that we offer, we pick topics that are relevant to Milwaukeeans today," said Mame McCully, executive director of the Milwaukee County Historical Society. "What better time to feature Milwaukee's sports and recreation history than the year our new arena opens, as we say goodbye to the Bradley Center, and as our Milwaukee Bucks celebrate their 50th anniversary,"
The future of Milwaukee sports has been in the forefront of public discussion. The "Back Yard to Big Leagues: Milwaukee's Sports and Recreation History" exhibit draws a connection to today from the city's previous experiences. Some of the interesting displays include life-sized bobble heads that have a human body weight, Green Bay Packers helmets that show the evolution of head safety in sports, and a large cutout sign from when the Milwaukee Braves celebrated its winning of the World Series in 1957.
The Milwaukee County Historical Society was founded in 1935 to collect, preserve and make available materials relating to the history of the Milwaukee community. Through a broad range of activities, it seeks to celebrate and preserve local history.
"The really fun thing about our collection is that we have random sports equipment from one hundred years ago, like skates and golf clubs," added Barbera. "So we can see the changes in equipment over time, like showing how a golf club from the 1800s compares to a massive driver today."