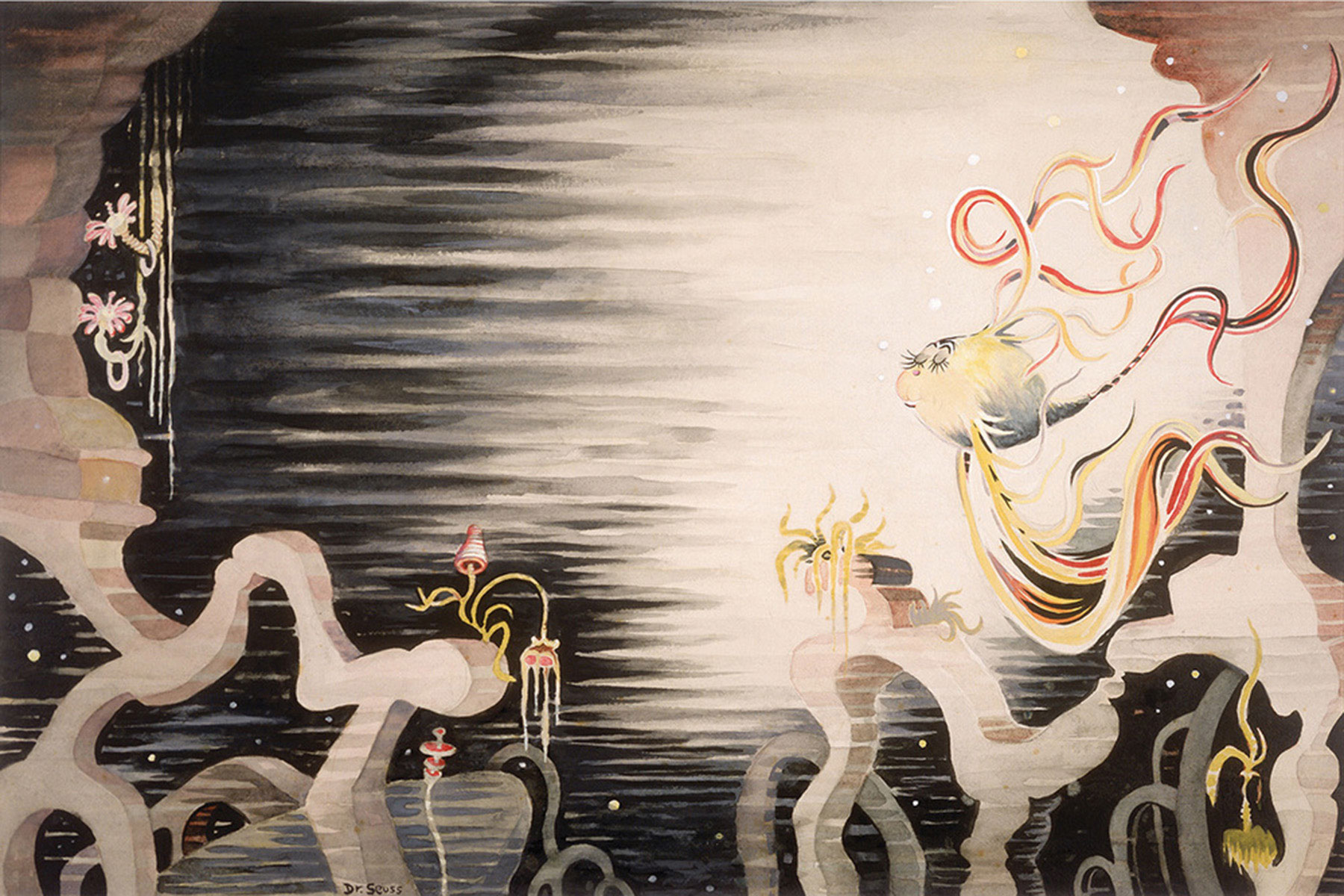 Works from the best known Dr. Seuss books for children, and a mind-expanding collection of secret art that he created at night for his own personal enjoyment, is on display at Gallery 505 from September 12 to 14.
Illustrator by day, surrealist by night, Dr. Seuss created a body of irrepressible work that defined him as an iconic American artist. For over 60 years, the illustrations of Dr. Seuss have brought a visual realization of his fantastic and imaginary worlds. However, his artistic talent went far beyond the printed page. To this day, his Secret Art Collection is virtually unknown to the general public.
The Ann Jackson Gallery is one of the few galleries authorized to represent The Art of Dr. Seuss Collection, and they have brought the pieces to Gallery 505 in Whitefish Bay, for a special exhibition of this imagination. Art of Dr. Seuss collection specialist, Valerie Jackson, gave a special presentation to the public during the opening event on September 12.
Ted Geisel wrote and illustrated 44 books for children under the name Dr. Seuss, and wrote additional books for children under the pen name, Theo LeSieg. Throughout his lifetime, Geisel created paintings and sculpture which he secreted away at the Dr. Seuss Estate. Perhaps the wackiest and most wonderful elements of the special collection are Dr. Seuss's three-dimensional "Unorthodox Taxidermy" sculptures.
In the introduction to Seuss's 1987 retrospective exhibition at the San Diego Museum of Art, Steven Brezzo, Director of the museum at the time wrote, "Why were these works so important to us? Perhaps because Dr. Seuss accepted for a fact our own youthful artistic openness. Every page was a new and stimulating visual adventure with an endless variety of amusing creatures and expressionistic sets. Like his stories, his text illustrations were a poke in the eye of literary and artistic convention."
Artworks from this historic collection have traveled to museums and galleries across three continents since its inception in 1997, with works from The Art of Dr. Seuss now hanging in collections alongside the likes of Picasso, Chagall, Warhol, and other 20th century masters.
The Secret Art of Dr. Seuss often shows a side of the artist that most readers, familiar with him through his classic children's books, have never seen. These "Midnight Paintings," along with significant drawings and sculpture, were often created by Dr. Seuss at night and were not exhibited during his lifetime.
The original paintings and sculpture, which remain in their respective collections, are considered priceless. Limited editions reproduced from Theodor Seuss Geisel's original paintings, drawings, and sculpture are available for sale to the public at Gallery 505.
Each of these Estate-Authorized limited editions have been adapted and reproduced from Geisel's original drawings, paintings, or sculptures. Additionally, each work bears a posthumously printed or engraved Dr. Seuss signature, identifying the work as an authorized limited edition commissioned by the Dr. Seuss Estate.
Ted Geisel asked his wife, Audrey, to wait until he was gone before bringing these works to the public. In her preface to the popular coffee table book on this collection, The Cat Behind the Hat, Audrey Geisel wrote: "I'm gratified to carry out Ted's wishes and have these works revealed to the world."
Despite the unprecedented demand during his lifetime, no limited edition artworks were ever conceived, authorized, or created until the project began in 1997, six years after Geisel's death. That year, Audrey Geisel put into motion a series of artworks and exhibitions that would carry out her promise to Ted, while firmly establishing him as one of the most iconic talents of the 20th century.
Theodor Seuss Geisel (1904–1991), a.k.a. Dr. Seuss, began his career as a little known editorial cartoonist in the 1920s. His intriguing perspective and fresh concepts ignited his career, and his work evolved quickly to deft illustrations, modeled sculpture, and sophisticated oil paintings of elaborate imagination.
Dr. Seuss is currently best known as one of the most beloved and bestselling children's authors of all time, having written and illustrated classics such as The Cat in the Hat, Green Eggs and Ham, and How The Grinch Stole Christmas. Geisel was also a political cartoonist for PM magazine during World War II, as well as a contributing illustrator for Vanity Fair and Life. He enjoyed a long, successful advertising career, had writing interests in three Academy Awards, received The Pulitzer Prize, a Peabody Award, and two Emmys.
His unique artistic vision emerged as the golden thread which linked every facet of his varied career, and his artwork became the platform from which he delivered children's books, over 400 World War II political cartoons, hundreds of advertisements, and countless editorials filled with wonderfully inventive animals, characters, and clever humor. Geisel single-handedly forged a new genre of art that falls somewhere between the Surrealist Movement of the early 20th century and the inspired nonsense of a child's classroom doodles.