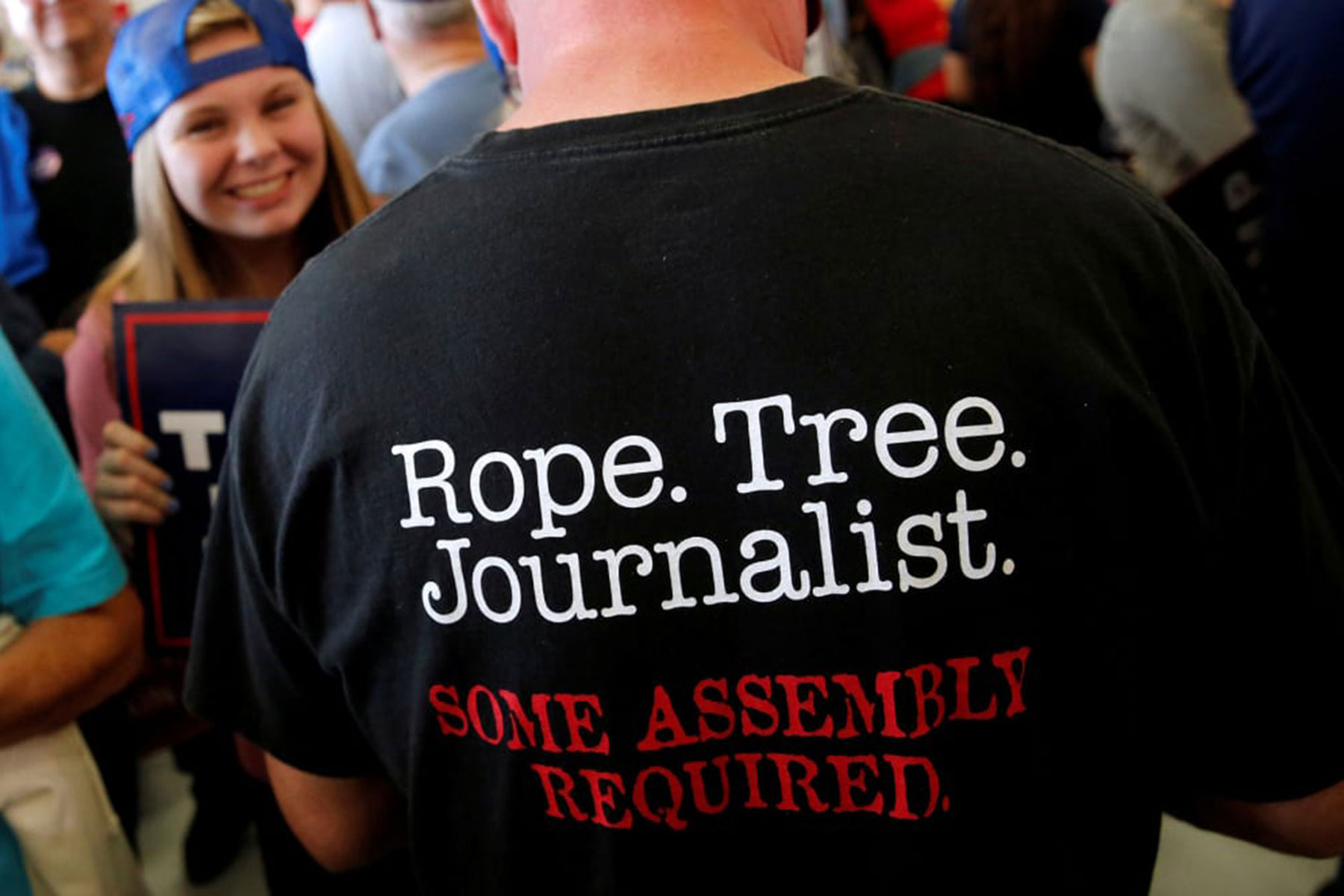 According to the world's largest organization for journalists, at least 81 reporters were killed in 2017 doing their jobs, while violence and harassment against media staff has skyrocketed.
The end-of-year report from the International Federation of Journalists (IFJ) contained dire results, which found an "unprecedented numbers of journalists were jailed, forced to flee, that self-censorship was widespread, and that impunity for the kiIIings, harassment, attacks, and threats against independent journalism was running at epidemic levels."
"We welcome the reduction for the third year in a row in the loss of life suffered by journalists and media staff around the world during 2017," said IFJ President Philippe Leruth. "While this represents a downward trend, the levels of violence in journalism remain unacceptably high. We find it most disturbing that this decrease cannot be linked to any measure by governments to tackle the impunity for these crimes targeting journalists. Instead, the patterns don't change in the most violent countries such as Mexico and India."
No region was spared the scourge of violence in journalism in 2017, including Western democracies where men of violence proved the lengths to which they are prepared to go in ensuring their criminal enterprises remain shielded from media scrutiny.
Two women journalists, Kim Wall of Denmark and investigative journalist Daphne Caruana Galizia of Malta were among the eight women journalists kiIIed in 2017.
The report also found that a minimum of 81 journalists were kiIIed while working in 2017, and over 250 journalists were jailed over the year. According to the organization 93 journalists were kiIIed in 2016.
For the second year in a row, the number of journalists imprisoned for their work hit a historical high, as the U.S. and other Western powers failed to pressure the world's worst jailers – Turkey, China, and Egypt – into improving the bleak climate for press freedom. The pattern reflects a dismal failure by the international community to address a global crisis.
Far from isolating repressive countries for their authoritarian behavior, the United States has cozied up to strongmen such as Turkish President Recep Tayyip Erdoğan and Chinese President Xi Jinping.
At the same time, President Donald Trump's nationalistic rhetoric, fixation on Islamic extremism, and insistence on labeling critical media "fake news" serves to reinforce the framework of accusations and legal charges that allow such leaders to preside over the jailing of journalists.
Globally, nearly three-quarters of journalists are jailed on anti-state charges, many under broad and vague terror laws, while the number imprisoned on a charge of "false news" rose to a record 21.
"The safety crisis in journalism illustrates a desperate need for the implementation of resolutions on media protection," said IFJ General Secretary Anthony Bellanger. "We urge further efforts to promote the safety of journalists."
Editor's Note: The t-shirt shown for this article advocating for the lynching of journalists, "Rope. Tree. Journalist. Some assembly required" was actually sold on Wallmart.com and Amazon.com. Dan Shelly, Executive Director of the Radio Television Digital News Association (RTDNA), contacted both online retailers and explained how the apparel openly encourage violence targeting journalists. The products were removed, however, pictures continued to circulate on social media of the t-shirt's creator wearing it at a Trump rally.
"KiIIing journalists will never kiII the truth."
According to IFJ records, the Asia Pacific has the highest kiIIing tally with 26, followed by the Arab World and Middle East on 24 kiIIings, The Americas with 17, African still at eight and Europe with five kiIIings.
The statistics on journalists and media staff kiIIed in 2017 are as follows:
As of 29 December 2017, the IFJ has recorded the following cases of kiIIings:
Targeted, bomb attacks and cross-fire killings: 81
Accidents and Natural Disasters Related Deaths : 0
Total Number of Deaths: 81 (73 men and 8 women)
Countries with the highest numbers of media kiIIings are:
Mexico: 13
Afghanistan: 11
Iraq: 11
Syria: 10
India: 6
Philippines: 4
© Photo
Violaine Martin / United Nations and Committee to Protect Journalists