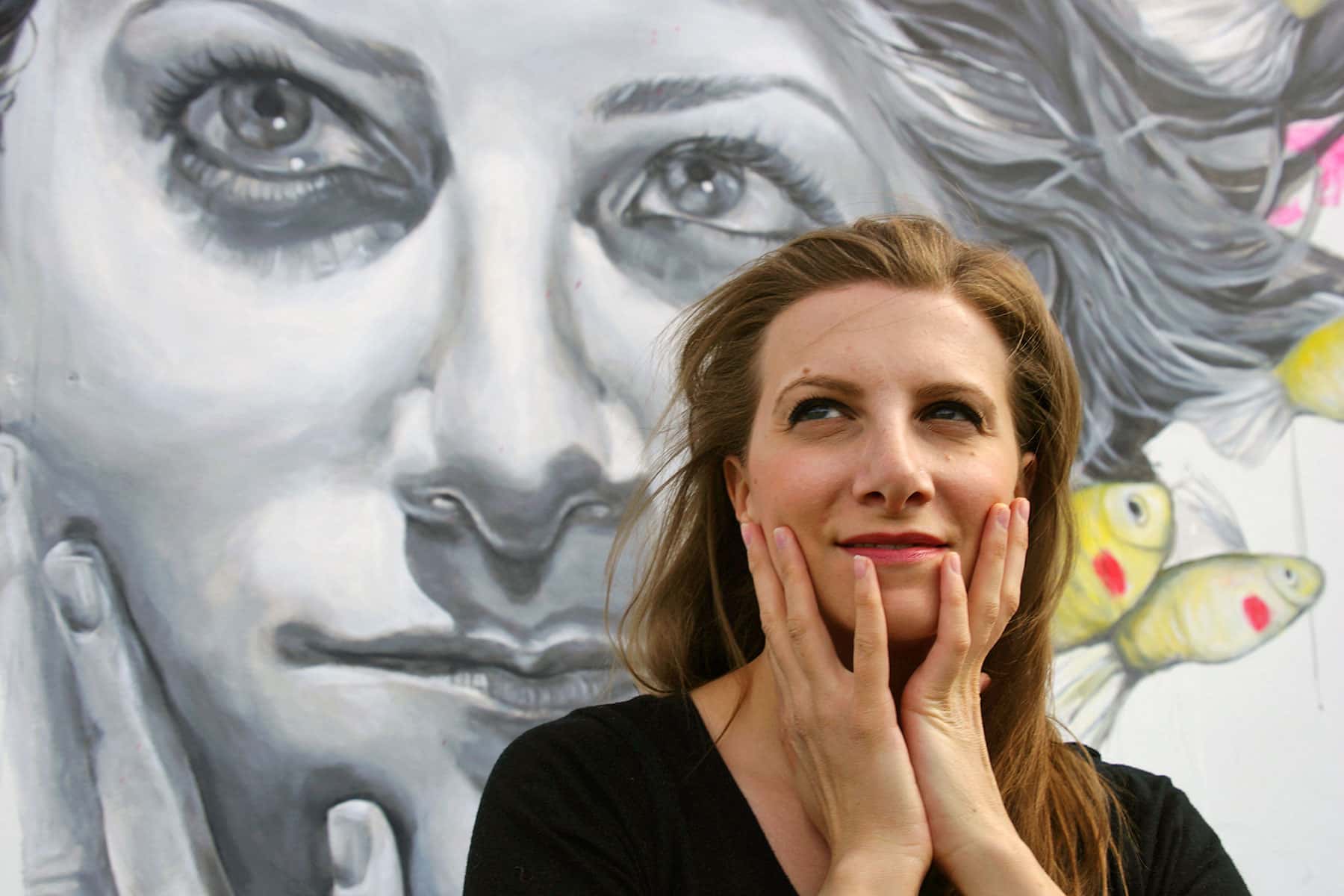 Nova Czarnecki is one of the five female artists who was hired by the Kinnickinnic Avenue BID to paint a large-scale mural along Bay View's main retail corridor, with a work titled "Witness to the Wild."
The "Street Canvas" project is part of an overall enhancement initiative long the main street of the Southside artery, once the most frequently traveled road connecting Milwaukee and Chicago. The five commercial buildings selected along the mile-long stretch of Kinnickinnic Avenue, or simply KK as the street is commonly known, are as architecturally diverse as the area is culturally.
Nova Czarnecki, Jenny Jo Kristan, Dena Nord, Jenny Anderson, and Rozalia Hernandez-Singh are the all-female roster of artists and unifying theme for the new collection of public art in Bay View.
Over the installation period, from May 22 to June 9, the Milwaukee Independent photo documented the mural painting process of each artist. Those images are included with this short Q&A, to showcase and share a personal insight into this ambitious project that adds to the growing momentum of establishing Milwaukee as an art destination.
Q&A with Nova Czarnecki
Witness to the Wild
Q: In your youth, who or what inspired you to be an artist, and what led you on the path to paint outdoor murals?
A: Seeing the work of Leonardo da Vinci in my youth, inspired me to be an artist. His paintings transcended me and I saw it as a truly noble path. As far as this project of doing an outdoor mural, I credit Stacey Williams Ng. Watching what she did with Black Cat Alley made street art exciting to me. Her selfless support of promoting artists has changed and united the Milwaukee art community. I wanted to be a part of that, and I felt I also had something to say.
Q: What was the idea behind your Bay View mural, and what do you hope the public experiences when seeing it?
A: I changed what I was originally inspired to paint for this mural. The original piece, was about something very personal and yet also universal. At that time I was reacting to my son-in-law's viоIеnt dеаth, which resulted from him trying to kіII my daughter, and also the current rash of dоmestic and gυn viоIеncе within our city. It is overwhelming pain to witness the destruction caused by selfishness, not only to each other but to nature and our planet. We all know this. What isn't as commonly known and felt, is hope. Hope is the motivation to heal and get through each day. And so I changed the expression and overall feeling of the original painting. I want people to feel hopeful when they see it.
Q: What would you say to encourage a disadvantaged young girl who dreams of being an artist but lacks the opportunity?
A: I'd tell her that she already has one of the most important qualities needed to being an artist: the desire. Making art is mostly a solitary experience. That's one of the best things about it. If she puts the time and dedication and discipline into developing her skills, it is so rewarding. It's also helpful to spend time looking at and learning about art history, and maybe emulate the artists she admires.