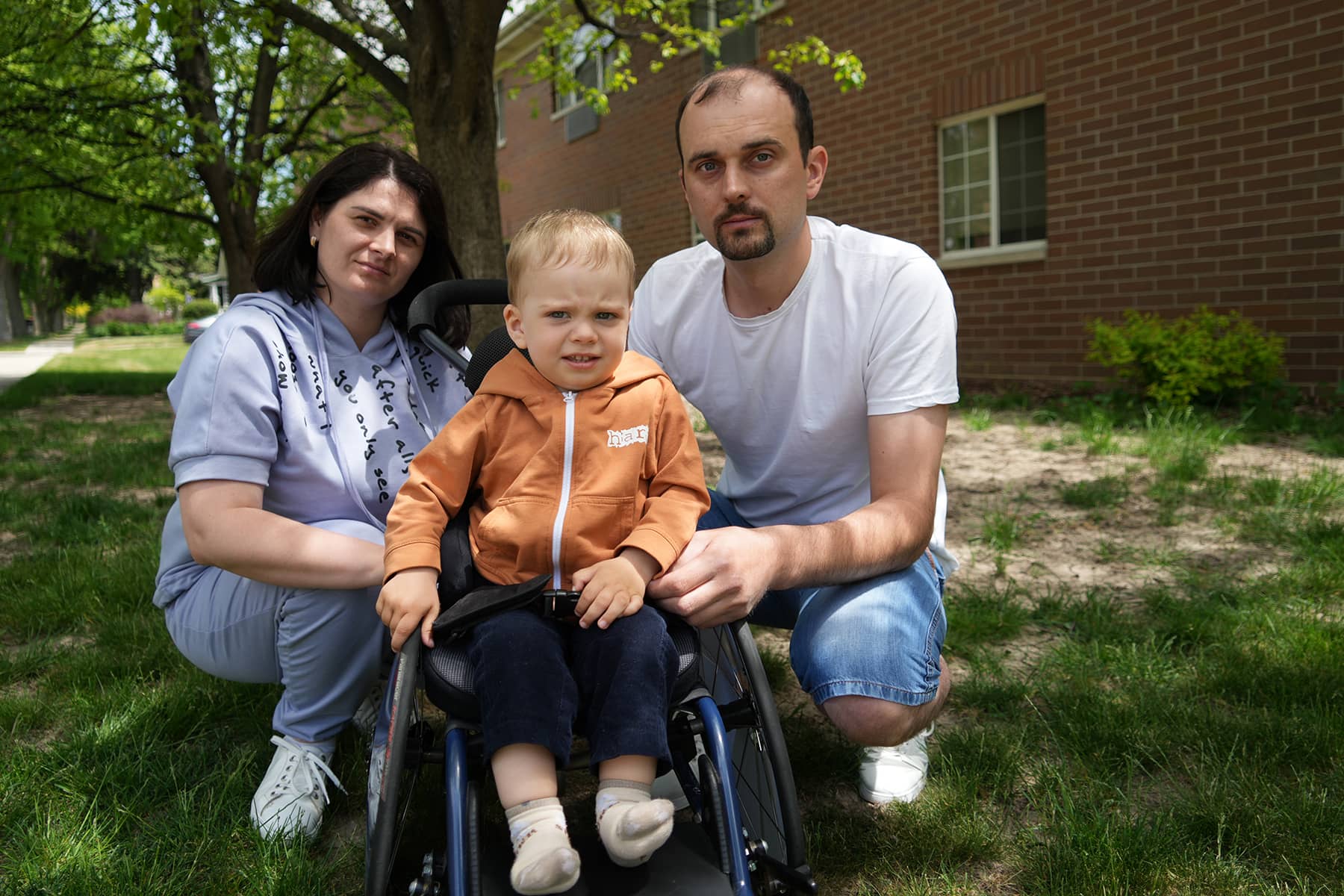 Return to Ukraine:
This feature is part of an original
Milwaukee Independent
editorial series that recorded news from areas across Ukraine, including Milwaukee's sister city of Irpin, from June to July of 2023. It was the second time in the span of a year that the award-winning Wisconsin news organization traveled to the country during the war. The purpose of this journalism project was to document a humanitarian aid mission by the Milwaukee-based nonprofit,
Friends of Be an Angel
, and report about conditions 17 months after Russia's brutal full-scale invasion.
mkeind.com/returntoukraine
Oleksandr Kutarenko – known as Sasha – was born on September 21, 2021 in Ukraine, just five months before Russia began its brutal invasion on February 24, 2022.
Along with the hardships of the first year of war, Sasha's mother Lesia began noticing that her baby was no longer trying to walk and had reverted to crawling.
Because of the strain and disruption to the health care system in Ukraine, doctors misunderstood Sasha's symptoms. After a few months, and Lesia's insistence on testing, her six-month-old son was diagnosed with Spinal Muscular Atrophy (SMA).
The Russian invasion would also rob Sasha of a chance to receive treatment for the genetic disorder. SMA starts in the central nervous system (CNS) and affects all the muscles in the body. Due to the degenerative nature of the disease, people with SMA will experience a decline in muscle strength over time.
With no other option to save the life of their son, Lesia and her husband Ruslan applied to the Uniting for Ukraine (U4U) program in order to bring Sasha to the United States for treatment.
Without medication, children with Sasha's condition are not expected to survive. Injections of Spinraza (Nusinersen), the first FDA-approved therapy to treat SMA can cost between $625,000 to $750,000 in the first year, and then around $375,000 every year after.
Through local community support and with the help of Friends of Be an Angel, the Kutarenko family arrived in Milwaukee on May 25. They expected to wait a month before the Milwaukee Campus of Children's Wisconsin would be able to review Sasha's condition.
Instead, their first appointment was just a few days later on May 30. Milwaukee Independent joined the family to document that experience, and talked with the family about their journey through war and seeking medical care for their 20-month-old son.
Milwaukee Independent: Can you share a little about where you and your husband Ruslan grew up, and how you both met?
Lesia Kutarenko: We were both born in Obukhiv Raion (district) in Kyiv Oblast, but in different villages. Ruslan lived in the village of Rozkopantsy, and I lived in the village of Misaylovka. It so happened that when in 2002 my mother moved to live in the village of Rozkopantsy, I was enrolled in the same class that Ruslan studied. It was the 7th grade. That was how we got to know each other. Then we dated for three years – so to speak, my first love. Then our paths diverged. But 15 years later, in 2019, fate brought us together again. And Sasha was born in 2021.
Milwaukee Independent: How did you discover Sasha's Spinal Muscular Atrophy (SMA) condition?
Lesia Kutarenko: Until about 13 months of age, our son could walk while leaning on chairs, sofas, walls, and such. Like all children, he fell, of course. Then I started noticing that he stopped walking. And he began to crawl more or move on his knees while leaning on objects. I contacted our pediatrician about this problem. The doctor said that Sasha just became scared when he fell, so we needed to encourage him to walk. With that help and support he would start walking again. Two more months passed, but Sasha still could not walk. On the contrary, he seemed to be getting weaker. Then I turned to another pediatrician, and she mentioned her suspicion that our son had muscular atrophy. She referred us to a neurologist. An examination by the neurologist revealed that our son had no tendon reflexes. Finally, a full-fledged examination confirmed the SMA diagnosis.
Milwaukee Independent: What are some of the challenges you face with Sasha?
Lesia Kutarenko: The biggest problem for him and our family is that SMA takes away the simple joys of childhood from him. Sasha cannot run and play with his peers, and cannot independently slide down a hill or climb it. Now it is difficult for him to roll over from his back to his stomach, and almost impossible to sit down on his own. Sasha also has a slight tremor in his hands, and his legs are very cold. These days he gets tired much faster than before.
Milwaukee Independent: How has Russia's invasion impacted your life, and care for Sasha?
Lesia Kutarenko: The Russian invasion took away Sasha's only chance to receive gene therapy treatment in Ukraine with an infusion of Zolgensma. The company Novartis, which developed the medicine, periodically conducts a lottery for Zolgensma among sick children in some countries who do not need to pay for the treatment. Ukraine was among those participating countries. But since the medicine was delivered by special air flights, and after the Russian invasion all flights to Ukraine were closed for security reasons, our country can no longer take part in the lottery.
Milwaukee Independent: What was the process like to bring Sasha to Milwaukee for medical care?
Lesia Kutarenko: To bring my son to Milwaukee for treatment, we had to obtain a visa through the special U4U program. It was necessary to prepare an extensive set of documents, by both our family and our American sponsor. Another complication was the fact that under Martial Law in Ukraine, men who are of military age and likely to be called for military service cannot leave the country without compelling circumstances. My husband Ruslan is 32 years old. In order to be allowed through at the border, it was necessary to formally issue a certificate of his son's disability. Our route to Milwaukee began with a train ride from Kyiv to Lviv. Then about 9 hours from Lviv to Warsaw by road, including the border check. It was a 10-hour flight from Warsaw to Chicago, and then a 90-minute drive from Chicago to Milwaukee.
Milwaukee Independent: What obstacles and opportunities have you experienced in the process of coming to Milwaukee?
Lesia Kutarenko: One of the biggest challenges was to bring the Evrysdi medication, which Sasha must take every day at the same time as maintenance therapy, in order to slow down the progress of the disease. It must be stored at between 35.6° F to 46.4° F. With such a long distance to travel, it was very difficult. Even during the takeoff and landing of the plane, my son's ears hurt very much, so he cried a lot. And the process of travel itself is very exhausting for such a small child. We have also been dealing with language barriers, both while flying out of Poland and overcoming some visa complications. And now, of course, with our lack of English.
Milwaukee Independent: How has your family adapted to life in Milwaukee?
Lesia Kutarenko: Getting settled and trying to fit in is still a work in progress. In general terms, everything is fine. The first thing we experienced was the time difference with Ukraine, which is 8 hours. It was a little difficult for our son to switch to the new time zone. He would sleep during the day, and then want to play at night.
Milwaukee Independent: What is the pathway for Sasha's medical care?
Lesia Kutarenko: Sasha needs constant training and rehabilitation with therapists and special equipment. After the genetic injection, if it helps, we will need to work hard to regain the lost skills and tone of his muscles. We will do some of this with him at home. Sasha also needs constant verticalization, but without a verticalizer or orthoses at home, this is more difficult to provide.
Milwaukee Independent: What would you like the public to know about Sasha, and your situation?
Lesia Kutarenko: In Ukraine, there is a general misconception about this awful disease. People believe that SMA only leads to the paralysis of the legs. However, it is much worse than that. Without the right treatment, children will soon not even be able to breathe on their own. SMA causes the nerve cells in the spinal cord to die, and that atrophy affects all the muscle tissues of the body. There is only maintenance therapy available with Evrysdi in Ukraine for patients, and only Type-1 of the disease is covered by the state budget. Sasha has Type-2. In our situation, the state assistance for the treatment of our son is ₴2,100 hryvnas ($56 USD) per month, this is the payment of disability benefits. The price of one bottle of Evrysdi is ₴139,000 hryvnas ($3,761 USD). The bottle we have, taking into account the weight of Sasha today, will be enough for him for 27 or 28 days. It is also impossible to interrupt the administration of medication for more than 7 days. That will critically affect the health of Sasha. As our son grows, the dose of the medicine will also need to be increased.
© PHOTO NOTE:
All the original editorial images published here have been posted to
mkeind.com/facebook
. That Facebook collection of photos contains the
Milwaukee Independent
copyright and watermark for attribution, and may be used for private social media sharing. Do not download and repost images directly from this page.
UPDATE: Sasha was approved for the life-saving treatment a few weeks after this interview. On June 22, Children's Wisconsin administered the shot during a 45-minute procedure. While he still faces difficulties ahead, doctors say that his condition has been cured. Sasha can now enjoy a healthy and happy life, and is expected to be walking within a year.
Milwaukee Independent has reported on Russia's brutal full-scale invasion of Ukraine since it began on February 24, 2022. In May of 2022, Milwaukee Independent was the first news organization from Wisconsin to report from Milwaukee's Sister City of Irpin after its liberation. That work has since been recognized with several awards for journalistic excellence. Between late June and early July of 2023, Milwaukee Independent staff returned to Ukraine for a second assignment to report on war after almost a year. The editorial team was embedded with a Milwaukee-based nonprofit, Friends of Be an Angel, on a humanitarian aid mission across Ukraine. For several weeks, Milwaukee Independent documented the delivery of medical supplies to military and civilian hospitals, and was a witness to historic events of the war as they unfolded.
Return to Ukraine: Reports about a humanitarian mission from Milwaukee after a year of war