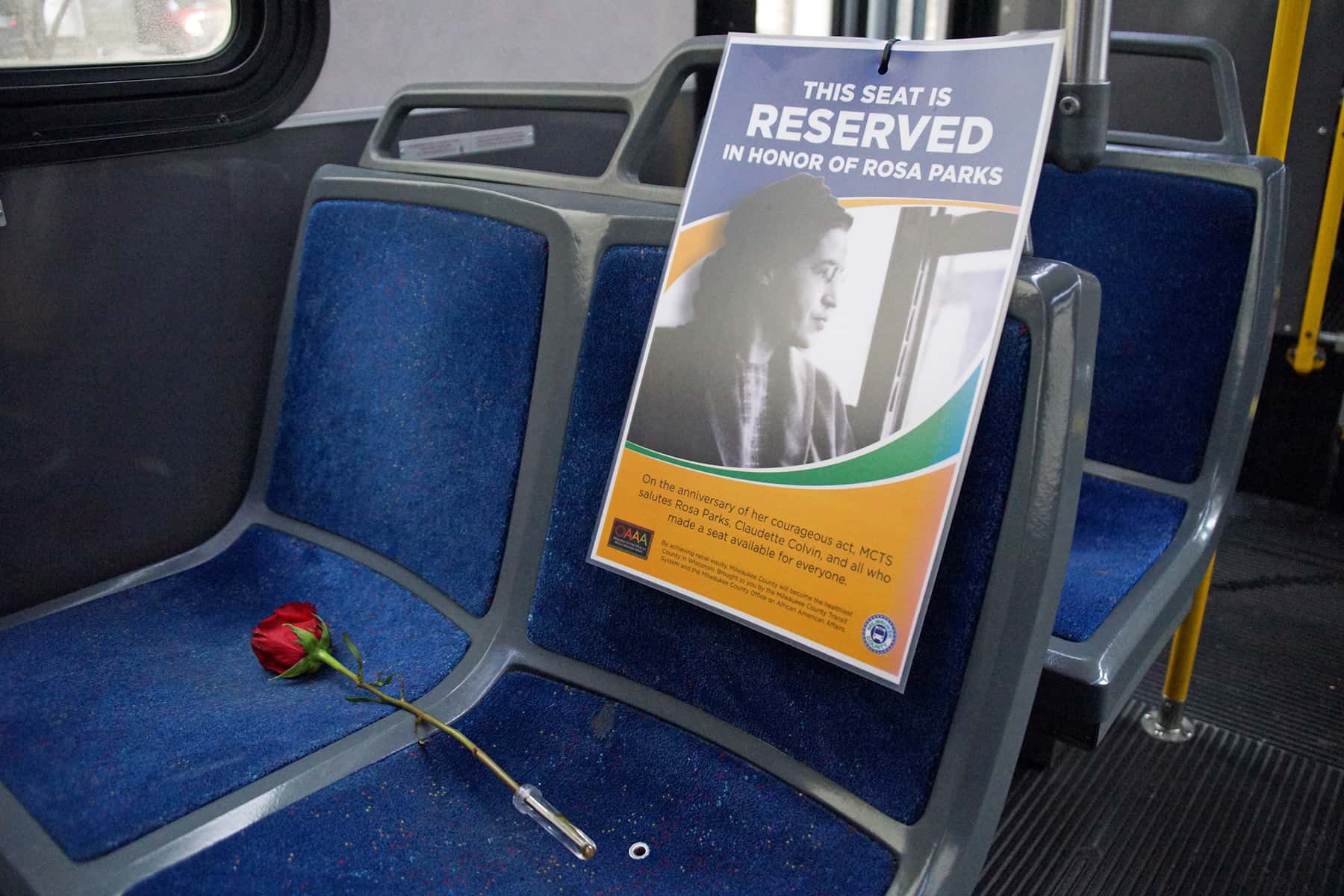 In addition to its annual on-board tribute recognizing Rosa Parks and her contribution to the fight for equality and equity for all, the Milwaukee County Transit System (MCTS) announced the formation of the first-ever MCTS Rosa Parks Tribute Scholarship on November 30.
MCTS is inviting high school seniors in Milwaukee County who will attend a trade school, college, or university to submit a short essay inspired by Parks' quote, "Each person must live their life as a model for others." Entries for the MCTS Rosa Parks Tribute Scholarship must be submitted by January 8, 2021 in order to be considered. Three winners, who will each receive $1,000 towards their higher education, will be announced on Parks' birthday, February 4, 2021.
In what has become a tradition for the past five years, MCTS will keep a seat open on every bus in the fleet from Tuesday, December 1 through Thursday, December 3. Each reserved seat will include a red rose and a special placard that features Parks' photo and a message about her courageous act.
Parks was arrested on December 1, 1955, after refusing to give up her seat to a white man in Montgomery, Alabama. Her small act of civil disobedience led to a landmark Supreme Court ruling that outlawed segregation on public transportation.
"Even though she is no longer with us, Rosa Parks' legacy continues to inspire us at Milwaukee County as we move forward on the path to achieve racial equity," said Milwaukee County Executive David Crowley. "We have a responsibility to honor the giants whose shoulders we stand upon today and never forget the acts they took to make this country a more perfect union. The MCTS Rosa Parks Tribute Scholarship honors those who came before us and invests in the next generation of leaders who will guide our community to reach even greater heights."
In 2019, Milwaukee County became the first jurisdiction in the nation to declare racism a public health crisis. Since then, more than 80 communities have followed suit.
"Through acts both big and small, Rosa Parks inspires us to lead by example," said Chairwoman of the Milwaukee County Board of Supervisors Marcelia Nicholson. "Parks lived her life as a model for others, and she asks us to do the same. Milwaukee County has led by example, declaring racism a public health crisis and making racial equity the focus of our strategic plan. As we commemorate Parks' historic act of refusing to give up her seat to a white man, I encourage everyone to heed her call to live your life as a model for others and take action to make our community more respectful, inclusive, and safer for all."
This is the fifth year that MCTS has organized an on-board tribute to Rosa Parks. The effort has gained widespread attention on social media and inspired transit agencies across the country to implement similar initiatives.
"As Milwaukee County continues to build upon its declaration of racism as a public health crisis, our office is committed to centering the voices and experiences of communities who have been historically disadvantaged," said Milwaukee County Office on African American Affairs Director Jeff Roman. "OAAA is proud to once again support MCTS in honoring Ms. Parks' paramount legacy of breaking barriers so that we all may experience the freedoms her actions set forth. Through transit, Milwaukee County can advance its mission to achieve racial equity."
These headline links feature the daily news reports published by Milwaukee Independent about the George Floyd protests, the revival of the Black Lives Matter movement that followed, and their impact on the local community in for 8 months from May to December of 2020.