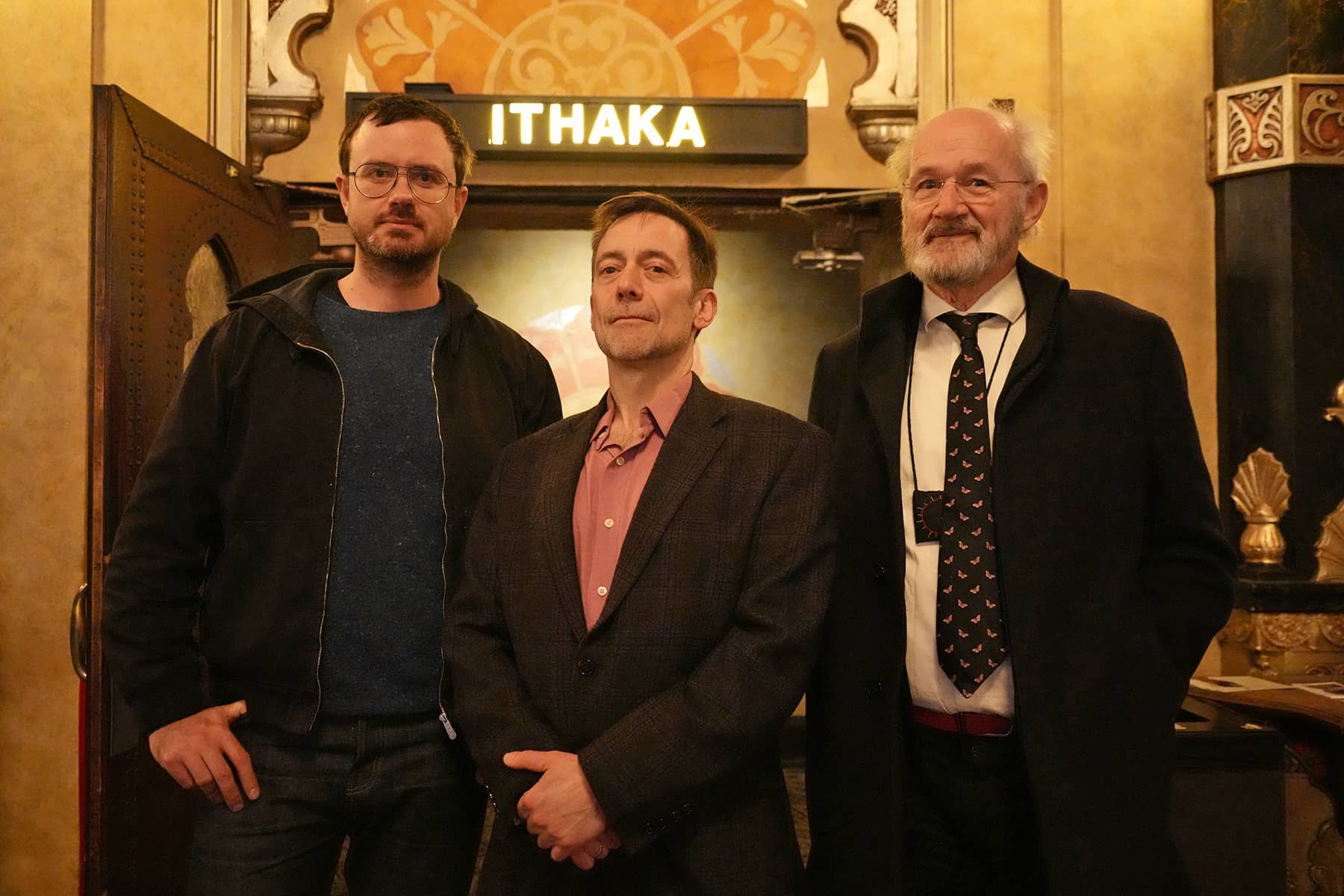 The historic Oriental Theatre in Milwaukee held a special screening on April 8 of the documentary "Ithaka," a powerful film that presents the public with an immersive look into a father's fight to save his son and political prisoner, Julian Assange.
Assange, an Australian journalist, founded WikiLeaks in 2006 as a platform dedicated to publishing secret documents from anonymous sources. In 2010, he became the center of the "Cablegate" media storm after his organization released a massive trove of 251,000 classified documents containing diplomatic cables and military reports from Iraq and Afghanistan.
One of the most sensitive and shocking releases prior to that was a video provided by a whistleblower in the U.S. Army, Chelsea Manning. Known as "Collateral Murder," the 2007 video showed a U.S. Apache helicopter attack a Baghdad neighborhood with 30mm cannon-fire that killed several civilians, including two Reuters journalists.
The work by Assange's WikiLeaks shed light on corrupt government secrecy and became a powerful tool for accountability and transparency. However, the U.S. government considered his actions a threat to national security.
"In 1972 the U.S. government tried to stop The New York Times and The Washington Post from publishing the "Pentagon Papers," a top-secret Department of Defense study on the Vietnam War. In its well-known decision, the Supreme Court held that preventing the publication violated the First Amendment." – Ofer Raban, Professor of Constitutional Law, University of Oregon
Over the past decade there have been numerous documentaries, books, podcasts, and news articles about Assange. But the documentary "Ithaka: a father. a family. a fight for justice." takes a new look at the situation through the eyes of his father, John Shipton, and his family.
Filmed over two years across, it follows the 76-year-old retired builder's tireless campaign to save his son. It is a very personal David-and-Goliath struggle, with an added urgency of fighting against time.
Assange's health has been declining in a British maximum-security prison, reserved for only the most violent terrorists, after being held without formal charges for three and a half years. He has waited in limbo while prosecutors for the U.S. Federal government attempt to extradite him for trial, where he would face a 175-year sentence and become lost in the abyss of the justice system.
"By humanizing Assange through his likable dad, his loyal wife and his children, through the specter of a grim American supermax jail, and a reminder of what secrets WikiLeaks revealed – the documentary hopes to reach an audience that can play a part in halting the kind of vindictive punishment WikiLeaks has so often exposed. For Shipton, the journey has certainly been a long one." – Duncan Campbell, "The Guardian"
Weaving historic archive and behind-the-scenes footage, the story tracks Shipton's journey alongside Assange's wife, Stella Moris, as they join forces to advocate for Julian.
"Ithaka" provides a timely reminder of the global issues at stake in the case against Assange, as well as an insight into the personal toll inflicted by the arduous, often lonely task of fighting for a social cause.
The film also comes at an especially awkward time for the Federal government. The United States has charged Assange under the infamous Espionage Act of 1917 solely for his journalism, without any other allegations. The fear that such an act would become a template for other nations became a reality on March 29, 2023, when "Wall Street Journal" reporter Evan Gershkovich was taken into custody by the FSB, Russia's secret police. On April 7, he was formally charged with espionage as a result of his journalistic work.
"The very folks in Washington DC vilifying Russia for arresting a journalist just trying to do his job in Moscow are the same degenerates demanding that Julian Assange be sent to America, tried for treason, and punished with a lifetime in prison." – Larry C. Johnson
Johnson, a former analyst at the Central Intelligence Agency, said that what Moscow was doing to Gershkovich was the same thing that London and Washington were doing to Assange. Both Russia and the West were guilty of egregious conduct concerning investigative journalists. Johnson characterized Putin as a totalitarian monster, but added that the West's reaction also exposed its shameless hypocrisy.
After the screening of "Ithaka" was shown to a packed theater in Milwaukee, the audience participated in a special Q&A panel with two key figures of the film, Assange's father and brother – John and Gabriel Shipton. The session was hosted by Emilio De Torre, Executive Director at Milwaukee Turners at Turner Hall.
One of the main messages in the talkback discussion was that the public needed to recognize the attack on Assange was not just about him as an individual, but an attempt by a government to divert public attention from its war crimes, abuse, and corruption. His persecution was intended to deter any other whistle-blower from exposing the governmental crimes.
"The war criminals have gone free while Julian has been prosecuted," Shipton said. "This is all an attempt to ruin a man's life, and take the focus away from the war crimes he reported. They put the whole focus on Julian Assange, so we constantly question his character instead of looking at the terrible revelations from WikiLeaks."
Shipton said that the British judiciary was just a veil of legality that hung in front of the ongoing persecution and torture of his son. The message was that if a journalist or publisher released incriminating evidence against a government, they would be denied the right of due process and be detained indefinitely. Assange was "not being prosecuted for his own crimes, but for the crimes of the powerful."
"The essential elements of concern around Julian Assange, and around the First Amendment, is that there is no America without a free press," added Shipton. "There is no free press without a free Julian Assange. So what is the Constitution without the First Amendment? What then is the United States of America without the Constitution?"
Also featured in the documentary was a special moment from 2020, when artist, activist, and former political prisoner Ai Weiwei joined Shipton in a silent protest outside London's Central Criminal Court. Ai grew up in the far northwest region of China, where he lived under harsh conditions due to his father's exile. As an activist, he has been openly critical of the Chinese Government's stance on democracy and human rights.
"Julian Assange represents journalism, especially investigative journalism. If he is being punished, that means many journalists' acts would be questionable. And then we would no longer have someone to investigate the government, which very often — it doesn't matter if China or the U.S. — is hiding activities, which nobody would ever know," said Ai in a recent PBS interview. "Of course, they all have rights to keep things a secret and protect their citizens, but they should not have rights to have secrets, hiding dirty games. There's a lot of dirty games going on."
In a sad irony of how journalists and the media industry failed Assange – and the free press, news organizations willingly supported character assassinations of him by publishing sensationalized headlines with alleged claims of rape. Assange was never charged with any offense in Sweden, and all allegations against him were found to be without foundation.
"As you set out for Ithaka / hope that your journey is a long one / full of adventure, full of discovery."
– Constantine Cavafy
"Ithaka" takes its name from the 1911 Greek poem, which explores the journey of Odysseus and the importance of the journey itself, rather than the destination. The poem's themes of searching for meaning and finding our way home are reflected in the story of Julian Assange and his father.
Concerned audience members asked several times during the talk session about what more they and other residents of Milwaukee could do to help Assange. His brother, Gabriel Shipton, encouraged them to speak up, especially to elected officials.
"We've been encouraging people to contact their representative in Congress, as we travel around," he said. "Rashida Tlaib is currently circulating a letter among her House colleagues that calls on the Department of Justice to drop the Trump-era charges and set Julian free. So ring your congressperson and encouraged them to sign on to that letter. That's what we've been asking people to do."