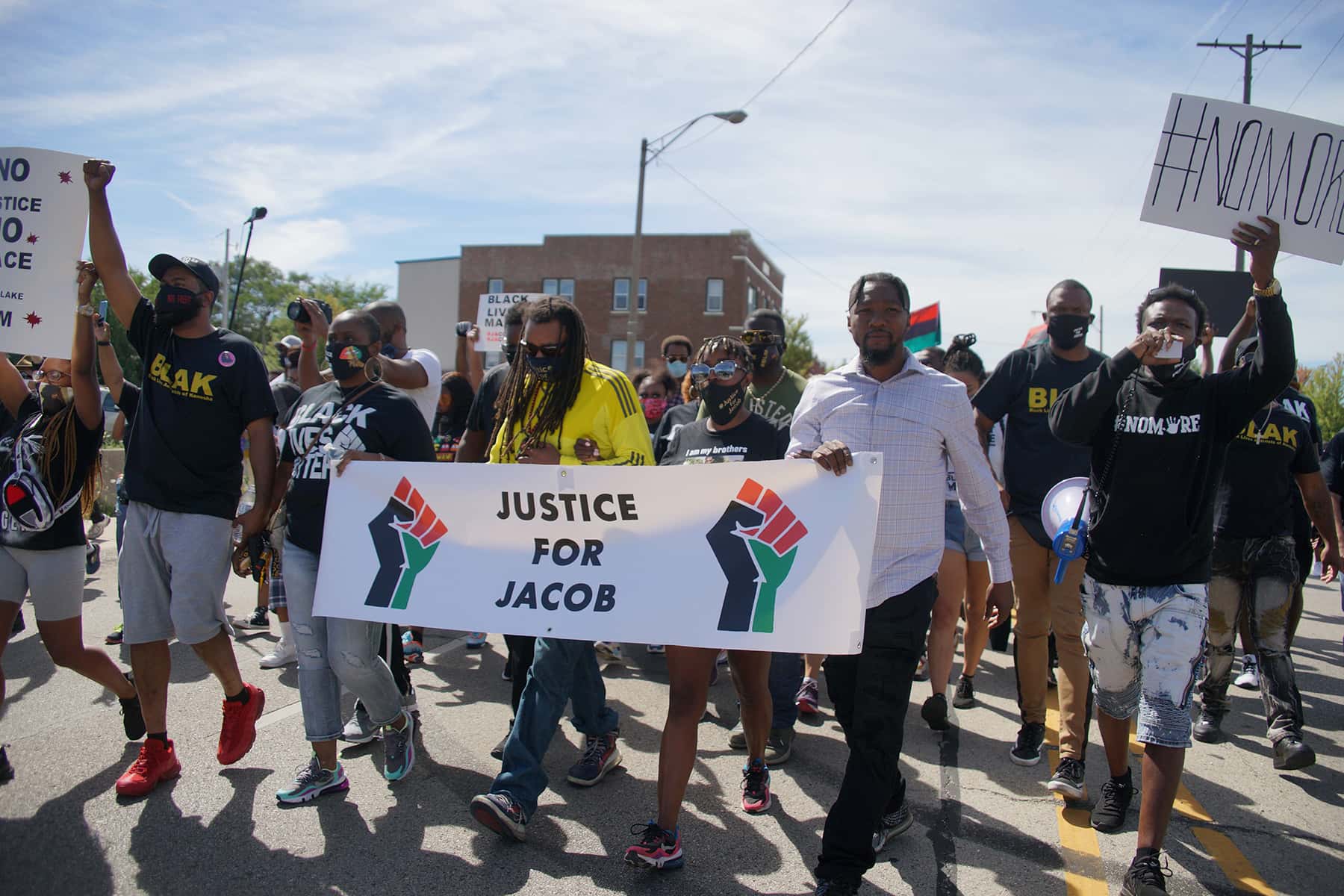 The family of Jacob Blake marched with thousands of community leaders and elected officials on Saturday, August 29 in Kenosha to demand justice nearly a week after he was shot seven times by a Kenosha police officer.
With chants of "One person, one vote!" and "No justice, No peace!" a crowd of demonstrators gathered in the Civic Center Park across from the Kenosha courthouse to denounce police violence and share messages of change, a week after an officer shot Blake in the back and left the 29-year-old Black man paralyzed.
The diverse group of protesters also chanted "Seven bullets, seven days!" in a reference to the number of times Blake was shot on Sunday, August 23, as they marched. Many of the organizers wore T-Shirts with the acronym "BLAK" for Black Lives Activists of Kenosha.
Blake's father, Jacob Blake Sr., made an impassioned call for changing a system he described as fostering police brutality and racial inequities, which have accelerated under President Donald Trump.
"There were seven bullets put in my son's back. What gave them the right to attempt to murder on my son? None of those policemen standing out there had any idea what charges my son had in his past, what kind of person he was," said Blake Sr. "The other day in the hospital, my son grabbed my hand and he said, 'Daddy, I love you. Why did they shoot me so many times?' To look at your baby, paralyzed from the waste down, shacked, shacked. Where was my son going? They already put him in the bed, what was the shackle for?"
Kenosha Police Officer Rusten Sheskey and two other officers were responding to a domestic abuse call last Sunday when Sheskey shot Blake in the back. Since the incident, the public has called for Sheskey to be charged with attempted murder and for the other two officers at the scene to be fired.
"He's in a lot of pain. I just wish I could pick my baby up and make it all right," said Blake Sr. He also referred to the May 25 death of George Floyd, a handcuffed Black man who died after a Minneapolis officer pressed his knee into Floyd's neck. "We all have a knee on the back of our necks, every day."
Several of the speakers encouraged the crowd to vote for change in the upcoming election, and to push for changing legislation in Wisconsin that would produce real police reform. Lt. Governor Mandela Barnes said November 3 was a milestone, not the end of the fight for justice.
"Justice is a bare minimum. Justice should be guaranteed to everybody in this country," said Lt. Governor Barnes. "I look at the Blake family and I see resilience, beauty, hope and I see strength. These are some of the strongest people I have ever seen in my ever life, but that strength is because of the years, the generations, the centuries of pain and injustice we have gone through. That's not a way to build strength, but we've done it anyway, we've made it through some of the toughest times, and we're still here today."
The Kenosha police have said little about what led to Blake's shooting. In the cellphone video recorded by a bystander, 22-year-old Raysean White, Blake walks from the sidewalk around the front of an SUV to his driver-side door as officers follow him with their guns drawn and shout at him. As Blake opens the door and leans into the SUV, an officer grabs his shirt from behind and opens fire. Three of Blake's children were in the vehicle.
Captured on cellphone video, the shooting sparked new protests against racial injustice and police brutality months after Floyd's death touched off a wider reckoning on race.
"We need to march on them ballot boxes. We're going through the worst things we've ever experienced, but keep your eyes on the prize, please," U.S. Congresswoman Gwen Moore told the crowd."
Protesters have marched in Kenosha every night since Blake's shooting, with some protests devolving into unrest with damage to buildings and vehicles. On August 25, two people were killed by a 17-year-old ultra-right wing Militia member who has been accused of traveling from Illinois to hunt demonstrators.
President Trump will "probably" make a stop in Kenosha on Tuesday, September 1 to meet with law enforcement and survey damage from recent demonstrations. The visit could potentially stoke already raw tensions, in reaction of his efforts that have promoted racial violence as a Federal policy and re-election strategy.
Stеphеn Grоves and Аmy Fоrlіtі
These headline links feature the daily news reports published by Milwaukee Independent about the George Floyd protests, the revival of the Black Lives Matter movement that followed, and their impact on the local community in for 8 months from May to December of 2020.