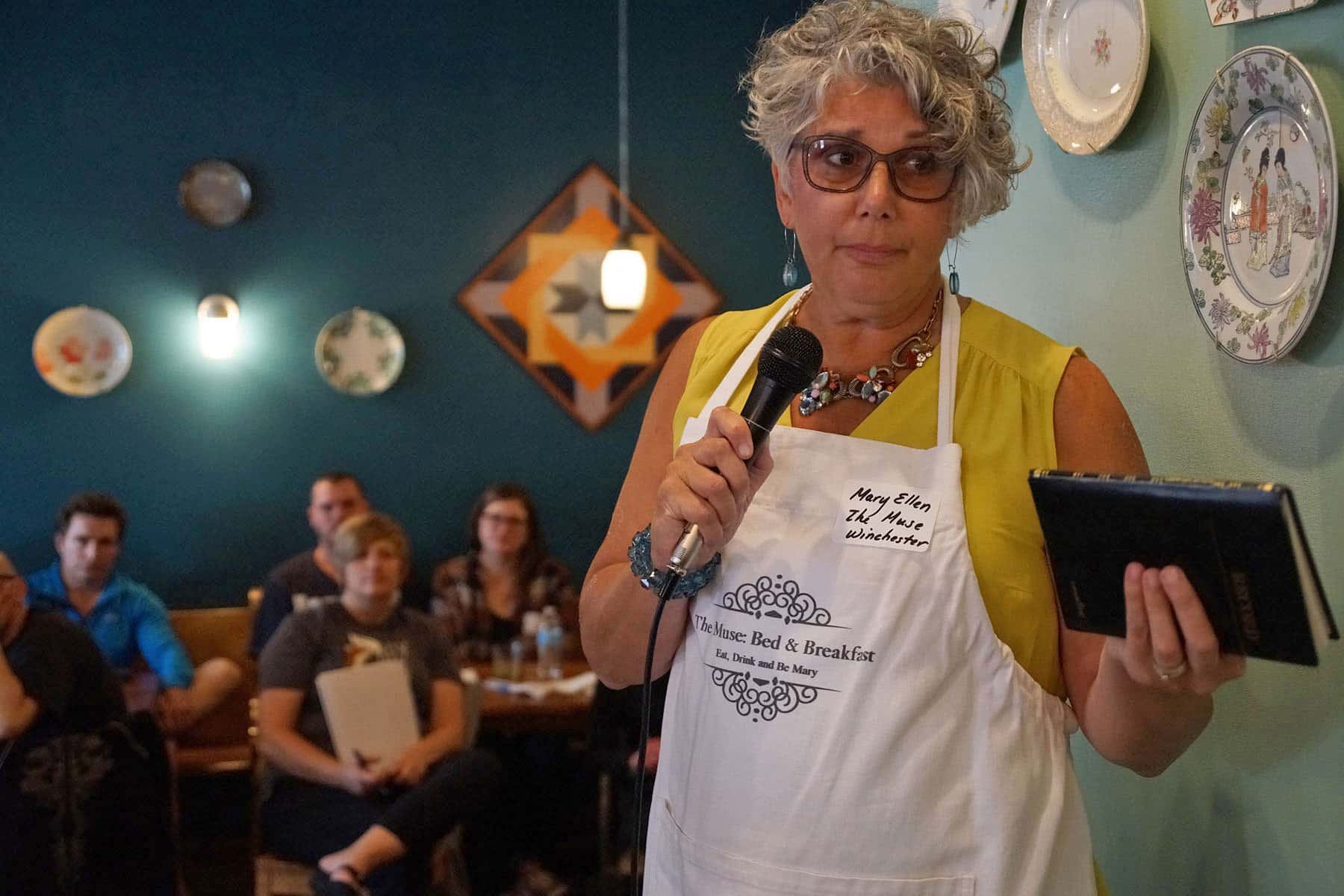 The Bay View Neighborhood Association and the Muse Gallery Guesthouse co-sponsored the first Southside Soup event on April 9 at Lazy Susan, to facilitate community building and fund an idea that would help the neighborhood.
Residents of Bay View came together to break bread, start conversations with new people, and support their neighbors by funding a creative project in District 14. The Southside Soup, based on a program started in Detroit, celebrated and supported ideas for building and improving the community.
"The Bay View Neighborhood Association is really good at gathering people for fun things like Chill on the Hill, the Pumpkin Pavilion, and other parties. But our mission is to really connect neighbors and our Facebook page was not enough," said Southside Soup host and Muse Gallery Guesthouse co-owner, Mary Ellen Hermann. "So with this particular experiment, we want to give people a safe place to present their ideas to improve the community. Then one of those ideas will actually move forward so that we come away with the notion that what matters to them is something that can be achieved."
Participants offered a $10 donation per person for the soup dinner, and after the meal each was given a ballot to vote on one of four presentations. The ideas pitched ranged from environmental protection to social justice and youth education. Each presenter had four minutes to explain an idea, and why it would benefit Bay View. At the end of the night, the person with the most votes won the money raised from the soup dinner attendance. A total of 65 tickets were sold, offering a $650 pot of funding for the winning project.
"The program 'Detroit Soup' has an excellent kit that helped us create our program. Based on their experience, four presentations is about the limit people have to sit and listen," said Hermann. "So we had to turn five people away, but welcomed them to consider submitting next time. From the submitted proposals, the four we picked seemed to really benefit the community the most. And they were achievable in a short amount of time with the amount of money we could collect and give to the winner."
Each of the four presenters pitched their ideas and answered questions from the gathering, all in the allotted time. Megan McGee's idea was for Housing March Stories. Her nonprofit, Ex Fabula, strengthens community bonds through the art of storytelling. McGee proposed hosting a story circle that would specifically focus on the 50th anniversary of the fair housing marches of 1967 to 1968.
"Some people were not happy with the marches, and those are really tricky stories to tell. But when we tell it, that can help us start to enter into dialogue about our past, which leads to dialogue about our present, and about what kind of welcoming community we want to create in Bay View."
A summer program for the Arts and Science Literacy Camp (ASLC), also known as Nature Camp, was the basis of the project offered by Jane Borden. ASLC uses an integrated arts approach to support literacy, combined with fine arts, and a foundation in science. The whole child benefits from hands on experiences that fostering lifelong learning, and the integrated projects promote literacy strength.
"Our camp is diverse and all inclusive. The camp teachers and students experience a transformative power of the arts," said Borden. "Enhanced reading skills prepare children for the next level, or the bridge to get them to the next level." said Borden.
Earth Day was founded by Gaylord Nelson, a United States Senator from Wisconsin and 35th Governor of the Badger State, back in 1970 to demonstrate support for environmental protection. Russell L. Cuhel's pitch surrounded the South Shore Earth Day event with an education handout kit, that included educational cards and maps.
"We are trying to develop a series of what we call Earth Heroes, for our students and adults that are interested in promoting environmental literacy. We are producing a lot of resources that are for teachers in the classrooms, but we want this to be something that all the students can have," Cuhel said. "So we have a little handbook called 'Exotic Invaders of the Great Lakes' and it is all about things that live in the water, in the rivers, and the Great Lakes that have invaded our region from some other place. We want to give those to students so they can educate themselves and their parents about what is going on with our local environment."
And finally, the owner of Lazy Susan, A.J. Dixon, talked about getting 'Smallwares for the Bay View Community Center's Demo Kitchen.' As part of the neighborhood since 1978, the Bay View Community Center on Oklahoma Avenue is run by Linda Nieft and Barbara Nieft. Among its many instructional sessions, the facility offers cooking classes that bring in a lot of revenue. The nonprofit and partner of the United Way depends on that stream of funding. Their food pantry is also model for the Hunger Task Force. Every year Lazy Susan does a food drive for the BVCC with an annual Halloween party. The event is so successful that it collects cartloads of food for the center every year.
"What I am asking for are funds to help the Bay View Community Center redevelop their demonstration kitchen. Their classes, particularly for cooking, supports the food pantry and an infant emergency formula pantry, as a support network for this community. I want to give them new products and help because, we want to encourage more teachers to get involved and schedule classes so the center can increase its revenue."
Dixon called it 'a little community center that could, but does.' She said that the Center was a great source of community for everyone, and an anchor for the neighborhood from ages 2 to 85. Her goal was to invest in their program with much needed tools, and the things they need like pans that are Teflon coated and not peeling for 30 years.
At the end of the evening, attendees voted for Dixon's proposal. She was awarded the funds collected from the event, and extra donations from those who believed in her plan. She also asked the Boelter food service equipment company that if her pitch won, would they match the funds up to $500. They agreed, so Dixon will have more than $1,000 to invest in the BVCC.
As a funding winners, Dixon will be required to return for a future Soup dinner to report on the progress of her project.
Soup Board members included who selected the pitch finalists include Jill Kenehan-Krey, Barbara Chudnow, Dillan Laughlin, Jason Hillsheim, Tracy Alvarez, Rita DeMerit, Christopher Miller, and Mary Ellen Hermann.
"This is a place where people can learn about each other, and learning things about how to get along. It is important just to have a safe area to get connected, feel protected, and be respected. So we hope that this kind of thing, with as little as 54 people getting together for a soup supper, could be the beginning of that."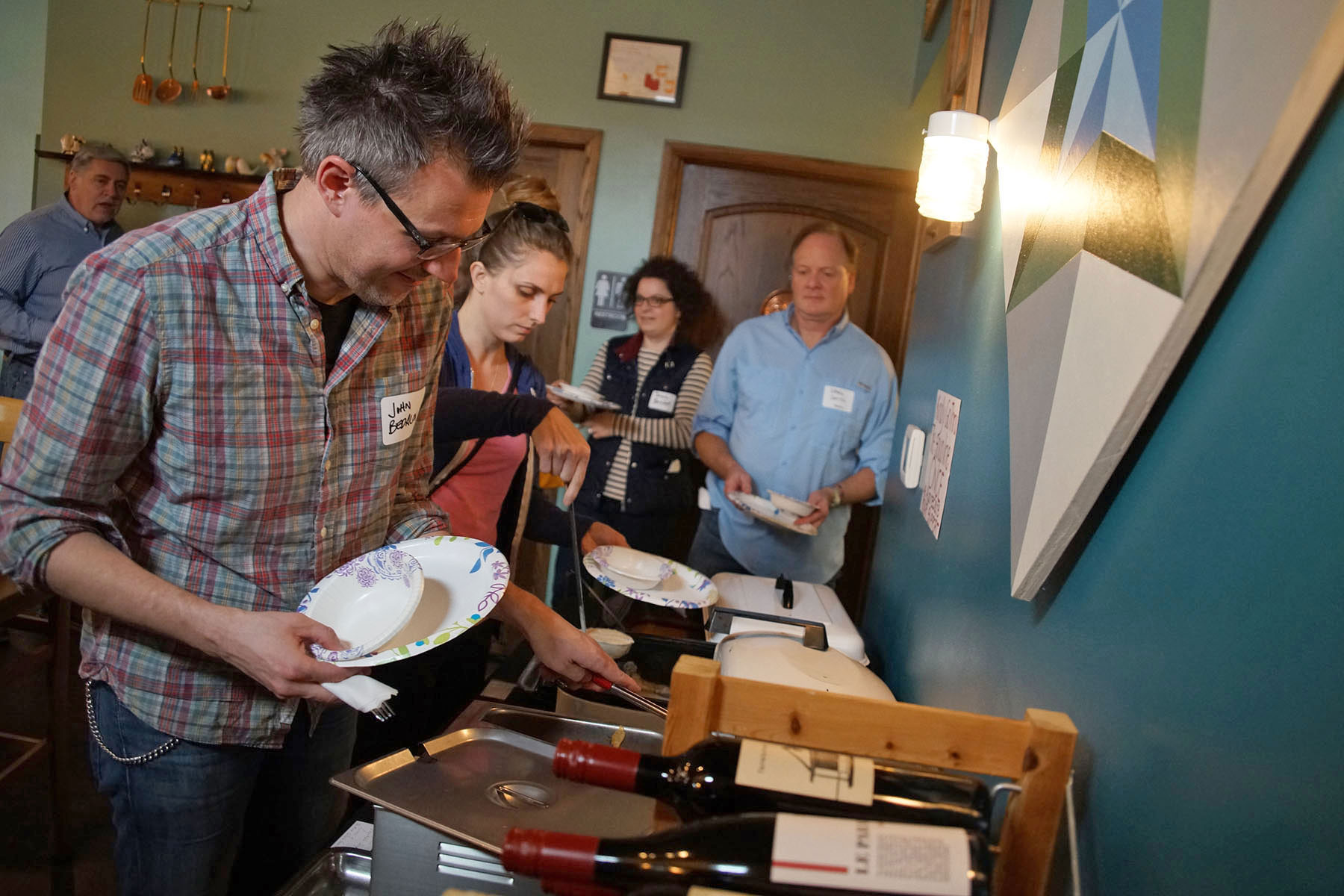 Read the article and view the photo essay that were produced as companion features for this news report.