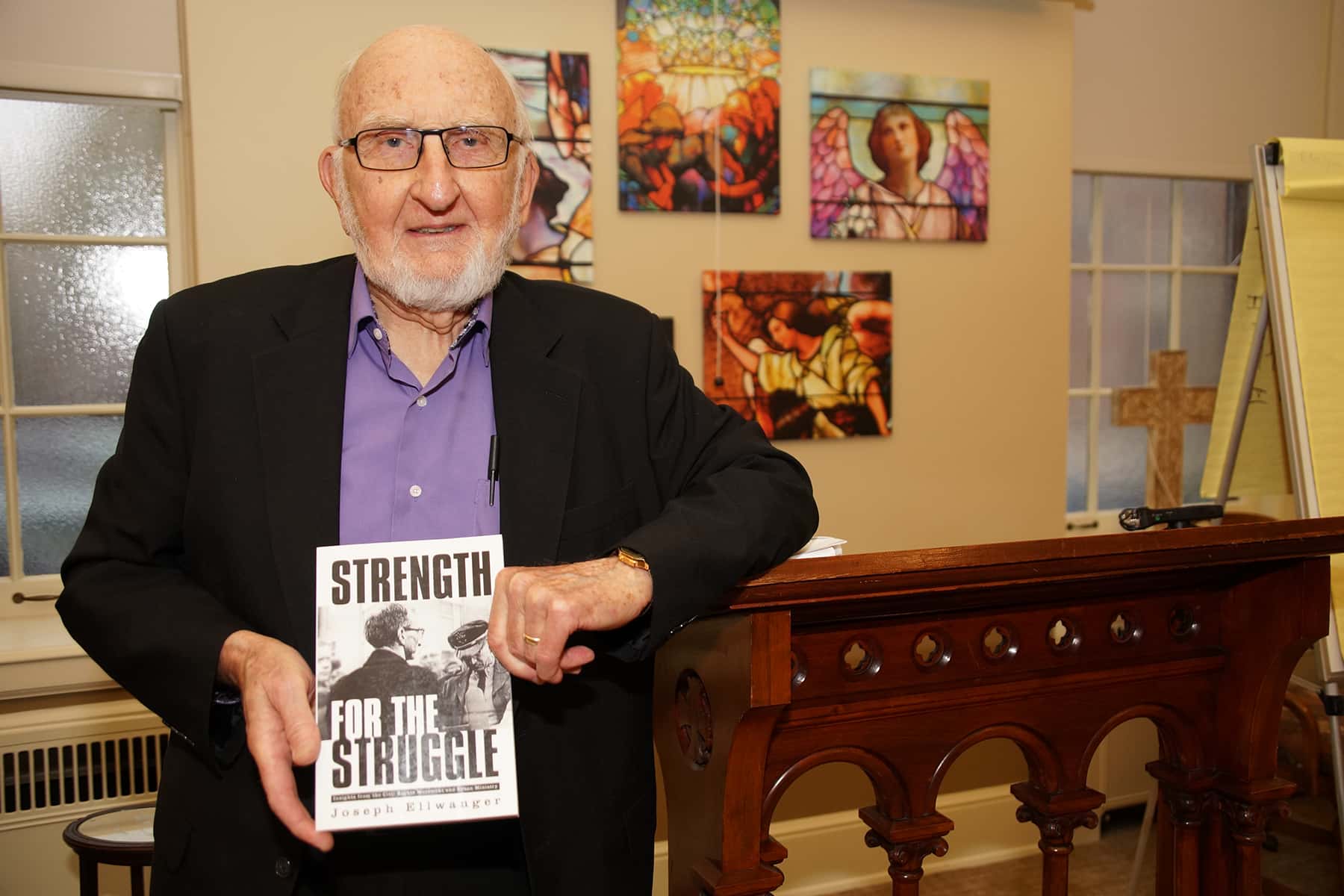 Civil rights leader and pastor, the Rev. Joseph Ellwanger, challenged listeners to consider social and civil justice as a natural outgrowth of a Christ-centered religion at an October 28 gathering at St. Paul's Episcopal Church in Milwaukee.
As pastor at Cross Lutheran Church on 16th and Vine Streets for 35 years, Ellwanger helped the Milwaukee congregation transition from an all-white church to one which reflects the diversity of the surrounding community. In retirement he assists at Hephatha Lutheran Church, helping the parishioners with the congregation with their prison ministries.
In his book Strength for the Struggle, Pastor Ellwanger shared his experiences and wisdom as a pastor in times of great social struggle, both in 1960s Birmingham and in more than three decades of ministry in Milwaukee's inner city. Pastor Ellwanger discovered his passion for social and civil justice as a young pastor at an African-American Lutheran parish in Birmingham, Alabama where he served for 9 years.
On one occasion in the early 1960s, an all-white Lutheran church in Tuscaloosa invited his all-black youth group to join them for a meeting. It was an invitation unheard of at the time. After his youth group had returned home to Birmingham, exhilarated over the positive experience, a bombing took place at the Baptist church in the city, where four young girls were killed.
Pastor Ellwanger called one of the members of his youth group, who had been at the gathering in Tuscaloosa, to ask if she was afraid. "Why should I be afraid?" the girl asked. "Such a tragedy helps me to identify with the troubles of my people."
That courage helped shape him as a young pastor and civil rights leader. It was not the first exposure that Pastor Ellwanger had to the challenges facing the African-American community. He grew up in Selma, Alabama where his father was the supervising pastor for black congregations of the Lutheran Church-Missouri Synod (LCMS) in the Southern District of that denomination. He was also the headmaster for Selma Academy, later to become Concordia College of Alabama, a historically black college owned by the LCMS.
The young Pastor Ellwanger was troubled by the injustices and low standards of living he experienced when visiting black congregations for which his father was responsible.
Later as a pastor in Birmingham (1958-1967), he discovered the importance not only of preaching the Gospel's message, but of living boldly as one who felt called to stand in love with those in need.
"If Jesus' ordination called him to preach good news to the poor, to proclaim freedom for captives and liberty to those unjustly imprisoned," Pastor Ellwanger stated, "then I also feel called to see such a summons as a part of my personal ministry."
His bishop in Alabama tried to restrict him from taking such bold stands. In reflection, however, his willingness to march with Dr. Martin Luther King Jr. in Selma, and to be the only white pastor participating in the funeral for the four murdered-black girls in Jim Crow era Birmingham, fits the role of a revolutionary.
Pastor Ellwanger believes, and increasing numbers of Christians stand with him in this belief, that urban ministry today summons people of faith to demonstrate in their actions what the Gospel is calling them to embrace.
Increasingly, Pastor Ellwanger has come to be known for his passion to encourage urban Christians to reduce mass incarceration, to affirm everyone – including members of the LGBTQ community, and to make insignificant the skin color differences that so often divide people.
Demonstrating the vigor of a much younger man, Pastor Ellwanger challenges young and old in the Milwaukee community to let their faith traditions embolden them for service to all of God's people.
© Photo
Lee Matz and Hannah Dugan