Rapid Transit plan outlined at public forum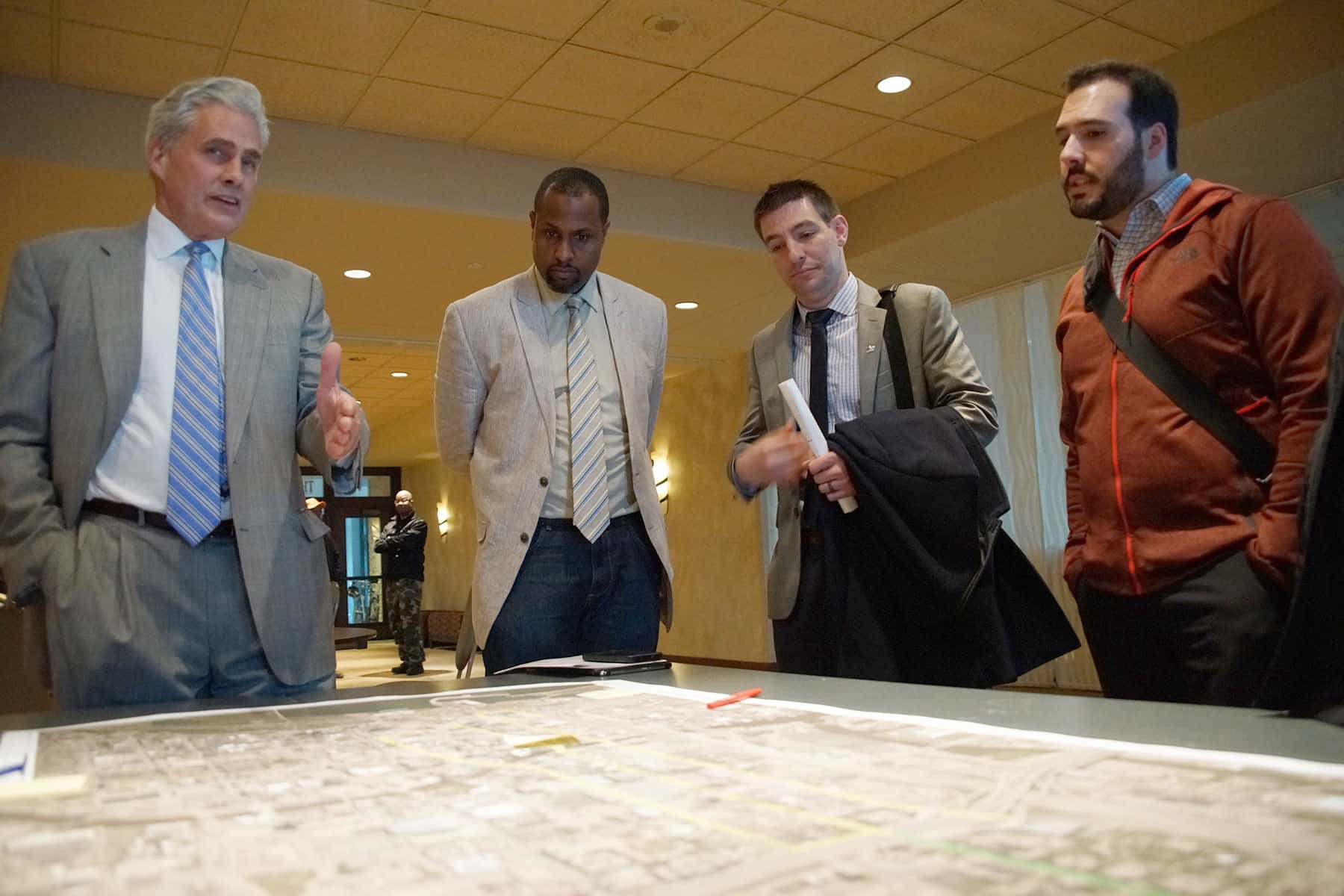 Milwaukee County and MCTS held the first of two public meetings this week to get input on the Bus Rapid Transit Feasibility Study.
Milwaukee County officials asked for public input during their first presentation of a proposed transit system on April 12 at O'Donnell Park. The bus rapid transit (BRT) would initially be a seven-mile east-west corridor connecting downtown Milwaukee with the Milwaukee Regional Medical Center (MRMC) and Milwaukee County Research Park (MCRP). The route connects a mix of commercial locations and residences.
Currently in the feasibility study phase, a BRT would provide a faster public transportation system for Milwaukee residents and ease traffic problems.
"Bus rapid transit takes cars off the road. It actually eases congestion," said Brendan Conway, from the Milwaukee County Transit System (MCTS).
Sometimes described as a surface subway, BRT tries to combine the capacity and speed of light rail with the flexibility and lower cost of a bus system.
Milwaukee County transportation officials said that a dedicated lane for the BRT route could pass through W. Wisconsin Ave. with stretches connecting at either W. State St. or W. Blue Mound Road.
"Our roads aren't getting any wider," said Conway. "It's congested now and it's only going to get worse in the coming years. This plan has been a huge success in other cities."
Milwaukee County is examining the addition of BRT service to better connect people to work, education, medical care, and to reduce congestion on roadways in the corridor.
"There are concerns of funding, safety, and if it will actually work as advertised," said Milwaukee Alderman Bob Bauman. "Giving buses special lanes also reduces pavement for all other drivers."
Bauman expressed his concern that expectations were not realistic for the project, and there would not likely be a significant shift in habits from driving cars to riding the bus along this narrow corridor.
An alternative transportations system will become vital for Milwaukee during the planned 2019 reconstruction of I-94. The potential cost could be more than $40 million, with a portion of the funds coming from the  federal government.
By the Numbers: Employment and Activities in the East-West Corridor
81,000 jobs and 25,000 residents in downtown Milwaukee
Over 30,000 daily visitors and employees at the Milwaukee Regional Medical Center
30,000 employees for employers such as Marquette University, Harley Davidson, and MillerCoors
40,000 residents in the near west side
4,600 employees at the Milwaukee County Research Park
Over 125 employers with more than 250 employees
8 medical centers
The East-West Corridor has long been recognized as the most heavily congested corridor in the Milwaukee area. BRT service would better connect riders while also taking cars off the road and easing congestion in neighborhoods.
MCTS currently gives more than 50,000 rides a week to people in the East-West Corridor, which is 2.6 million rides a year. If BRT increases ridership just 30 percent, considered a conservative estimate compared to the experiences of other cities, that would be another 15,000 rides a week, or nearly 800,000 more rides a year.