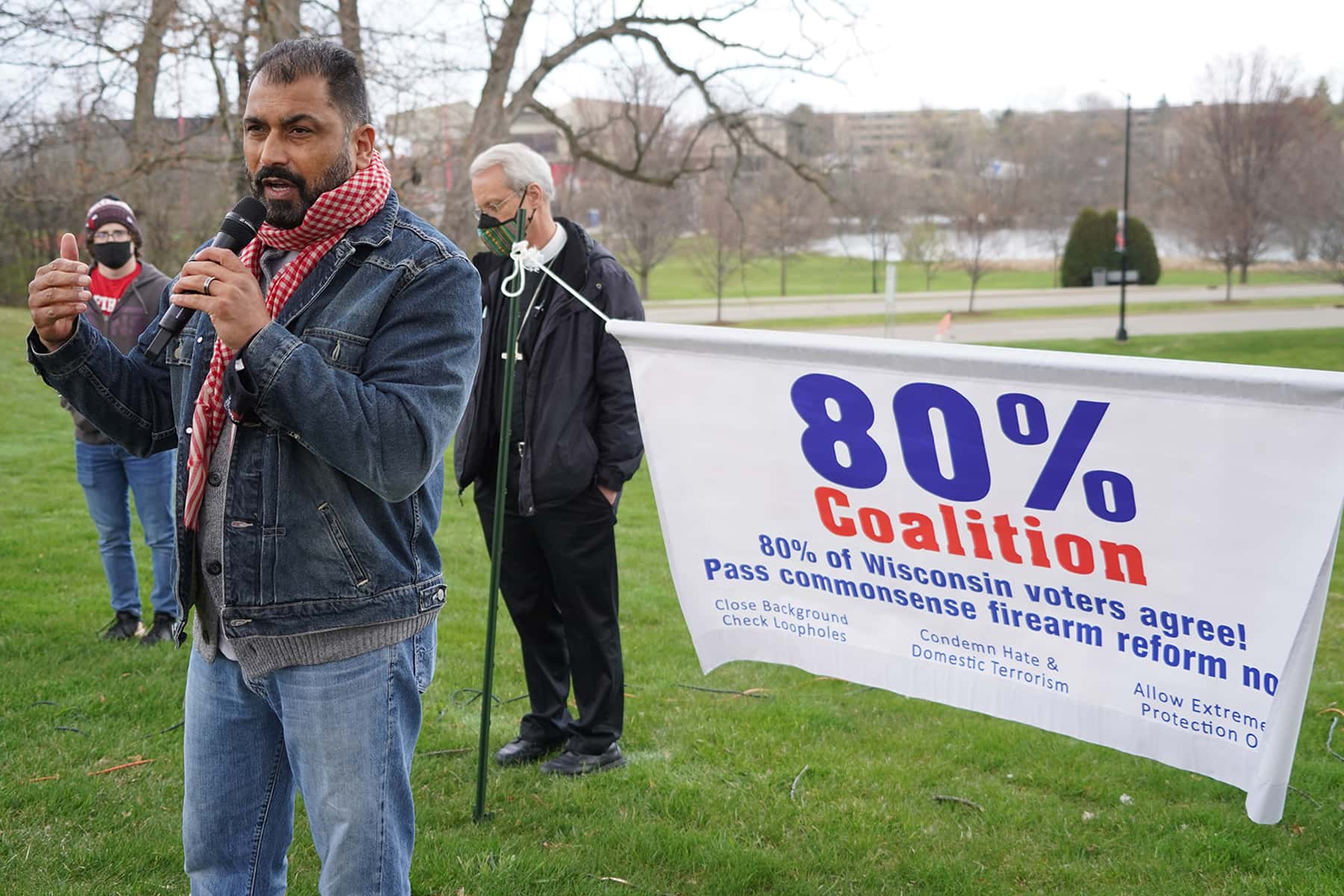 "My heart breaks for Kenosha in the wake of a shooting that took three lives and injured at least two others. I want to thank the first responders who reacted quickly and are still working to investigate and find those involved in this senseless tragedy. Kathy and I join Wisconsinites in hoping and praying those injured will recover from their injuries. We are thinking of the families and loved ones affected and the entire Kenosha community as they grieve and grapple with yet another tragic incident of gun violence." – Governor Tony Evers
A Wisconsin coalition called for legislation and funding for commonsense gun violence prevention after six people were shot and three killed in Kenosha's Somers House tavern on April 18, a tragic event that occurred among a spike in recent mass shootings nationwide.
The April 21 press conference was organized by the 80% Coalition, a non-partisan group of advocacy, business, education, faith-based, healthcare, professional, and service organizations from across Wisconsin. The group said that it was beyond the right time for state and national leaders to close the background check loopholes when purchasing a gun. And, to create "red flag" legislation – known as Extreme Risk Protection Orders (ERPOs), so that family members concerned for a loved one, or law enforcement, can ask a judge to temporarily remove firearm from some one deemed to be an imminent threat to themselves or to others.
"I have been working in gun violence prevention since 2018. In the past three years, there have been hundreds of mass shootings, and very little action to prevent future shootings," said Tyler Kelly, a Carthage College Student and Gun Violence Prevention advocate. "After speaking at many of these events with this coalition, it certainly feels different speaking mere blocks away from my campus community knowing my friends were witnesses to this shooting. It is time to call gun violence what it is, a nation and statewide public health crisis. With 50 mass shootings in the past month or so, it is time for action to prevent these senseless deaths."
The gathering took place at Alford Park North, across from Carthage College where many of the students were directly affected by the trauma of the April 18 incident. The school went into lockdown after the shooting, amid exams week, and has been trying to help students heal from the experience.
"In my work to support students, I have found a wide range of ways in which the shooting has impacted our campus community. We had many students who witnessed the shooting, in fact, some of our nursing students heroically provided emergency medical care to victims on the scene," said Debbie Kelly, clinical assistant professor and field director at Carthage College.
Kelly teaches a semester course on psychological trauma. She had heard that some students who were not present at the incident felt guilty for not being there to support others. And some students of color were struggling with how media outlets report on news stories when a shooter is a person of color.
"All of these responses are normal following such a traumatic event," added Kelly. "As a faculty member who teaches a class on the subject of psychological trauma, I have supported individual students as well as our faculty team to ensure we are responding in a trauma-informed manner."
Leaders from advocacy, community, faith, and labor organizations took time to remember three of Kenosha's sons who were lost on April 18. Atkeem Stevenson, 26-years-old and a father. Cedric Gaston, 24-years-old and a father, and Kevin Donaldson, an aspiring rapper who lost his cousin in 2019. There were also three others wounded by gun fire that night.
"Witnesses will forever carry with them the trauma of the April 18 events," said Darryl Morin, President of Forward Latino and one of the 80% Coalition leaders. "Kenosha joined 155 other communities across the county that have suffered a mass shooting in the first four months of this year. From Austin and Atlanta, to Indianapolis, to Boulder, to so many other places, families and communities have been forever changed by gun violence, the grief, the sorrow, and the financial hardships it brings."
Morin said that it was time for action, so that no other family would be put through the shock, pain, and grief of gun violence.
Following the shootings two years ago in Gilroy, California and El Paso, Texas, a group of unlikely organizations came together to say "Enough." Businesses, institutions of faith, Healthcare and mental healthcare organizations, and advocacy groups joined to say that while thoughts and prayers were important, there needed to be action in order to ensure that senseless gun violence ended.
That led to the creation of the 80% Coalition. The organization has committed to closing the background check loopholes, so that convicted violent felons could no longer go online and purchase a firearm. Many Americans believe these and other protective laws are already on the books, but sadly they are not – including in Wisconsin, which enables a continuous cycle of gun violence.
80% Coalition members include Advanced Wireless, Inc., Archdiocese of Milwaukee, Brady: United Against Gun Violence, Community Coalition for Quality Policing, Doctors for America, The Rt. Rev. Steven Andrew Miller, Bishop of the Episcopal Diocese of Milwaukee (retired), Felmers Chaney Advocacy Board, First Unitarian Society of Milwaukee, Forward Latino, Greater Milwaukee Synod, ELCA, Hours Against Hate, Interfaith Conference of Greater Milwaukee, Islamic Society of Milwaukee, JCRC – Milwaukee Jewish Federation, March for Our Lives MKE, March For Our Lives Wisconsin, Milwaukee Muslim Women's Coalition, Mom's Demand Action for Gun Sense in America, NAACP – Milwaukee Branch, Serve 2 Unite, Wisconsin Anti Violence Effort (WAVE) and the Wisconsin Council of Churches.