Stan Lee: The Titan of Marvel Comics and his 1968 column on Racism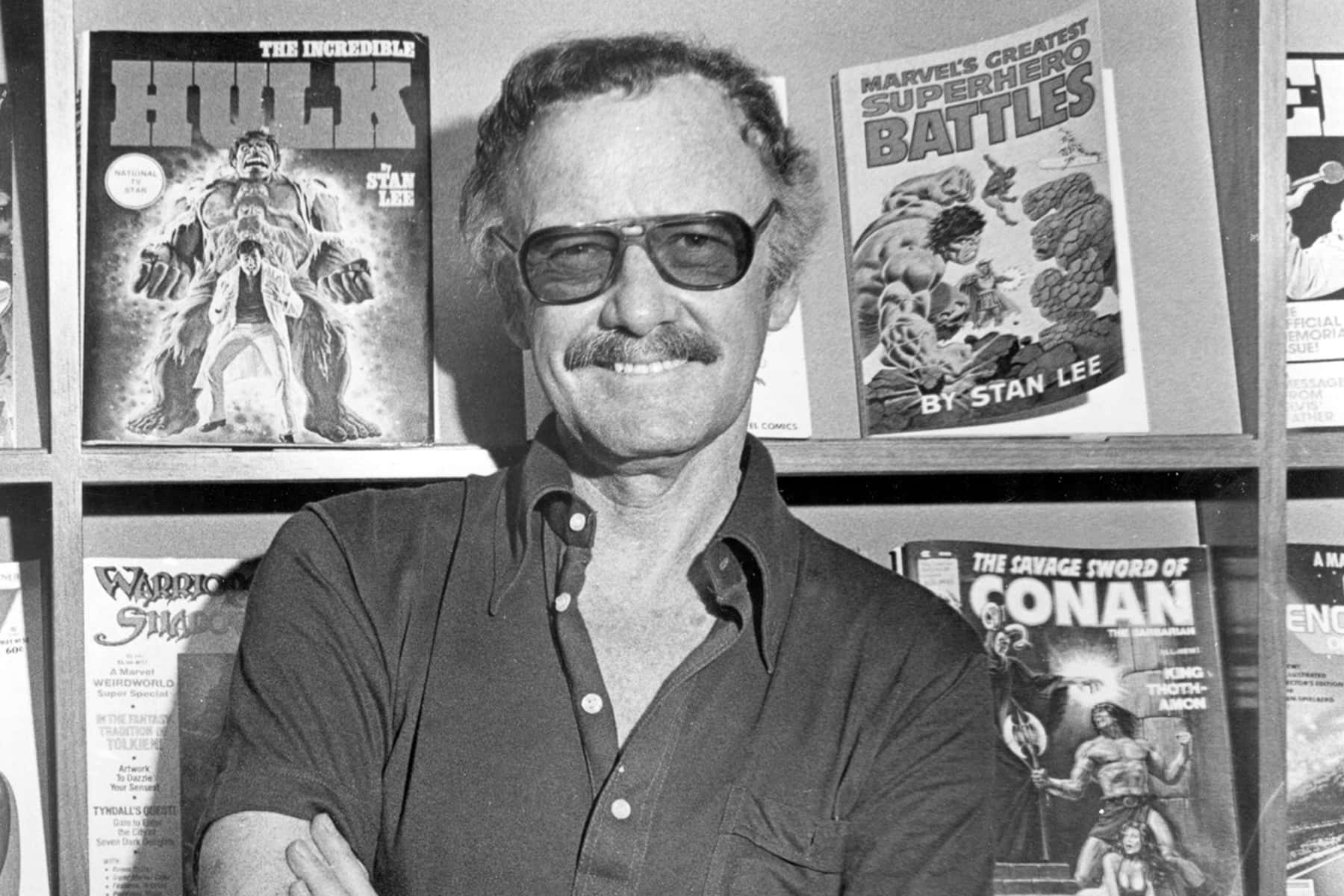 In the wake of the passing of the 95-year-old Marvel Comics legend Stan Lee on November 12, friends and fans have taken to social media with an overwhelming expression of grief. Of the many memories and anecdotes shared, one of the most popular was his 1968 column that spoke out against bigotry and racism.
The comic book writer and co-creator of iconic characters that included Iron Man, the Black Panther, the Fantastic Four, Spider-Man, and the X-Men, died in Los Angeles. The news was met with waves of tributes, and entertainment journalist Jen Yamato re-posted a forgotten column from "Stan's Soapbox" in the wake of his loss.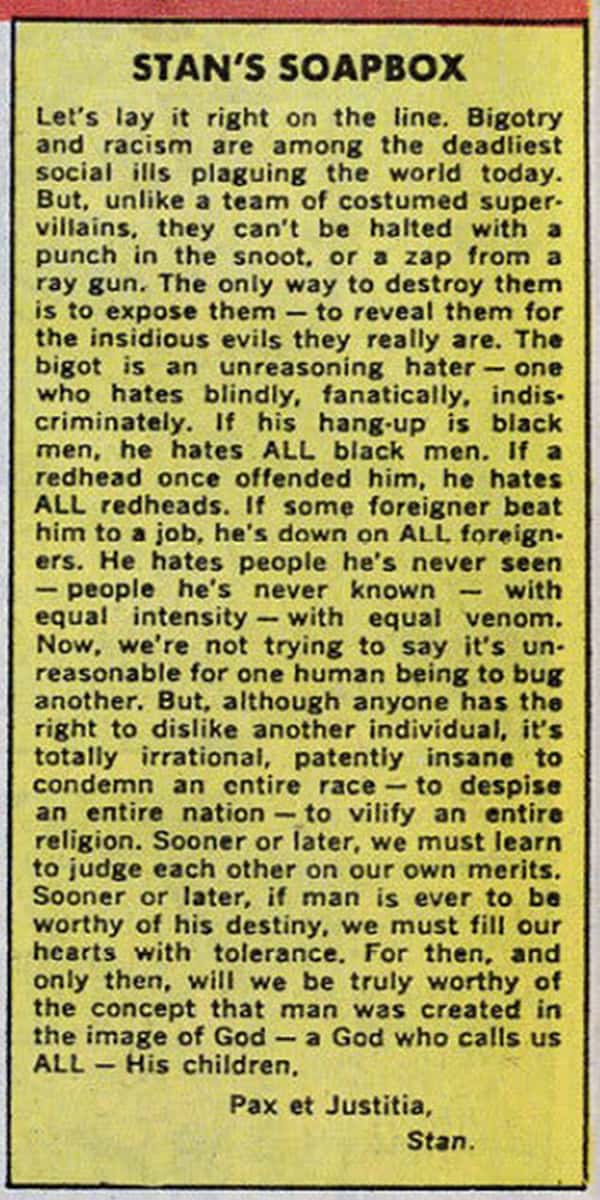 Shortly after a white nationalist rally took place in Charlottesville during August 2017, Lee shared a column he wrote nearly half a century earlier. From 1965 until 2001, Lee published a column called in an unmistakable yellow box, placed on the back of each comic book.
In 1968, during the peak of the Civil Rights Movement, Lee penned a powerful essay about the evils of hatred, bigotry, and racism. At a compact 244 words, Lee was direct in his assessment that the issues were among the deadliest social ills plaguing the world.
Let's lay it right on the line. Bigotry and racism are among the deadliest social ills plaguing the world today. But, unlike a team of costumed super-villains, they can't be halted with a punch in the snoot, or a zap from a ray gun. The only way to destroy them is to expose them—to reveal them for the insidious evils they really are. The bigot is an unreasoning hater—one who hates blindly, fanatically, indiscriminately. If his hang-up is black men, he hates ALL black men. If a redhead once offended him, he hates ALL redheads. If some foreigner beat him to a job, he's down on ALL foreigners. He hates people he's never seen—people he's never known—with equal intensity—with equal venom.
Now, we're not trying to say it's unreasonable for one human being to bug another. But, although anyone has the right to dislike another individual, it's totally irrational, patently insane to condemn an entire race—to despise an entire nation—to vilify an entire religion. Sooner or later, we must learn to judge each other on our own merits. Sooner or later, if man is ever to be worthy of his destiny, we must fill out hearts with tolerance. For then, and only then, will we be truly worthy of the concept that man was created in the image of God–a God who calls us ALL—His children.

Pax et Justitia, Stan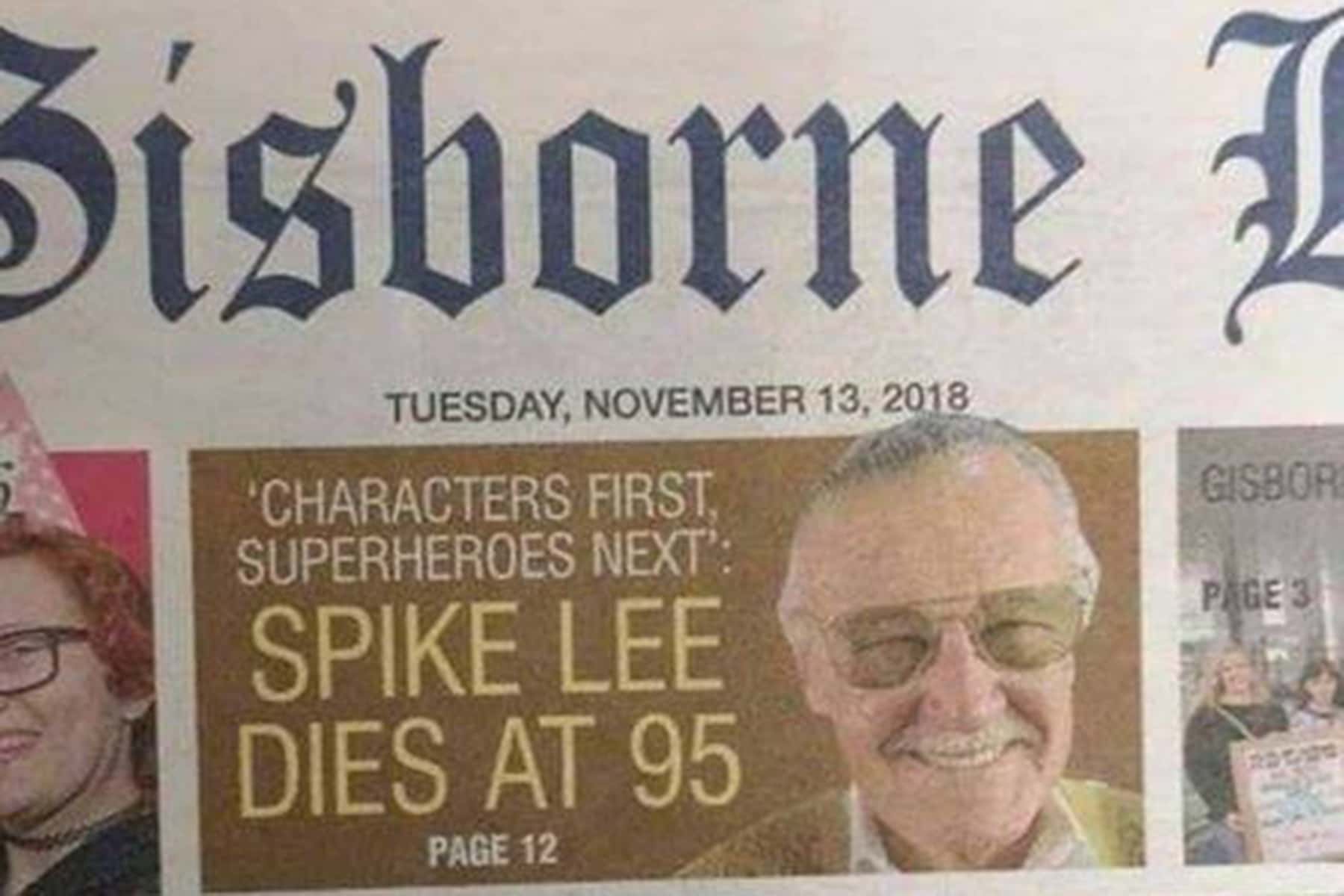 The Marvel Universe he created crossed from page to screen in a series of TV and movie adaptations and changed the face of popular culture.
Lee's characters were flawed heroes that taught moral lessons for the real world to generations of comic book fans. They represented the best of what humans could be, but with all their fantastical gifts they still had internal struggles to overcome.
"It seems to me that a story without a message, however subliminal, is like a man without a soul," Lee wrote. "None of us lives in a vacuum — none of us is untouched by the everyday events about us — events which shape our stories just as they shape our lives. Sure our tales can be called escapist — but just because something's for fun doesn't mean we have to blanket our brains while we read it! Excelsior!"