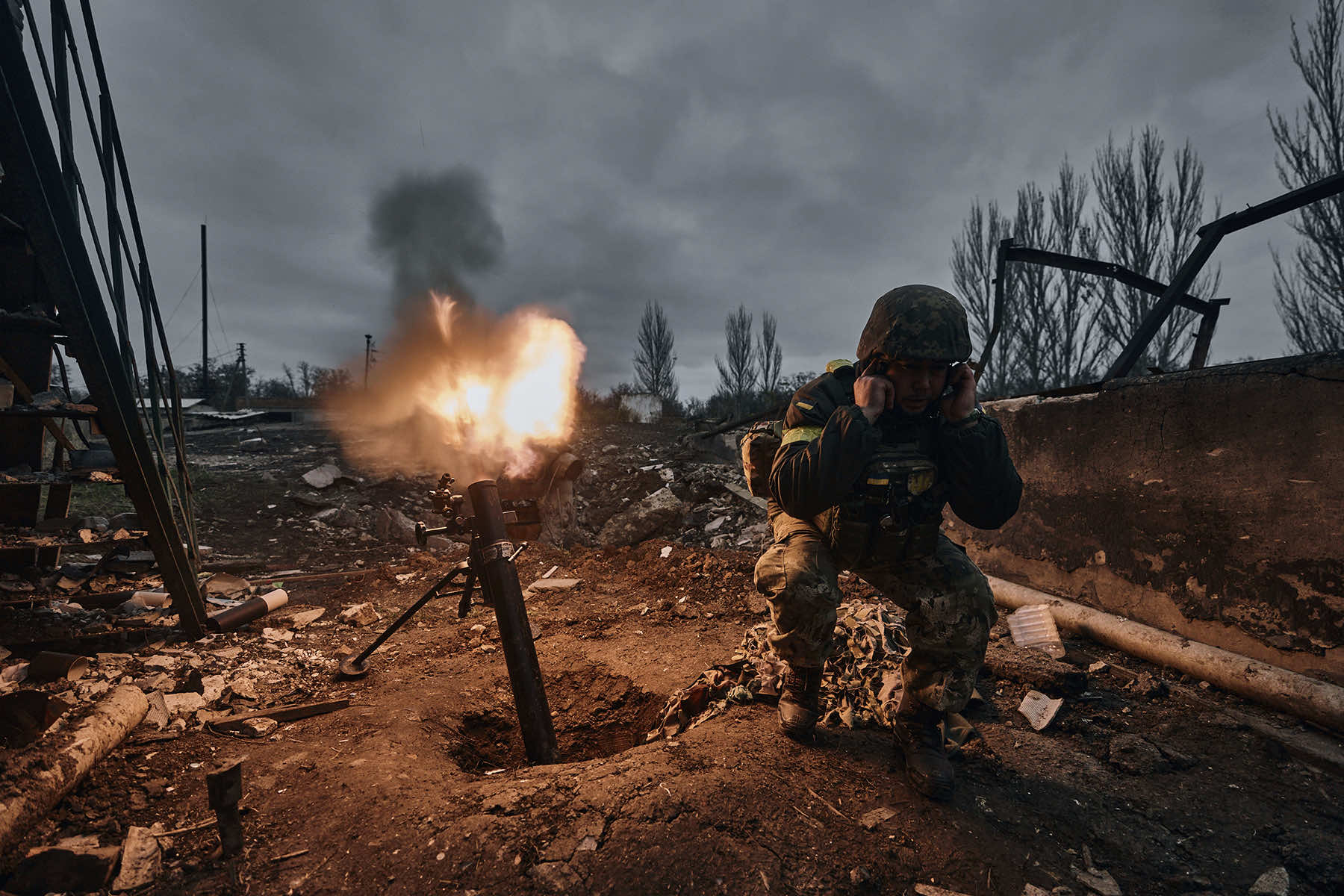 Return to Ukraine:
This feature is part of an original
Milwaukee Independent
editorial series that recorded news from areas across Ukraine, including Milwaukee's sister city of Irpin, from June to July of 2023. It was the second time in the span of a year that the award-winning Wisconsin news organization traveled to the country during the war. The purpose of this journalism project was to document a humanitarian aid mission by the Milwaukee-based nonprofit,
Friends of Be an Angel
, and report about conditions 17 months after Russia's brutal full-scale invasion.
mkeind.com/returntoukraine
What started as a moral obligation when Russia invaded their homeland, has since become their sole purpose. Using their photographic skills, Vlada and Kostiantyn Liberov from Odesa document the ordinary lives of civilians and soldiers, and the brutal impact of wreckage to their homeland from an unprovoked war.
As photographers, Vlada and Kostiantyn spent their careers documenting slices of life, and the simple joys of people in their community. Within the span of a year, their images went from loving and happy couples celebrating the day a day of marriage, to a hellscape of destruction that were once thriving cities.
No longer taking images meant as private keepsakes, their work showed the horrors of a national tragedy, shared with the public by even the President and First Lady of Ukraine.
"When the full-scale invasion began, we decided to document the war in Odesa, photographing whatever was going on in the streets and how people bid each other goodbye at the railway stations. The more documentary photography we did, the more it pulled us in."
Many of those early photos were of family members around Odessa leaving to fight in the war, or relocating to safety. Solemn separations under dark clouds of an unknown future, and Konstantin caught those fleeting moments with his camera.
Each of their images showed a life touched by war, both the normality and dire insanity that Ukrainian people suffered. Such skill quickly brought their work to the attention of international publications, and are frequently featured by The Associated Press, one of the largest news agencies in the world.
Vlada and Kostiantyn combined their identity for their byline, and are simply known as "Libkos." They have photographed conditions in Kharkiv, Severodonetsk, Lysychansk, Mykolaiv, Buch and Irpin, Kyiv, and in many small towns of Ukraine that are under daily shelling. They often went beyond the frontline to document the positions of Ukrainian fighters who were pushing back against the brunt of Russia's brutality.
The couple did not fit in originally as photojournalists. It also took them time and determination to earn the trust of the military. But their persistent efforts were rewarded. The Armed Forces of Ukraine often invite the duo to forward positions to record situations. The spectacular images record what the world would otherwise not know existed.
Libkos often come under fire, seeking to be as close to the fighting as possible to document the everyday experiences of Ukrainian people and their country's defenders. Aside from the personal peril they face being in a warzone, the images they capture also represent a danger. Before anything is released publicly, the photos are methodically reviewed to make sure they cannot bring any harm to Ukrainian troops, or jeopardize military security, by what they could show to the enemy.
"We work together, the two of us, to provide two different perspectives on what happens. While on the frontline, we are on a tight schedule. We wake up at 6:00 a.m., meet the military, and they take us to the position. We shoot until the evening and then go back to the hotel to sort and process the pictures. Processing photos on the same day is crucial because we don't have time for it the following morning. The next day, it's all the same."
When the war broke out, Konstantin and Vlada were both 29 years old. They had been together for eight years, and married for five. The Odessa couple originally planned to flee for safety when the full-scale invasion began. But with bags packed and ready to depart, they could not bring themselves to leave.
In the early days of the way, they helped as best they could whoever was in need. They volunteered to distribute clothing and food. Eventually Vlada asked her husband if he would ever take pictures again. She knew that what they had seen in the war had affected people, and she did not want to see his love of photography be lost along with so many other things that the Russians had stolen with their crimes against humanity.
"The money side of things was really hard. We shot our stories with primes, while documentary photography requires zoom lenses. We had to buy a lot of things to adjust to the drastic conditions. Besides, we had to keep switching lenses because of weather and damage."
Before the first anniversary of the invasion, they had spent around $20,000 on equipment. Over the first half of that time, dodging the intensity of the full-scale invasion, they earned no income. All their efforts and trips were self-funded from their savings. Eventually, Associated Press would bring them on as freelancers, allowing the couple to at least break even. It also helped them to meet their most important basic needs, with the ability to keep investing in their work.
"We don't want to show and capture the destruction with our pictures. We focus on the people. The ordinary people who suddenly perform heroic deeds and stand against the enemy. They are our country, not the buildings. We can rebuild buildings. Our country is the people who live here. They give us hope that a life similar to that before the war can take place again."
Milwaukee Independent has reported on Russia's brutal full-scale invasion of Ukraine since it began on February 24, 2022. In May of 2022, Milwaukee Independent was the first news organization from Wisconsin to report from Milwaukee's Sister City of Irpin after its liberation. That work has since been recognized with several awards for journalistic excellence. Between late June and early July of 2023, Milwaukee Independent staff returned to Ukraine for a second assignment to report on war after almost a year. The editorial team was embedded with a Milwaukee-based nonprofit, Friends of Be an Angel, on a humanitarian aid mission across Ukraine. For several weeks, Milwaukee Independent documented the delivery of medical supplies to military and civilian hospitals, and was a witness to historic events of the war as they unfolded.
Return to Ukraine: Reports about a humanitarian mission from Milwaukee after a year of war