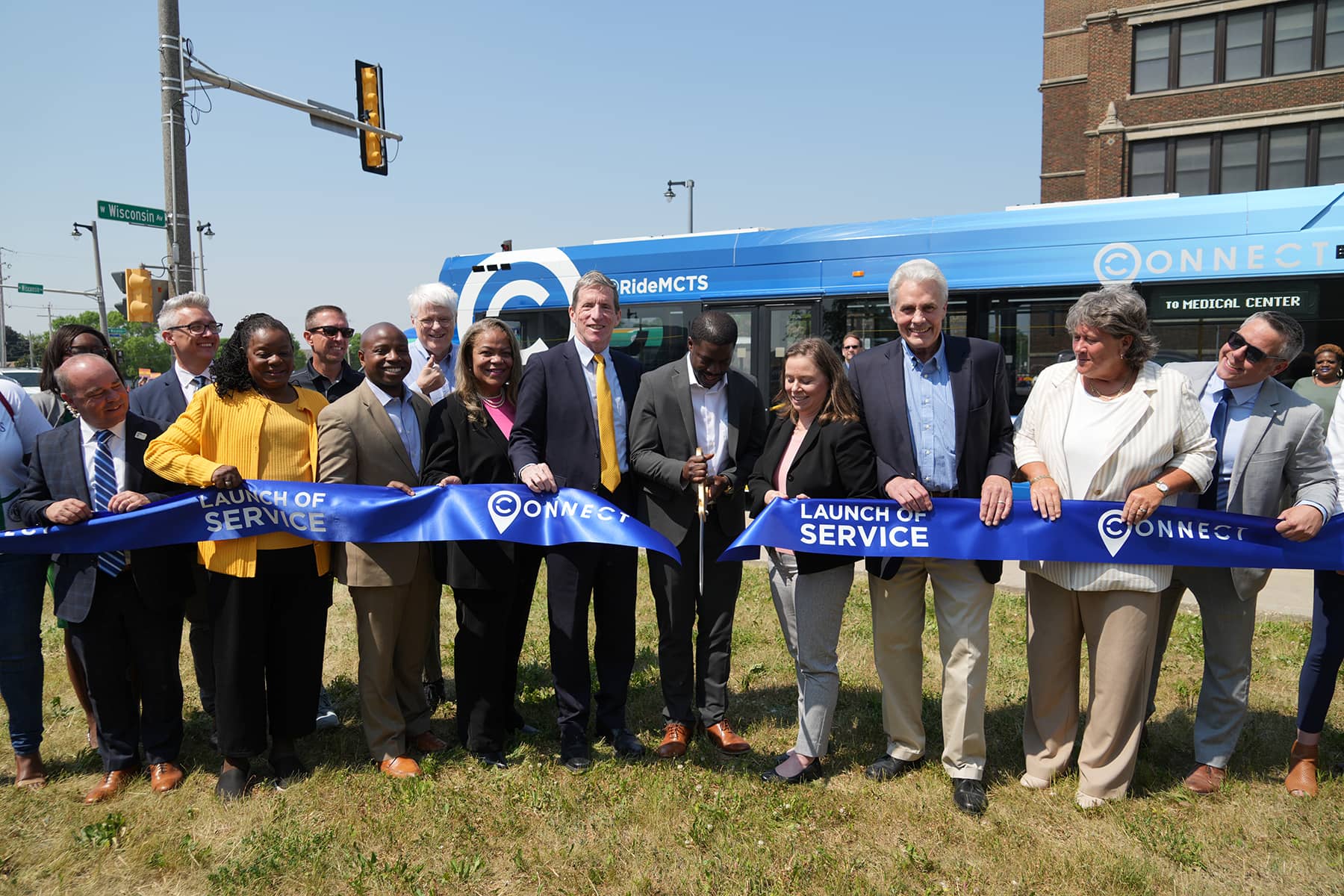 Milwaukee County celebrated the inauguration of its CONNECT 1 Bus Rapid Transit (BRT) line on June 5, at an official ribbon cutting ceremony almost two years to the day from when the groundbreaking ceremony kicked off its construction.
The special event took place at the northeast corner of Wisconsin Avenue and 27th Street, the intersection with the highest traffic density in the city. Speakers highlighted the collaborative efforts that made the BRT line a reality.
"CONNECT 1 is a product of collaboration and support of many advocates and stakeholders," said Milwaukee County Executive David Crowley. "This project really hits at the core of Milwaukee County's vision. It delivers on our promise and our commitment to all residents, to build a more equitable version of government that serves everyone."
County Executive Crowley shared how, as a young man, he learned all about Milwaukee County, its geography, neighborhoods, and people, due to riding the transit system.
CONNECT 1 is the first of its kind BRT in Wisconsin, and it brings several advantages to Milwaukee County. The improved efficiency and reliability of the system are expected to reduce travel times significantly, making public transportation an attractive alternative to driving. By encouraging more people to choose the BRT, the County aims to alleviate traffic congestion, reduce emissions, and enhance overall air quality.
The BRT line will also provide increased accessibility to employment opportunities, educational institutions, healthcare facilities, and recreational areas. The BRT's seamless integration with existing MCTS services will enable commuters to travel throughout the County, opening up new possibilities for connectivity and mobility.
"Great cities have great transportation options. I have seen it firsthand in cities far and wide. I have been able to visit and spend some time in cities across the United States, cities in Europe, and cities in South America. These great cities all have great transit opportunities, and with that a great quality of life," said Mayor Cavalier Johnson. "Cities with great job opportunities, cities with thriving businesses, have choices for people to travel, they have choices for people to get around from one point to another. So I join in celebrating a new addition to the transportation mix that we have right here in Milwaukee."
The BRT is a $55 million capital improvement project made possible through a Federal Transit Administration (FTA) Small Starts Grant Award of $40.9 million, as well as $11.85 million in Milwaukee County dollars, and $2.3 million in other federal funding sources. CONNECT 1 is predicted to average more than 9,500 weekday riders by 2035, and increase overall transit ridership in the corridor by 17 percent.
Along with the Mayor and County Executive, other officials who attended the ribbon cutting included MCTS President and Managing Director Denise Wandke, U.S. Congresswoman Gwen Moore, Wisconsin Lt. Governor Sara Rodriguez, Wauwatosa Mayor Dennis McBride, Wisconsin Transportation Secretary Craig Thompson, Milwaukee Office Director Tiffany Henry for Office of U.S. Senator Tammy Baldwin, and Kelley Brookins of the Federal Transit Administration (FTA).
A Timeline of the CONNECT 1 project:
2016 East-West BRT Feasibility Study
2017-2018 Federal Transit Administration Project Development Engineering/Environmental Review
2018-2020 Final design
2020 Federal government commits $40.9 million to the project
2021 MCTS awards contract for the manufacturing of Battery Electric Buses
2022 First MCTS Battery Electric Bus arrives. New BRT brand revealed: MCTS CONNECT
2023 CONNECT 1 launches service on June 4, with battery electric buses slated to operate along the BRT route, supplemented by Clean Diesel Buses.
Milwaukee County and the Southeastern Wisconsin Regional Planning Commission (SEWRPC) have completed a feasibility study for Transit Enhancement in the North-South 27th Street Corridor, recommending BRT. Federally mandated levels of engineering, project design, and National Environmental Protection Act (NEPA) analysis have already begun and will continue in 2023 and 2024, with the goal to receive Federal Transit Administration (FTA) approval in 2025 and construction to begin as soon as 2026.
Images from April 12, 2016, when Milwaukee County and MCTS held the first of two public meetings to get input on the Bus Rapid Transit Feasibility Study.