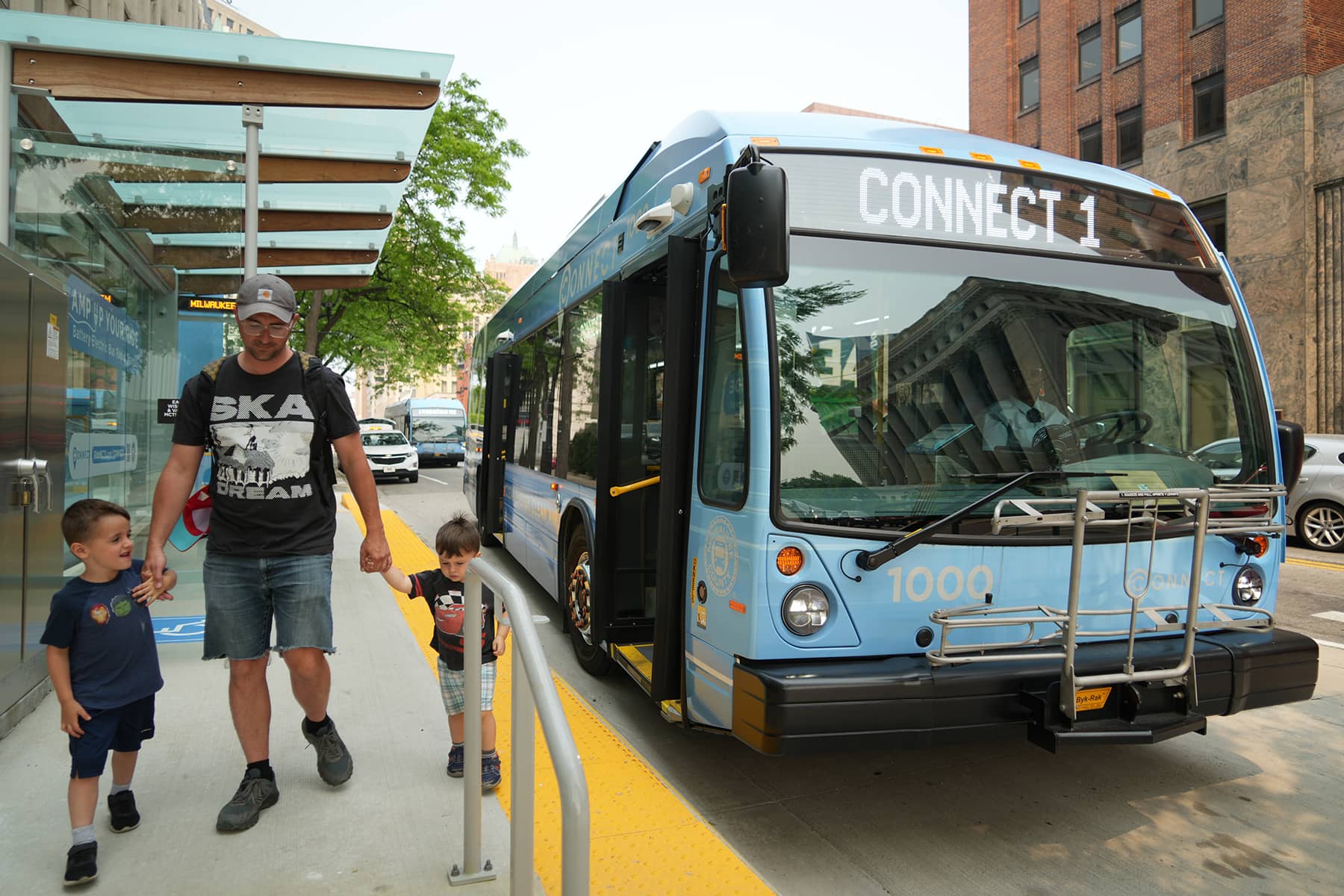 After years of planning and anticipation, Milwaukee inaugurated its highly anticipated East-West Bus Rapid Transit (BRT) line on June 4. The new nine-mile BRT corridor, with a price tag of $55 million, aims to revolutionize public transportation in the city by providing faster, more reliable, and convenient travel options for commuters.
On June 10, 2021, Federal, state, and local officials joined business leaders and members of the community at a special groundbreaking ceremony to kick off construction of the BRT project. Two years later it is a reality.
The launch of the East-West BRT line marks a significant milestone in Milwaukee's efforts to enhance its transportation infrastructure and promote sustainable mobility solutions. The project is expected to alleviate traffic congestion, reduce emissions, and improve access to employment centers, educational institutions, and recreational areas along the corridor.
The new CONNECT route emulates a rail line, but uses the cost efficiencies of a bus to construct a line traveling farther than rail. BRT uses a unique combination of tools to do this, including dedicated lanes, signal priority, elevated stations, and off-board fare collection. The tools work in conjunction to give the bus an advantage in traffic, and to reduce time spent idling at each bus stop.
With 16 stations in each direction, CONNECT has a total of 33 boarding locations. The BRT line features service every 10 minutes weekdays during peak times and midday, and every 20-30 minutes for off-peak hours, weekends every 15 minutes during peak and 20-30 minutes off-peak.
CONNECT is also MCTS's opportunity to introduce Battery Electric Buses to the transit system, a first for the county. An electric charging station at the CONNECT's layover will keep each Battery-Electric Bus charged and ready for riders. Buses can operate up to 247 miles on a single charge and will recharge during layovers throughout the service day.
Battery Electric Buses are powered entirely by electricity stored in onboard battery packs, eliminating the need for traditional fossil fuels like diesel or gasoline. They are considered zero-emission vehicles, as they produce no tailpipe emissions, contributing to a cleaner and greener environment.
By using electric power instead of fossil fuels, these buses help reduce greenhouse gas emissions, air pollution, and noise pollution, making them more environmentally friendly. While the initial cost of electric buses may be higher than traditional buses, they offer long-term cost savings due to lower fuel and maintenance costs.
Electricity is generally cheaper than diesel or gasoline, and electric buses have fewer moving parts, requiring less maintenance and repairs. Electric buses also provide a quieter and smoother ride, enhancing the overall passenger experience. They also have reduced vibrations and emissions, creating a more comfortable and healthier environment onboard.
To accommodate the new BRT line, Milwaukee has made substantial infrastructure improvements, including the construction of dedicated bus lanes along the corridor, the installation of modern transit stations, and the implementation of intelligent transportation systems. These upgrades demonstrate the city's commitment to sustainable and accessible transportation options.
The launch of the East-West BRT line is expected to have a positive impact on the local economy as well. Improved connectivity and accessibility will make Milwaukee an even more attractive destination for businesses and investors, while the reduction in traffic congestion can lead to increased productivity and reduced fuel consumption.
Running parallel to I-94, the CONNECT 1 serves the busiest east-west corridor in the county. Ridership will be fueled by activity generators within the half-mile station area around the route including: 9 colleges and universities and 8 high schools 48,900 residents 110,700 jobs, 200 businesses with 100 or more employees, 8 medical facilities, 25+ hotels, and countless attractions including the county zoo, American Family Field, Fiserv Forum, Milwaukee Art Museum, and Summerfest.
The public will be able to ride the CONNECT BRT for free thanks to Umo Mobility through September 2023. After that period, CONNECT will be fully integrated into MCTS, and the cost to ride will be the same as the cost to ride other MCTS services. An adult MCTS fare is $2 per ride using a WisGO card, Umo app, cash, or credit card.
CHANGES TO MCTS BUS ROUTES
CONNECT replaced the GoldLine, taking the busiest portion of that local route and make it a premium, high-frequency service. CONNECT will then serve as a rapid connector to local north-south and downtown routes, creating a robust spine for the transit corridor.
Route 30 (Sherman – Wisconsin) service will be increased as Route 30 will serve former GoldLine passengers between downtown and UWM.
Waukesha Metro Route 1 (Brookfield) will be extended from Brookfield Square to the Milwaukee Regional Medical Center and replace GoldLine service. MCTS and Waukesha Metro worked together to develop this plan.
Route 21 service (North Ave-UWM) will be expanded to maintain service along Downer Avenue every day and all year long. Route 21 service on Downer Avenue today does not operate on weekends or during the summer.
Route 14 (Humboldt-Forest Home) will be modified into two separate routes to improve reliability and on-time performance. New Route 14 (Humboldt Blvd) will primarily serve Humboldt Boulevard between Bayshore and downtown. Riders can transfer to CONNECT 1 BRT at the Jackson & Wisconsin Station (as well as to Route 30).
New Route 24 (Forest Home) will primarily serve Forest Home Avenue between Southridge and the MCTS Administration Building on 17th & Fond du Lac. Riders can transfer to CONNECT 1 Bus Station at the 16th & Wisconsin Station as well as to Route 30.
The BlueLine (Fond du Lac – Mill) will travel on 17th Street to Highland Avenue, Highland Avenue to 12th Street, 12th Street to Wells and Wells to 6th Street to the Intermodal Station. Northbound buses will follow the same streets.