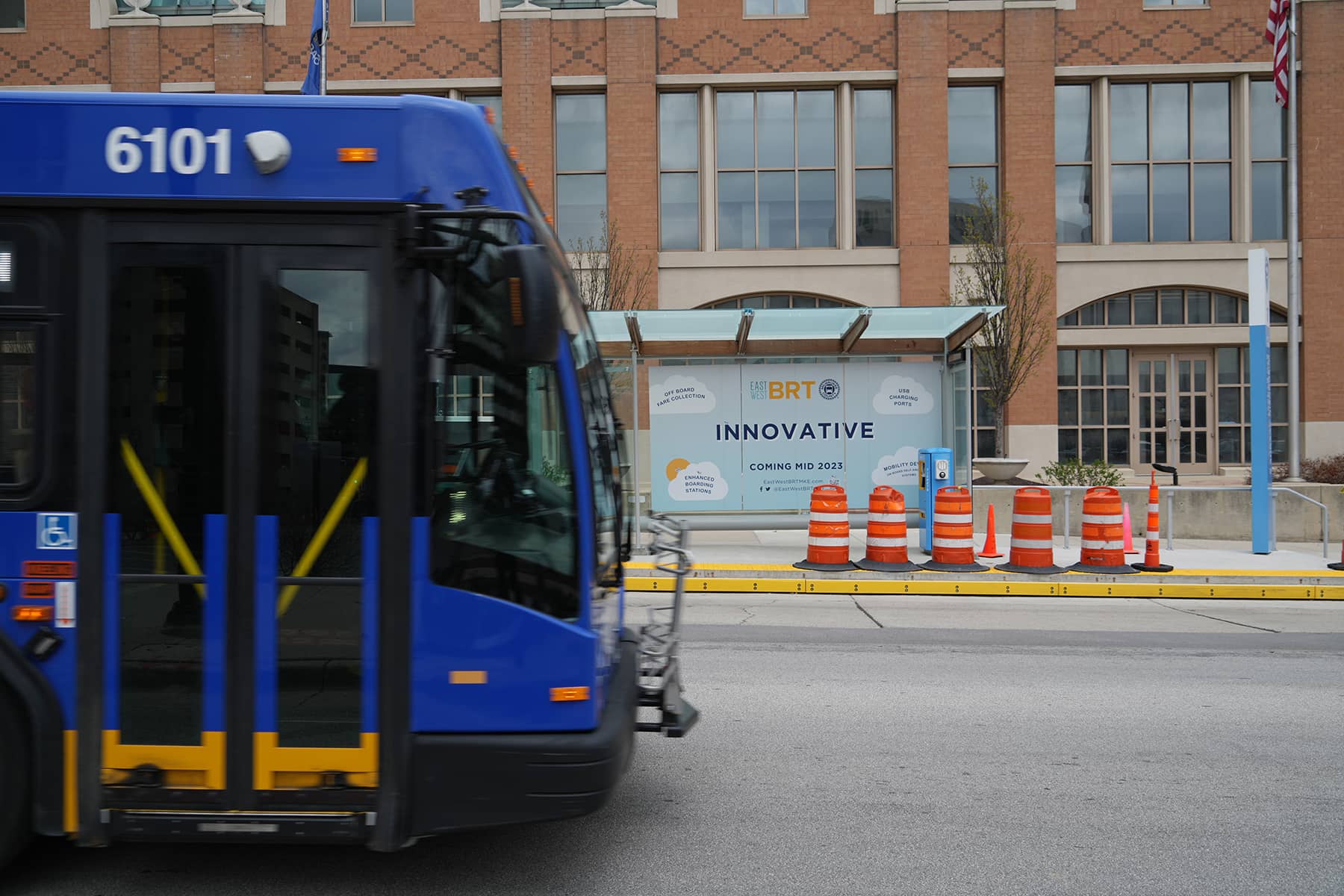 Milwaukee County Transit System (MCTS) summer schedules go into effect on June 4, and include the launch of the new CONNECT 1.
Wisconsin's first Bus Rapid Transit (BRT) line, CONNECT 1, will deliver a premium level of transit service that improves mobility and ultimately increases ridership in a cost-effective manner. It will also feature several innovations new to Milwaukee County including the use of battery electric buses, real-time arrival signage at bus stations, and dedicated bus lanes.
In addition to the introduction of CONNECT 1, summer schedule changes improve the reliability of service on adjacent bus routes, make the routes easier to understand, and provide expanded access to jobs. Many of these changes are a result of feedback from riders, bus drivers, and businesses.
MCTS CONNECT 1 BRT will provide faster and more frequent service along Wisconsin Avenue and Bluemound Road between downtown and the Milwaukee Regional Medical Center (MRMC). Passengers will be able to board at 33 new BRT stations along the route.
Daytime buses will arrive every 10 minutes on weekdays and 15 minutes on the weekend. Buses will arrive every 20 to 30 minutes during the evening. The CONNECT 1 will operate from 4:30 a.m. to 1:30 a.m.
Waukesha Metro Route 1 will be extended from Brookfield Square to the Milwaukee Regional Medical Center. Riders with an active transfer (a 90-minute transfer window or a daily fare cap), can transfer from MCTS to Waukesha without needing to pay again. Riders can transfer to Waukesha Metro Route 1 from Routes 28, 31, 92, and CONNECT 1.
Route 30 will become more frequent to serve former GoldLine riders on the east side. Buses will arrive every 10 minutes instead of every 13-14 minutes. In addition, Route 30 buses will serve every BRT station on Wisconsin Avenue between Van Buren and 35th Street.
Buses will also make stops at six additional locations: Wisconsin and 32nd Street, Wisconsin and 29th Street, Wisconsin and 24th Street, Wisconsin and 22nd Street, Wisconsin and Plankinton, and Wisconsin and Jackson.
The GoldLine, which began in 2015, will be retired. The majority of riders on the GoldLine will be served by the CONNECT 1 and Route 30. In addition, Route 21 and Waukesha Metro 1 will be adjusted to serve riders.
Route 14 will be split into two routes to improve on time performance on the two main corridors it serves – Humboldt Boulevard and Forest Home. Route 14 will operate along Humboldt and intersect Wisconsin Avenue at Cass Street near a BRT station.
Riders can choose to transfer to CONNECT 1 or Route 30; buses will come every five minutes between the two routes. In addition, buses will arrive every 16 minutes instead of 22 minutes.
A new Route 24 will serve Forest Home Avenue and 16th Street between Southridge Mall and Wisconsin Avenue, which was formerly served by Route 14. In addition, service will be extended north of Wisconsin Avenue to the MCTS Administration Building at 17th and Fond du Lac via 16th and 17th Streets.
Route 21 service will be expanded to maintain year-round service on Downer Avenue between North Avenue and UW-Milwaukee. Route 21 will continue to provide high-frequency service to riders on Downer Avenue.
Passengers heading downtown can pick up Route 21 every fifteen minutes then transfer to Route 30, GreenLine, Route 14 and Route 15 which intersect with Wisconsin Avenue at various locations or walk to Maryland to take Route 30 for a direct ride to Wisconsin Avenue.
BlueLine service will be reconfigured on the southern end to maximize connections with the CONNECT 1 BRT and Routes 12 and 24. Buses will no longer travel via 16th and 17th Streets, Wisconsin Avenue, 6th Street to the Intermodal Station.
Buses will instead travel from 17th Street to Highland Avenue, Highland Avenue to 12th Street, 12th Street to Wells and Wells to 6th Street to the Intermodal Station. Northbound buses will follow the same streets.