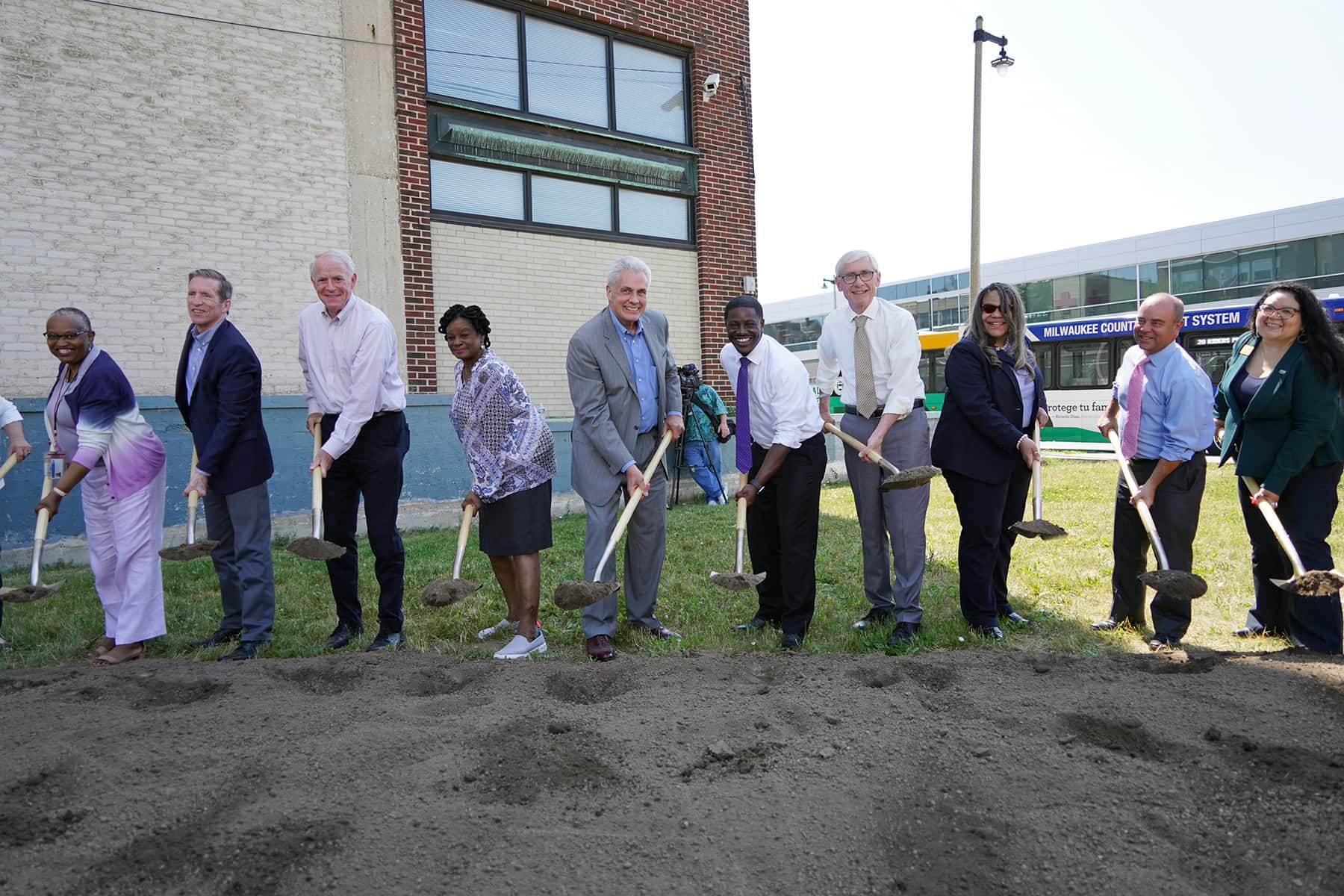 Federal, state, and local officials joined business leaders and members of the community at a special a groundbreaking ceremony on June 10, to kick off construction on the Milwaukee County Transit System (MCTS)'s East-West Bus Rapid Transit (BRT) project at the corner of Wisconsin Avenue and 27th Street.
The first-of-its-kind undertaking in Wisconsin aims to provide improved access to the region's most vital, most traveled, and most congested corridor. The nine-mile BRT route will allow MCTS to better connect major employment, education, and recreation destinations through downtown Milwaukee, Marquette University, Milwaukee's Near West Side, Wauwatosa, and the Milwaukee Regional Medical Center (MRMC).
But the new transit option was also designed to help stimulate racial and economic equity. As residents of Milwaukee began to migrate into suburban areas, many of the businesses followed. Without reliable and efficient public transportation, those who lived in the city – predominantly people of color – were left behind and disconnected from vital services.
"Why do the poorest of the poor have to use transportation that takes hours to get the service they need?" asked Milwaukee Mayor Tom Barrett. "Our responsibility is to do what's best now for the people of this community who need healthcare, access to employment, and connections to education."
The BRT route will operate primarily along Wisconsin Avenue, Bluemound Road, and a portion of 92nd Street. Ultra-modern battery-electric buses will serve 33 individual, state-of-the-art stations located between Milwaukee's lakefront and the Watertown Plank Road Park & Ride lot.
"The BRT is going to be new, fun to ride, dependable, so I think it's going to spur a lot of people that haven't tried transit in the past to leave the car at home," said WisDOT Secretary Craig Thompson. "The BRT is going to get people to school, work, medical care, and shopping. It will be a real boon to Milwaukee County's economy."
BRT passengers will enjoy more efficient, higher frequency service thanks to the utilization of all-electric buses, dedicated bus lanes, traffic signal priority, off-board fare collection, optimized station locations, raised platforms that allow for easy boarding, and other amenities.
Nova Bus, a leading North American transportation manufacturer that is part of the Volvo Group, will produce 11 LFSe+ battery-electric buses that will run exclusively on the BRT route. The BRT service is expected to start in Fall 2022. Several key components of the buses will be built and assembled locally at businesses in Pleasant Prairie, Racine, Greendale, Pewaukee, Elkhart Lake, and Manitowoc.
Speakers at the groundbreaking ceremony included Wisconsin Governor Tony Evers, U.S. Congresswoman Gwen Moore, Milwaukee County Executive David Crowley, Milwaukee Mayor Tom Barrett, Wauwatosa Mayor Dennis McBride, Wisconsin Department of Transportation (WisDOT) Secretary Craig Thompson, Federal Transit Administration (FTA) Regional Administrator Kelley Brookins, Milwaukee Alderman Bob Bauman, and MCTS Managing Director Dan Boehm. Their full remarks have been included in this edited version of the live audio recording.