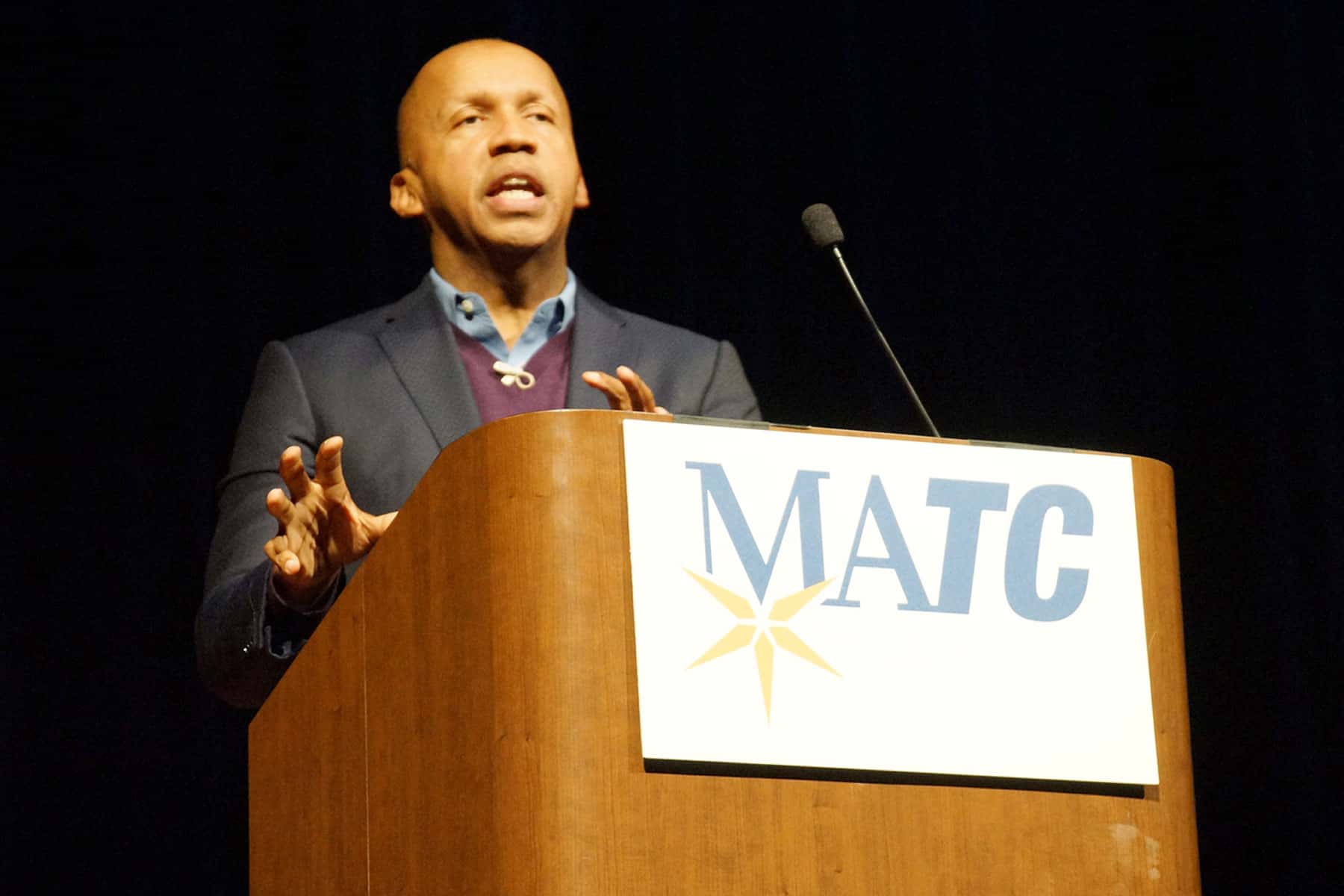 "There is a different metric when you are trying to change the world. Your income is not a measure of your commitment to justice. You ability is not measured by how many people know your name, or how many people applaud you," said author Bryan Stevenson to a capacity audience in the Cooley Auditorium of the Milwaukee Area Technical College's downtown campus.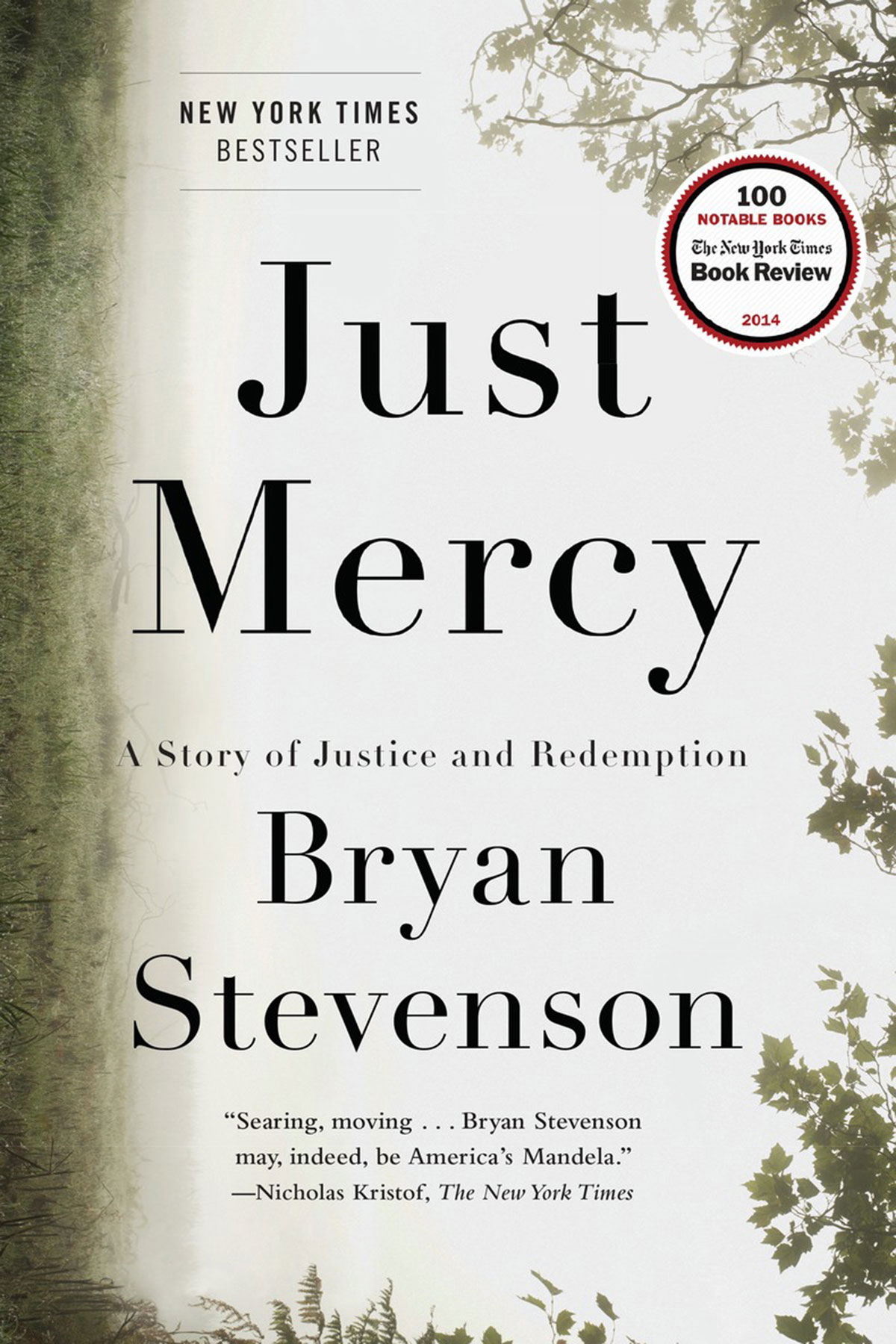 Stevenson's March 9 presentation, American Injustice: Mercy, Humanity and Making a Difference was based on his experiences as a social justice attorney, and themes covered in his book Just Mercy: A Story of Justice and Redemption.
The true account offers a look into the lives of those Stevenson defended, and makes an inspiring argument for compassion in the pursuit of true justice. The book has been a New York Times bestseller and winner of numerous nonfiction awards, including the Carnegie Medal.
As a young lawyer, Stevenson founded the Equal Justice Initiative in Montgomery, Alabama, a legal practice dedicated to defending the poor, the wrongly condemned, and women and children trapped in the farthest reaches of our criminal justice system. EJI also works with communities that have been marginalized by poverty and discouraged by unequal treatment.
"We have been corrupted over the last forty years by our politicians, who have been teaching us to be afraid and angry," Stevenson told the audience. "They want fear and anger to define our relationship with everything. Because when we are afraid and angry we will tolerate injustice. It has made us comfortable with inequality. And we need to change that narrative."
Stevenson challenged the audience and MATC students to step outside their comfort zones and visit parts of the community where there is suffering, neglect, poverty, and despair. Where children do not have enough to eat, or schools are not doing the things they need to prepare youth for the future. Stevenson believes "proximity is how we will find the power to change the world."
The recipient of numerous awards, including the MacArthur Foundation "Genius" grant, Stevenson was named one of Time magazine's 100 Most Influential People for 2015. Just Mercy was also on Time magazine's "10 Best Books of Non Fiction" in 2014.
"As a country, we are burdened by our history of racial inequality. It haunts us and we became comfortable with the legacy of slavery. And it still casts a shadow over communities like Milwaukee," said Stevenson as he diagramed the context of local history. "The black people who arrived in Milwaukee before World War II did not come to this community as immigrants looking for new economic opportunities. They came here as refugees and exiles from the American South. I don't think slavery ended in 1865, I think it just evolved. It turned into decades of terrorism, violence, and lynching. We should have committed ourselves to truth and reconciliation in the 1960s, but we didn't do it."
A panel discussion followed the hour-long presentation. Marcus White, vice president of civic engagement at the Greater Milwaukee Foundation, moderated the questions. Panelists who joined Stevenson included Tannette Johnson-Elie, from the Marquette University Urban Journalism Workshop, Rev. Bryan Massingale, professor of theology at Marquette University, and Marty Ordinans, program administrator of MATC's Right Path program, which helps adult children of incarcerated parents earn high school diplomas or GEDs.
The event was sponsored by MATC and the YWCA Southeast Wisconsin, and presented in partnership with Bader Philanthropies, Inc., the University of Wisconsin-Milwaukee, and the MATC Foundation, Inc.
In his widely viewed TED Talk from 2012, Stevenson shares some hard truths about massively imbalanced American justice system, and our nation's unexamined racial history. Following his presentation, over $1 million was raised by attendees to fund his Equal Justice Initiative.
"The moral arc of the universe is long but it bends towards justice. We cannot be fully evolved human beings until we care fully about human rights and basic dignity," – Bryan Stevenson