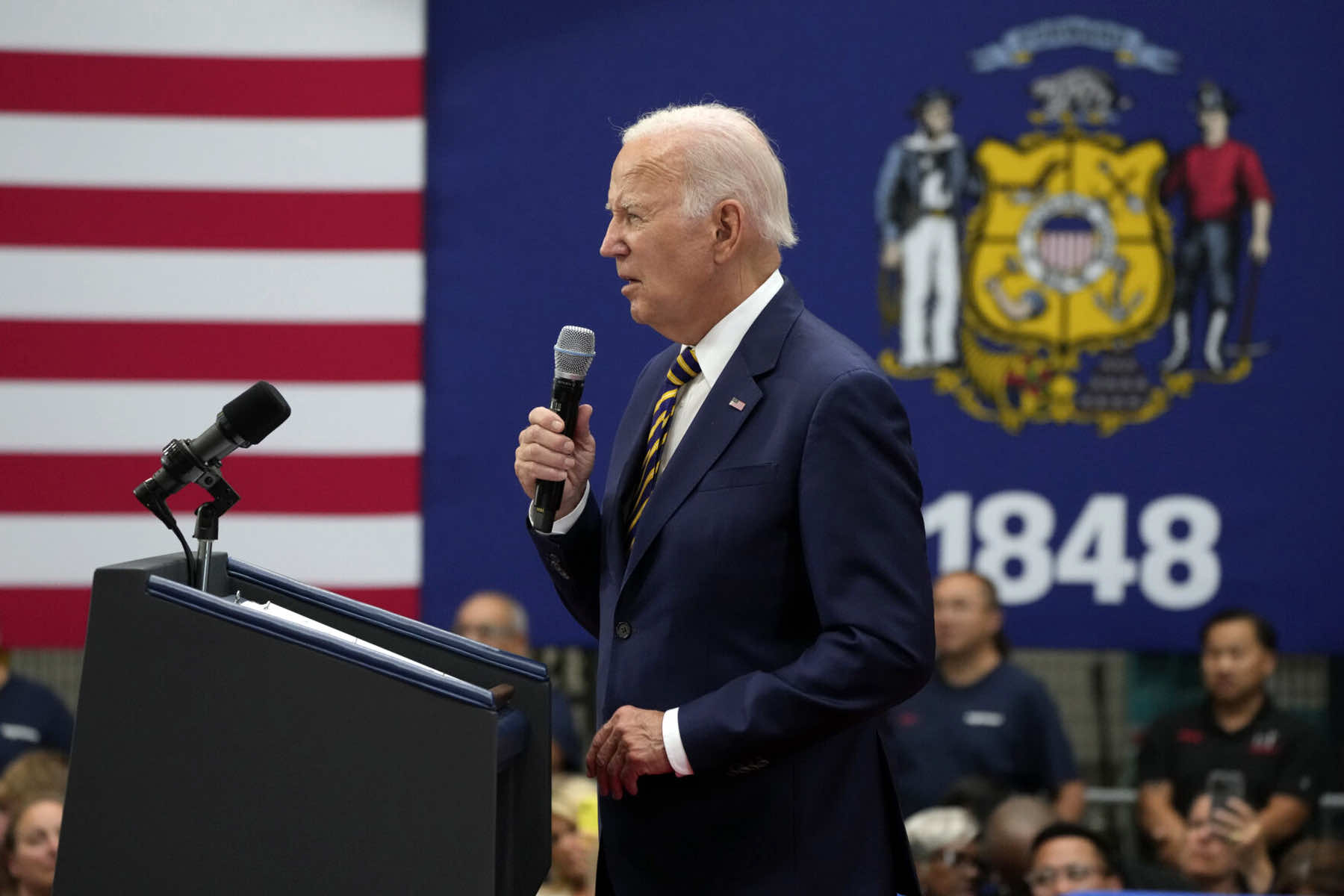 The first Republican debate of the 2024 election cycle took place in Milwaukee on August 23. While all the drama seemed focused on whether or not anybody beyond Chris Christie would take a serious swing at Trump, much of the evening's time was devoted to trashing President Joe Biden.
So, for anyone still clinging to their sanity after enduring all the lies, here is a quick summary of the things that Biden has accomplished with a little help from Democrats in Congress in his first two-and-a-half years in office.
First of all, Joe Biden has restored trust, confidence, and faith in the honesty, credibility, and integrity of America. He does not suck up to dictators like Trump did, and does not lie to Americans or our allies. He has restored independence to the Department of Justice and funding and support to regulatory agencies like the EPA.
Over united Republican opposition, the Biden administration has succeeded in lowering most Americans' cost of living. The Inflation Reduction Act has reduced inflation to a full point lower than it was when Reagan was running his "Morning in America" ads in 1984 – unemployment is several points lower, too.
Because of that law, for the first time, Medicare is able to negotiate the price of certain high-cost drugs: a month's supply of insulin for seniors is capped at $35, Medicare beneficiaries pay $0 out of pocket for recommended adult vaccines, and seniors' out of pocket expenses at the pharmacy will be capped at $2,000 a year.
America has just completed the strongest two years of job growth in the history of our country. Nearly 11 million jobs have been created since President Biden took office — including 750,000 manufacturing jobs. The unemployment rate is at a 50-year low, and a record number of small businesses have started since Biden took office. Black Americans and Hispanic Americans have near record low unemployment rates and people with disabilities are experiencing record low unemployment.
We are experiencing a boom in manufacturing and the construction of manufacturing facilities like we have not seen since before the Reagan Revolution began offshoring American factories and jobs. Companies have invested more than $300 billion in good jobs, many of them unionized, as America's technical capabilities sharpen along with this job growth.
Biden has expanded services available to our veterans – after Trump cut them, including 31 new clinical sites and a comprehensive program to help the estimated 5 million veterans who, like President Biden's son Beau, have been exposed to toxic chemicals as a result of their service to our country.
President Biden brought together Democrats and Republicans to pass the Bipartisan Safer Communities Act, the first major piece of gun safety legislation in three decades. The law will save lives by:
Requiring young people ages 18 to 21 to undergo enhanced background checks
Narrowing the "boyfriend loophole" to keep guns out of the hands of convicted dating partners
Funding crisis interventions, including extreme risk protection orders ("red flag") laws
Making significant investments to address the mental health crisis in America, including in our schools
Clarifying who needs to register as a federally licensed gun dealer and run background checks before selling a single weapon
Making gun trafficking and straw purchases distinct federal crimes.
Over ten years ago, President Biden announced his support for marriage equality, becoming the highest-ranking U.S. government official to do so. Building on his longstanding support and generations of civil rights advocacy, President Biden signed historic bipartisan legislation protecting marriage for same-sex and interracial couples.
And the President took historic steps to advance full equality for LGBTQI+ Americans, including reversing the discriminatory ban on transgender servicemembers in the military, strengthening non-discrimination protections in health care, housing, education, and employment, and ensuring that transgender Americans can access government support and services.
Biden has put a more diverse group of people on the federal judiciary than any president in history. Sixty-six percent of his nominees have been women and 65 percent were people of color, including the Supreme Court's first Black woman justice, Ketanji Brown Jackson.
After Putin declared war on democracy and launched a terrorist invasion of Ukraine, targeting civilians and using rape as a weapon of war, President Biden has brought the world together to stand up to a fascist autocracy and defend Europe's largest democracy.
Following Trump's humiliating groveling before Putin and attacks on NATO, the European Union, and our democratic allies around the world, President Biden has rebuilt the American alliances that have, in some cases, stood for over two centuries. Sweden and Finland have joined NATO, and China appears to be re-thinking their belligerent attitude toward Taiwan after the recent meeting and agreements between the leaders of the U.S., South Korea, and Japan.
After Trump unilaterally closed all but one of our air bases in Afghanistan to maliciously make his successor's job more difficult, the Biden administration ended the war in Afghanistan that George W. Bush and Dick Cheney had lied us into. He has also decapitated the leadership of ISIS and El Qaeda.
Ever since six Republicans on the Supreme Court gutted American women's right to abortion – and multiple Republicans are now trying to ban birth control, President Biden has stood up for women's healthcare rights. He has signed several Executive Orders to protect access to reproductive healthcare – including for our military.
When 19 Republican state attorneys general demanded the healthcare records of women who have sought abortions in more than thirty states, Biden signed an Executive Order strengthening patient privacy.
The Biden administration rolled out a plan to cut as much as $20,000 from the debt carried by America's student borrowers – student debt of these proportions, the direct result of the Reagan Revolution, does not exist in any other nation on Earth.
When a Republican lawsuit before the Supreme Court blocked his efforts, he announced a plan to provide millions of borrowers with more affordable monthly student loan payments through changes to income-driven repayment plans.
While Red states still put people in prison for years for possessing a single marijuana cigarette, President Biden pardoned all Americans who have ever been convicted of a federal pot offense. He has more recently initiated a multi-agency review of the drug's Schedule 1 status, with an eye to decriminalizing it nationwide.
After centuries of police violence against Black people and other minorities, Biden signed a landmark executive order on safe, effective, and accountable policing that mandated federal reforms such as banning chokeholds, restricting no-knock entries, creating a national police accountability database, and restricting the transfer of military equipment to local police departments.
Through over a hundred executive actions and the Inflation Reduction Act, President Biden has finally put America on course to cut our emissions in half by 2030 and to get to net-zero by 2050. He also protected more lands and waters in his first year than any President since John F. Kennedy.
While Republicans continue to strip people off Red state Medicaid rolls in their pursuit of cruelty, Biden expanded the Affordable Care Act. Millions can now find healthcare for $10 a month or less, and most Americans will see an Obamacare saving of an average of $800 a year.
Since he took office, there has been a combined 50 percent increase in enrollment in states that use HealthCare.gov and the nation's uninsured rate is historically low at 8 percent. Over 16 million Americans signed up for quality, affordable health coverage, the highest number ever produced in an Obamacare open enrollment period.
Perhaps the most important accomplishment of President Biden has been re-aligning the Democratic Party with its progressive base. Biden worked hand-in-hand with Senate Budget Committee Chair Bernie Sanders to put forward a sweeping progressive agenda involving an investment of over $5 trillion in America and American working people.
Although united opposition from Republicans and a handful of sellout Democrats – including Manchin, Sinema, and the "corporate problem solvers," forced him to cut the program back, it is still revolutionary given the past 40 years of bipartisan embrace of neoliberalism.
Reversing the anti-organized-labor trend started by Reagan that continued through the Bush, Clinton, Bush, Obama, and Trump administrations, President Biden has aggressively promoted unions and unionization as essential to the future of working people in America.
President Biden also worked with and helped Nancy Pelosi pass through the House the For The People Act, which would have rolled back much of Citizens United and ended most Republican voter suppression by asserting Americans' absolute right to vote. Had he not been betrayed by Manchin and Sinema, it would now be law.
The Congressional Progressive Caucus, founded by Senator Sanders, has gone from a handful of members more than a decade ago to being one of the strongest and largest in Congress – 104 members right now. While this is not Biden's doing and much credit goes to its members, Biden is the first Democratic president since LBJ to fully embrace progressives in Congress and fast-track their legislation.
A list of Biden's accomplishments also includes:
Set new policies to reduce super-pollutants like HFCs and methane to protect communities and reduce emissions fueling climate change
Advanced cutting-edge research on cancer and other diseases through the ARPA-H initiative
Signed legislation to put more cops on the beat and invest in community policing
Signed the Electoral Count Act, which takes long overdue steps to protect the integrity of our elections
Lowered the cost of hearing aids by making them available over the counter
Created more manufacturing jobs in 2022 than in any single year in nearly 30 years
Signed an Executive Order to encourage competition across industries
Took action to lower energy costs for families
Lowered seniors' health care expenses, including by capping out-of-pocket expenses on prescription drugs for seniors at $2,000 per year, ensuring that people enrolled in Medicare will not pay more than $35 for a month's supply of insulin, and recipients will receive free vaccines
Accelerated adoption of electric vehicles by reducing costs for families, jumpstarted the first national EV charging network, and made historic investments into EV batteries and materials
Rejoined the Paris Agreement on day one to reassert the United States' global leadership to combat the climate crisis
Jumpstarted the American offshore wind industry and convened the nation's first federal-state offshore wind partnership
Set new policies to reduce super-pollutants like HFCs and methane to protect communities and reduce emissions fueling climate change
Lowered the deficit with the single largest annual reduction in American history
Secured commitments from 20 leading internet providers to increase speeds and cut prices
Signed legislation to reauthorize and strengthen the Violence Against Women Act
Awarded the most ever federal contracting dollars to small businesses and disadvantaged small businesses
Reignited the Cancer Moonshot with the goal of cutting the cancer death rate by at least half over the next 25 years
Appointed a record number of women and people of color to serve in his Administration
Hosted the first White House Conference on Hunger, Nutrition, and Health in over 50 years and released a National Strategy to end hunger and reduce diet-related diseases and disparities by 2030
Awarded more than $1 billion to initiate cleanup and clear the backlog of 49 previously unfunded Superfund sites, over $250 million to clean up hundreds of contaminated brownfield sites, and $725 million for abandoned mine lands
Restored protections for Bears Ears, Grand Staircase-Escalante, and Northeast Canyons and Seamounts National Monuments and designated Camp Hale-Continental Divide National Monument to conserve our lands and waters, honor our nation's veterans, protect Tribal cultural resources, and support jobs and America's outdoor recreation economy
Signed an Executive Order on Improving Public Safety and Criminal Justice for Native Americans and Addressing the Crisis of Missing and Murdered Indigenous People
Invested historic funding for Tribal governments and Native communities
Mailed over 740 million free COVID-19 tests directly to tens of millions of Americans
Subscribe to The Hartmann Report directly and read the latest views about U.S. politics and other fascinating subjects seven days a week.