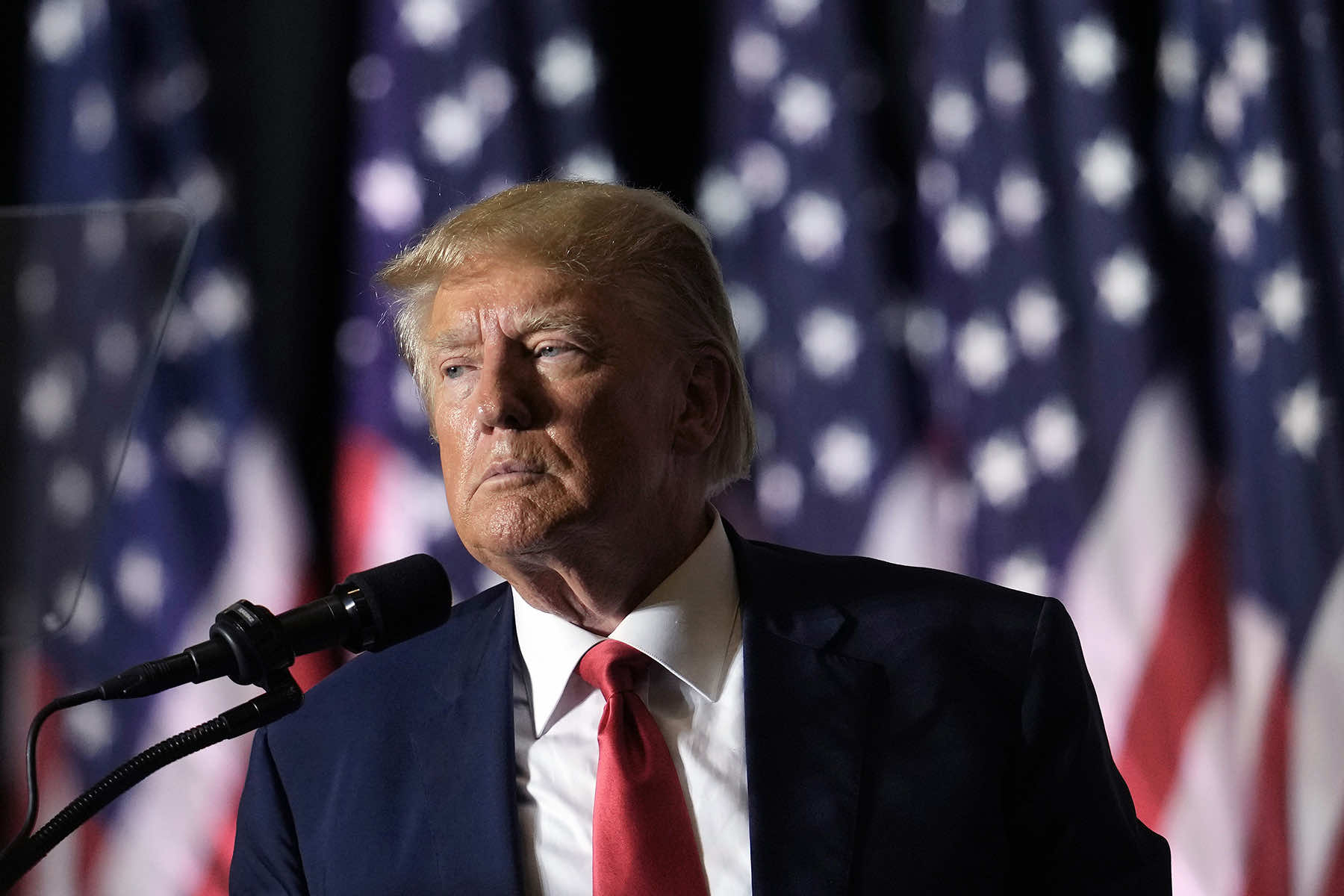 Donald Trump skipped the debate stage typically relished by presidential candidates on August 23, and instead appeared in an online interview peppered with his election lies, attacks on his rivals, and lavish praise for the crowd of supporters he spoke to before they stormed the U.S. Capitol on January 6, 2021.
While eight Republican presidential candidates tried to make their case in the debate, that their party should move on from Donald Trump in 2024, the former president tried to make his case that everyone but him is irrelevant.
Trump, who has repeatedly brushed aside democratic norms and embraced the inflammatory throughout his political career, said he was sitting out the first Republican presidential debate in Milwaukee because his poll numbers showed him far ahead of his rivals.
The choice by Trump to forgo participation in the Republican primary debate in Milwaukee, in favor of a pre-recorded conversation with Tucker Carlson, not only achieved his strategic aim of undermining the 2024 field but also mitigated concerns about his comments during the prominent event potentially exacerbating his legal vulnerability.
By opting to overshadow the debate, Trump effectively addressed a key objective of his 2024 campaign strategy. Simultaneously, the decision decreased apprehensions surrounding the possibility of Trump intensifying his legal jeopardy – if subjected to inquiries regarding his four ongoing criminal cases, whether by debate moderators or fellow contenders.
Individuals facing criminal charges traditionally refrain from discussing their legal matters in public forums, as such statements could be exploited by prosecutors to their detriment. Trump has established a recurring tendency to delve into his indictments, following instances of frustration provoked by the phrasing of questions.
In the most inflammatory exchange, Trump seemed to indulge a suggestion from Carlson that Trump's political opponents might try to end his life.
"They're savage animals. They are people that are sick. Really sick. You have great people in the Democrat Party, you have great people that are Democrats," Trump said. "But I've seen what they do, I've seen the lengths that they go to."
The incendiary comment comes as Trump has venerated those charged with crimes for the deadly riot at the U.S. Capitol and downplayed the violence that day. He repeated his praise in the interview.
"People in that crowd said it was the most beautiful day they've ever experienced. There was love in that crowd. There was love and unity," Trump said of the supporters he addressed on the morning of January 6, before they marched to the Capitol.
"I have never seen such spirit and such passion and such love. And I've also never seen, simultaneously, and from the same people, such hatred of what they've done to our country."
The night before the interview was posted, Trump spoke at a fundraiser hosted at his New Jersey golf club for the Patriot Freedom Project, which supports the defendants charged for their roles in the insurrection.
The interview with Carlson was posted in the evening of August 23 on X, the website formerly known as Twitter, five minutes before the debate aired.
Trump attacked some of his rivals early, calling former Arkansas Gov. Asa Hutchinson "nasty," and cited him as an example of someone who shouldn't be on the debate stage, along with former New Jersey Gov. Chris Christie. Both Christie and Hutchinson have been critical of Trump and said he shouldn't be running for president.
Trump had said it is beneath him to appear with the other candidates on the Milwaukee debate stage because of his large lead in the polls. His ongoing feud with Fox News Channel, which hosted the debate, seemed to cement his decision.
"Do I sit there for an hour or two hours, whatever it's going to be, and get harassed by people that shouldn't even be running for president?" Trump said in the 46-minute interview. "Should I be doing that at a network that isn't particularly friendly to me?"
His third White House bid has come as he's continued to align himself with those espousing extreme views and conspiracies while wrapping his campaign around bogus claims about the 2020 election.
Appearing with Carlson instead of debating leans into that. The former Fox host has promoted the view that white people are being "replaced" by people of color and spread misinformation about issues like the January 6, 2021 insurrection at the U.S. Capitol and the war in Ukraine.
He told Carlson: "I think it was a terrible move getting rid of you."
Trump has remained dominant in the party even as he faces increasing legal jeopardy in four separate criminal cases related to his efforts to overturn his 2020 election loss, allegations he mishandled classified documents and hush money payments made to hide allegations of extramarital affairs.
The day after the debate on August 24, he is set to make his fourth appearance this year as a criminal defendant, when he appears in Georgia to answer charges in a sprawling racketeering case related to his efforts to overturn the 2020 election results in that state.
Poll numbers have shown that despite the legal challenges, his standing among Republicans remains strong.
Before Trump on August 20 announced his decision to skip the debate, several Fox News personalities and executives had encouraged him to participate. While many hosts on the network boosted Trump over the years, the former president has been complaining since he left office about what he feels is unfair coverage.
His decision to instead sit with Carlson also seems designed to send a message to the network, which fired the host earlier this year. The network offered no explanation, but it occurred shortly after Fox agreed to pay $787.5 million to Dominion Voting Systems' defamation lawsuit for the network's coverage of bogus claims by Trump after the 2020 election.
Trump and his team have not clarified if he will skip every Republican debate. He has complained about the location for the second debate in September, the Ronald Reagan Presidential Library in Simi Valley, California, because Fred Ryan, the publisher and CEO of the Washington Post, is the chairman of the foundation's board of trustees.
Many of the candidates on the debate stage have embraced Trump's policies, including his closest rival, Florida Governor Ron DeSantis, who has criticized Trump for not going far enough to follow through on his policies.
Three other candidates all worked for Trump: Mike Pence, his vice president; Nikki Haley, who served as Trump's U.N. ambassador; and former New Jersey Gov. Chris Christie, who helped Trump prepare for debates in 2016 and 2020 and briefly led his 2016 transition team.
"They're all playing out of the same playbook and they're all espousing the same unpopular positions that Donald Trump led with and he continues to drag this party to the extreme," former Democratic Congressman Cedric Richmond, a co-chair of President Joe Biden's campaign, told reporters on August 22. "And so whether he's on the stage or not, his extreme agenda will be."